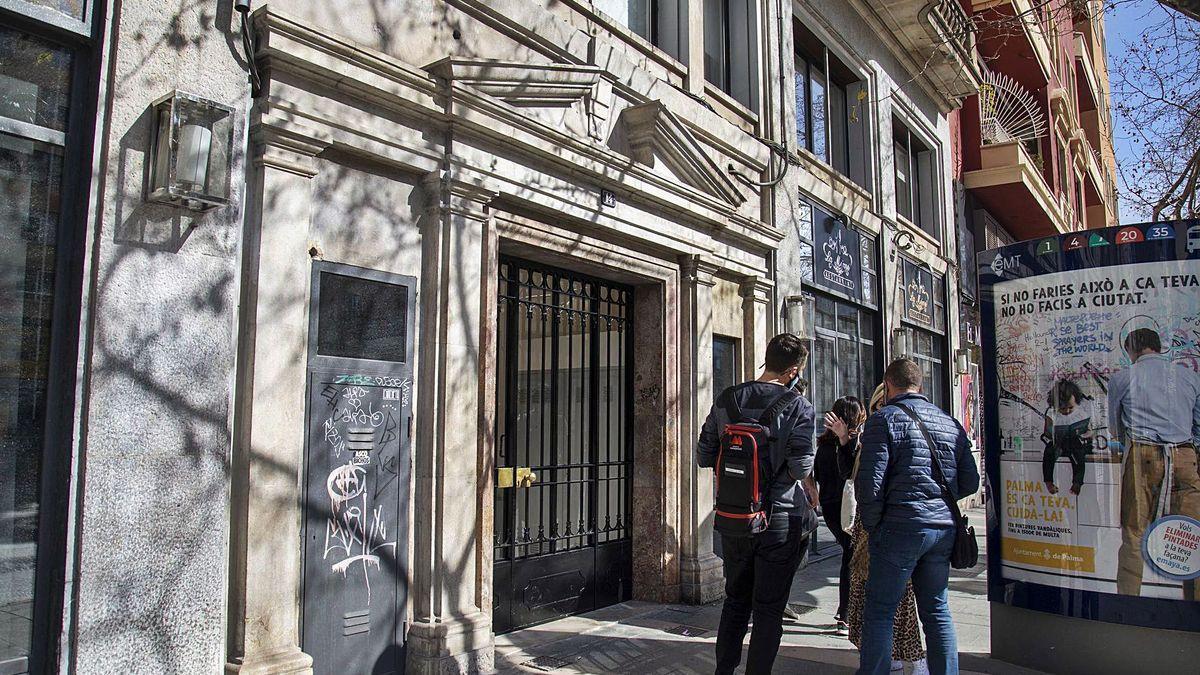 The National Police has dismantled in Palma a plot of alleged irregular immigration in which an entrepreneur, lawyers and at least one official of the Peripheral State Administration. The method to perpetrate this fraud, the amount of which is being analyzed, would consist of simulate a labor conciliation to feign an imposed labor roots and thus achieve regularization in the country.
A laborious investigation by the Unit Against Immigration Networks and Documentary Falsehood (UCRIF) of the National Police culminated this Thursday morning with the arrest of two Palma lawyers for its alleged relationship with this network. The agents They searched his office, on Comte de Sallent street in Palma, and there computers and various documentation were intervened, whose content is being analyzed.
The police investigations are centered around the figure of a controversial 33-year-old businessman linked to gyms and the world of fitness. This individual would have provided false documentation to these immigrants after he previously paid the sum of about 5,000 euros each.
Approved files
Thus, this subject would have contacted the registered law firm on Thursday so that all Moroccan immigrants who had paid the stipulated amount could regularize their situation through the formula of labor roots.
According to the research carried out, all these immigrants appeared to have worked in the gyms of this businessman and the latter allegedly agreed to sign the conciliation act after they had paid the agreed amount. In addition, this individual has already been arrested for drug trafficking and anabolic substances in gyms in Palma and Calvià.
Said entrepreneur would have needed the contribution of a labor lawyer. This lawyer would have formalized the alleged complaint of these employees to their employer and the agreement reached. The labor dispute was resolved first in the Balearic Islands Arbitration and Mediation Court (TAMIB). Once the conciliation sought was reached, another lawyer was in charge of presenting the documentation at the Palma Immigration Office.
All the files submitted by the regent of these gyms were approved by the Palma Immigration Office. As a result of these investigations, the Police arrested an official for alleged collusion with this businessman. AúThe degree of involvement of these lawyers remains to be determined stopped in the plot.
After his arrest, the Immigration officer was arrested for his alleged collaboration with the irregular immigration scheme. Apparently, the public employee collapsed after being asked about his alleged collaboration with this organization to provide papers to Moroccan immigrants in exchange for money.
The police investigation in relation to this irregular immigration plot continues under summary secret. It is not ruled out that other lawyers and officials could be involved in this organization and that new arrests related to this fraud may occur.
The 'brain' was arrested for trafficking in anabolics
The 33-year-old businessman involved in this network of irregular immigration of Moroccans is far from being unknown. In fact, this individual has already been arrested and for drug and anabolic trafficking in Palma and Calvià.
After his arrest in 2017, this entrepreneur linked to gyms and the world of fitness claimed to have applied against drugs. However, many researchers already doubted then that their amendment purpose was real.
After a few years of apparent abandonment of the anabolic trade, his name has come up again for alleged criminal activities. Although on this occasion, instead of being linked to the world of gyms, he would have been involved in a case of alleged irregular immigration.
The current sanitary restrictions so that the public can freely go to the gyms, due to the high risk of contagion of the coronavirus, would have acted on drastic change in criminal activity of this controversial businessman.
According to the investigation carried out so far, the plot to fake a simulation of a conciliation to pretend that these irregular immigrants were working for him would have dragged lawyers and officials.
Each of these immigrants would have paid him an amount, around 5,000 euros, to regularize their situation. With his arrest Other crimes such as falsification of documents, favoring of irregular immigration and fraud have also come to light., whose total amount is yet to be determined.

www.informacion.es
Eddie is an Australian news reporter with over 9 years in the industry and has published on Forbes and tech crunch.