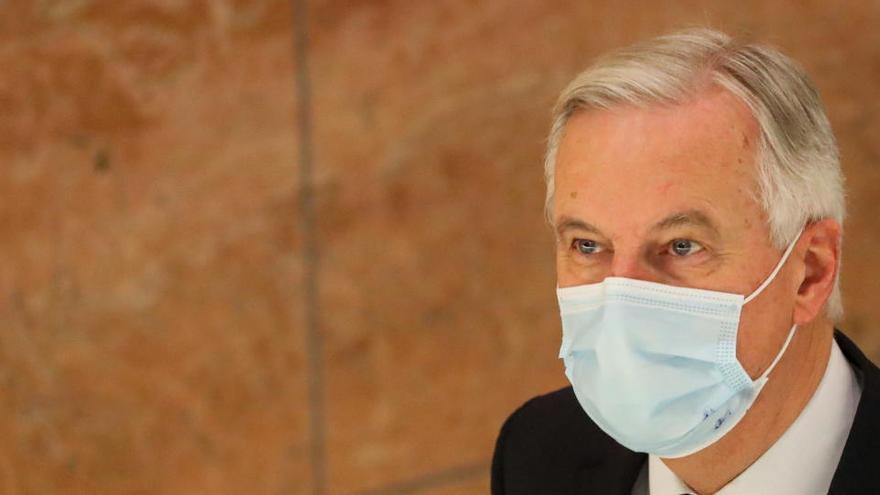 The European Union (EU) and the United Kingdom continue to negotiate their relationship after Brexit this Saturday, while the deadline of Sunday midnight that the European Parliament had imposed to have an agreement approaches, but that neither the Commission nor the Member States have taken over for the time being.
In recent hours, fishing has become the main obstacle to closing the deal, despite its little weight in the UK economy. However, control of access to British waters It is for London a symbol of the recovery of sovereignty after Brexit.
The EU negotiator, Michel Barnier, told the European Parliament on Friday that he was going to resume talks with the British team to make "one last attempt to find an acceptable agreement, especially on fishing."
"We are not sure of achieving it if each one does not make a real and concrete effort to find a compromise ", he pointed out.
He also said that Brussels respects and agrees that the UK wants to control access to its waters.
"But if the UK wants, after a credible and sufficient period of adjustment, to be able to cut off access to its waters for European fishermen at any time, the European Union must also have a sovereign right to react or to compensate, then adjusting the conditions of access to its market for all products and, above all, for fish products ", argued Barnier.
He specified that this is "one of the great current difficulties of negotiation".
"It would be neither fair nor acceptable for European fishermen to only have transitional rights in British waters, they would evaporate one day, while the rest of the agreement, particularly for British companies, would remain stable, "he reproached.
Nine EU fleets fish in British waters: Spain, France, the Netherlands, Belgium, Germany, Denmark, Ireland, Sweden and Poland and they obtain in those waters 40% of the catches of the European fleet.
Spain catches around 9,000 tonnes of fish annually in UK waters, mainly hake, rooster and monkfish, which are valued at about 27 million euros.
Those 9,000 tons barely represent 1% on the total catches of the Spanish fleet, according to data from the Cepesca shipowners' association.
Spanish fishing vessels employ 2,150 crew members and generate around 10,750 direct and indirect jobs. They are mainly Galicians, but also from the Basque Country, Cantabria and Asturias.
The objective of the negotiations is to reach an agreement that allow the EU fleet to continue fishing in those waters and the British continue to sell their fishery products in Community territory, without tariffs or taxes at the borders.
The UK sells 80% of its fish to the EU And it could not give it a solution in the same way if both blocs begin to trade under the rules of the World Trade Organization (WTO), with new tariffs and barriers to trade.
Apart
British sources stressed today that London and Brussels remain "very far apart" in the negotiations and that there are "significant outstanding issues" on fishing and subsidies, so the "most likely" outcome is not reaching an agreement.
They insisted that the United Kingdom cannot be "the only independent coastal state in the world unable to control its waters for an extended period and deal with fishing quotas that seriously damage their own industry. "
New deadline?
As the negotiating teams try to resolve their differences, the deadline of midnight on Sunday that the European Parliament had set for an agreement is approaching, as if it is delayed any longer, it would not have enough time to do the scrutiny of the pact prior to its ratification.
In a statement on Thursday, the leaders of the parliamentary groups said they were "prepared to organize an extraordinary plenary session towards the end of December in the event that an agreement is reached before midnight on Sunday, December 20, so that the European Parliament can discuss the outcome of the negotiation and consider whether to consent".
However, this Saturday, the French secretary of state of European Affairs, Clément Beaune, ruled out committing to that deadline during an interview with the radio station France Inter.
"I believe that you never have to negotiate with some form of temporary pressure, because it forces you to make concessions to finish whatever happens and we do not want an agreement at any price," he stressed, adding that "It's normal not to say, listen, it's Sunday night, we stop and I sacrifice everything."
Warned that "Whole sectors are at stake, such as fishing" and respect for competition in the single market.
The European Commission itself did not want to commit to the deadline either Sunday last Friday.
"I cannot go into details, we continue negotiating, we want an agreement, but today I don't know if there will be an agreement or not and when will there be an agreement or not", declared CE spokesman Daniel Ferrie during the institution's daily press conference yesterday.
Anyway, Barnier already warned on Friday that only "some useful hours" remain to achieve a pact that enters into force on January 1, when community law will no longer apply in British territory and the United Kingdom will be definitively a third country.

www.informacion.es
Digsmak is a news publisher with over 12 years of reporting experiance; and have published in many industry leading publications and news sites.