Good morning and welcome to our continued coverage of the world economy, financial markets, the eurozone and business.
Britain's indebtedness reached its second highest level in April as the cost of tackling the Covid-19 pandemic and protecting the economy continues to rise.
Net borrowing from the public sector last month was estimated to be £ 31.7bn, figures released by the Office for National Statistics this morning show. That's £ 15.6 billion less than in April 2020, when Britain borrowed around £ 47bn in the first wave of the pandemic.
It remains the second-highest loan for April since monthly registrations began in 1993, due to ongoing healthcare costs from the fight against Covid-19, such as the NHS Test and Trace program and the launch of the vaccine, and schemes such as the licensing program.
But it's actually less than the £ 39bn that the Office for Budget Responsibility expected the UK to borrow last month, in its March forecasts.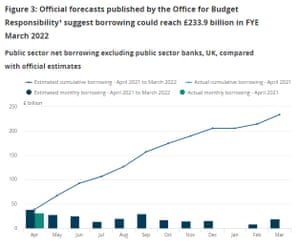 The April borrowing brings the UK's national debt to £ 2,171 trillion, around 98.5% of GDP, the highest ratio since 99.5% recorded in March 1962.
But ….. the ONS has also revised down its debt estimate in the last financial year. He now estimates that the net indebtedness of the public sector (PSNB ex) in the financial year ending March 2021 was £ 300.3 billion.
That's 2.8 billion pounds less than last month's estimate, but it's still a record total for a single year.
That equates to 14.3% of the UK's gross domestic product (GDP), the highest since World War II.
Britain's borrowing costs remain low: 10-year gilts are trading at a yield, or annual interest rate, of around 0.8% this morning. And many economists argue that this debt will be manageable if the economy grows again (by reducing the debt-to-GDP ratio).
The ONS estimates that central government revenue was £ 58bn last month, an increase of £ 3.8bn compared to April 2020, while central government bodies spent £ 95.9bn, a decrease of £ 12.9 billion the previous year.
Current expenses (excluding investment and asset depreciation) amounted to 83.9 billion pounds, 15% less than a year ago.
On the expense side, the ONS says:
Central government departments spent £ 31.0 billion on goods and services in April 2021, including £ 16.8 billion on acquisitions and £ 12.8 billion on payments:



This cost includes the expenses of the Department of Health and Social Care (DHSC), decentralized administrations and other departments in response to the coronavirus pandemic, including the NHS Test and Trace program and the cost of vaccines.
The central government paid £ 7.5bn in subsidies to businesses and households in April 2021, £ 5.9bn less than in April 2020. These payments included the cost of work leave schemes.


More details and reaction to follow …
The agenda
9am BST: Ifo Survey on Germany's Business Climate in May
9.30am BST: ONS Report on the Impacts of the Coronavirus and EU Exit on UK Trade
10.30am BST: BEIS Committee Hearing on the UK Steel Industry, with Kwasi Kwarteng, Secretary of State
11am BST: CBI's monthly survey of UK retailers (distribution trade)
2pm BTS: US House Price Index March
3pm BST: May US Consumer Confidence Report



www.theguardian.com
George is Digismak's reported cum editor with 13 years of experience in Journalism