Kiev has urged the West to remain "vigilant and firm" in its talks with Russia as Joe Biden announced a small troop deployment to Eastern Europe amid fears Moscow could invade Ukraine.
Top Washington defense officials warned Friday that the Kremlin had assembled enough troops and equipment on the border to threaten all of Ukraine, but called for more diplomatic efforts to prevent a "horrible" conflict.
Western leaders are scrambling to defuse the crisis by reaching out to Russian President Vladimir Putin while trying to keep up the pressure by promising unprecedented sanctions if he sends in his forces.
As Ukrainian President Volodymyr Zelensky on Friday urged his Western partners to avoid causing "panic" over a massive Russian troop buildup, Putin and French President Emmanuel Macron agreed on the need for de-escalation.
According to a Macron aide, Putin told the French leader in a call that lasted more than an hour that he "had no offensive plans."
In Washington, Biden said he would, however, soon send a small number of US troops to bolster NATO's presence in Eastern Europe as tensions continue to rise.
The United States already has tens of thousands of troops stationed primarily in Western Europe.
France said on Saturday it planned to send hundreds of troops to Romania, an eastern NATO ally, as part of a deployment first touted by Macron earlier this month.
Ukrainian Foreign Minister Dmytro Kuleba called on the West on Saturday to remain "vigilant and firm in contacts with the Russian side" in a talk with his French counterpart Jean-Yves Le Drian.
The talks stressed the need to "refrain from steps that could fuel anxiety" in Ukrainian society and "undermine the financial stability" of the post-Soviet country, a Ukrainian statement said.
Le Drian is expected to visit Ukraine with her German counterpart Annalena Baerbock on February 7-8 as part of a flurry of diplomacy.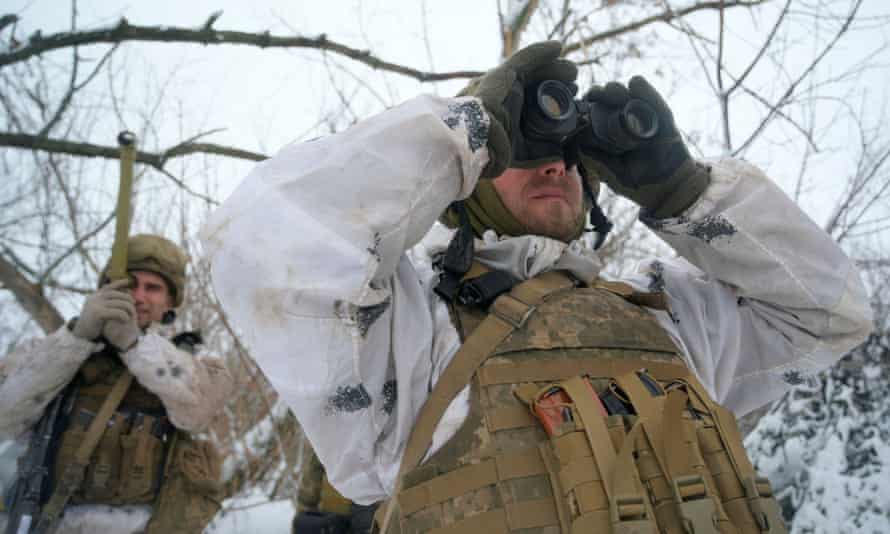 Boris Johnson is expected to speak to Putin before heading to the region, joining the chorus of Western leaders urging him to back down.
Polish Prime Minister Mateusz Morawiecki is scheduled to visit Kiev on Tuesday to meet with the president and prime minister.
On Saturday, Ireland's foreign minister said Russia will move its planned military exercises out of Ireland's exclusive economic zone (EEZ). Simon Coveney said he had received assurances from his Russian counterpart that the drills would not take place off Ireland's south-west coast.
He tweeted: "This week I wrote to my counterpart, the Russian Defense Minister, to request a reconsideration of the naval exercises off the Irish coast. Tonight I received a letter confirming that the Russian exercises will be relocated outside the EEZ of Ireland. I welcome this response."
Russian Ambassador to Ireland Yury Filatov said: "In response to requests from the Irish government, as well as the Southern and Western Irish Fish Producers Organisation, the Russian Federation Defense Minister Sergey Shoigu has Took a decision. .
"As a gesture of goodwill, to relocate the Russian Navy exercises, scheduled for February 3 to 8, outside the Irish exclusive economic zone, with the aim of not hindering the fishing activities of Irish vessels in traditional fishing areas. ".
Since October, Russia has amassed more than 100,000 combat troops and equipment, as well as supporting forces, along its border with Ukraine and, more recently, in Belarus, which borders Ukraine to the north.
Western officials say Russia has also amassed more air and sea assets in the region, creating a complex threat not seen since the Cold War.
Moscow has demanded extensive security guarantees, including that Ukraine never be allowed to join NATO. The West has rejected key Russian demands, such as barring new members from joining the alliance, but has set out a number of areas where it sees room to negotiate with the Kremlin.
To Macron, Putin made it clear that the West's written responses to his demands this week did not meet Russia's expectations, the Kremlin said. "The US and NATO responses failed to take into account Russia's fundamental concerns, including preventing NATO expansion," Putin said, according to the Kremlin readout of the call.
He added that the West had ignored the "key question" that no country should strengthen its security at the expense of others, adding that Russia will "carefully study" the answers, "after which it will decide on further action."
Russia has also demanded the withdrawal of NATO forces deployed in Eastern European and former Soviet Union countries that joined the alliance after the cold war. Ukraine has turned increasingly west since Moscow seized the Crimean peninsula in 2014 and began fueling a separatist conflict in the country's east that has cost more than 13,000 lives.
In the face of Russia's latest buildup, some Western allies, led by the US, have stepped up arms deliveries to Kiev that could be used to prevent an attack. On Friday, Ukrainian soldiers dressed in winter camouflage in a snow-covered field in the far west of the country tested new "tank-killer" missiles sent by Britain.

www.theguardian.com
George is Digismak's reported cum editor with 13 years of experience in Journalism