Thai authorities should stop targeting pro-democracy protesters with draconian legal action and instead engage in dialogue, according to the UN special rapporteur for freedom of assembly, who warned the country is at risk. to fall into violence.
Clément Voule said he had written to the Thai government to express alarm at the use of the fierce lese majesty law against dozens of protesters, including students as young as 16 years old.
"It is legitimate for people to start discussing where their country is going and what kind of future they want," Voule said of the protests. "It is not acceptable to prevent people from raising their legitimate concerns."
So far, 37 people face charges of insulting the monarchy for alleged crimes ranging from wearing traditional dresses considered a parody of royalty to giving speeches arguing that the king's power and wealth must be controlled.
The lese majesty law has not been used since 2018, apparently at the request of the monarch, but has been revived after months of protests led by young people who have called for a more responsible royal family.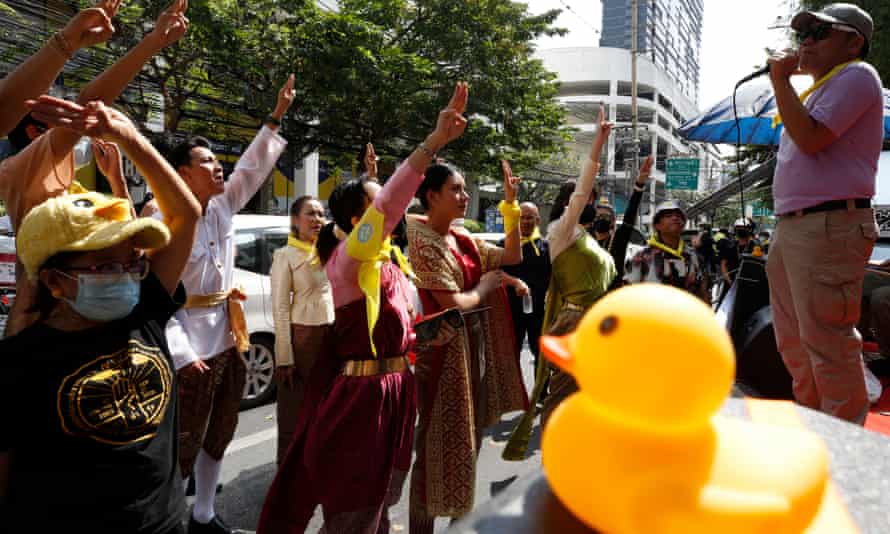 The law is known for its arbitrary use, broad defamation criteria, and the severe sentences that can be imposed on offenders. Anyone who "defames, insults or threatens the king, queen, heir apparent or regent" can face between three and 15 years for each position.
Police and prosecutors are often reluctant to reject complaints filed under the law, rights experts say, because it is so politicized that they fear being accused of disloyalty. Earlier this month, a royalist group asked its supporters to start reporting on others, sparking fears of a witch hunt.
Prominent leaders of the protests face an unusually high number of charges. This includes student activists Parit Chiwarak (12 counts) and Panusaya Sithijirawattanakul (six counts) and human rights lawyer Anon Nampa (eight counts), who have made speeches calling for the power of royalty to be controlled.
According to Thai Lawyers for Human Rights, the following protesters are among dozens facing lese majesty charges:
Parit Chiwarak, 22, also known as Penguin. He faces 12 counts of lese majesty, which could lead to up to 180 years in prison. These are related to protest speeches and an open letter written to King Maha Vajiralongkorn calling for the reform of the monarchy.

Jatuporn Sae Ung, 24. She is facing a charge, after she wore traditional Thai dress at a runway-themed protest, which was seen as an attempt to parody the queen.

A 16-year-old protester. The teenager faces a charge. They are accused of attending a protest wearing a crop top with the words: "My father's name is Mana. No Vajiralongkorn "written on his back. The king has been photographed wearing blouses abroad.

Inthira Charoenpura, 40, also known as Sai, a prominent actor who has donated food to protesters. She faces a charge of lese majesty for allegedly mocking the king in a Facebook post that included the words "very brave." The monarch recently praised as "very brave" a man who showed a royal portrait at a demonstration against the system.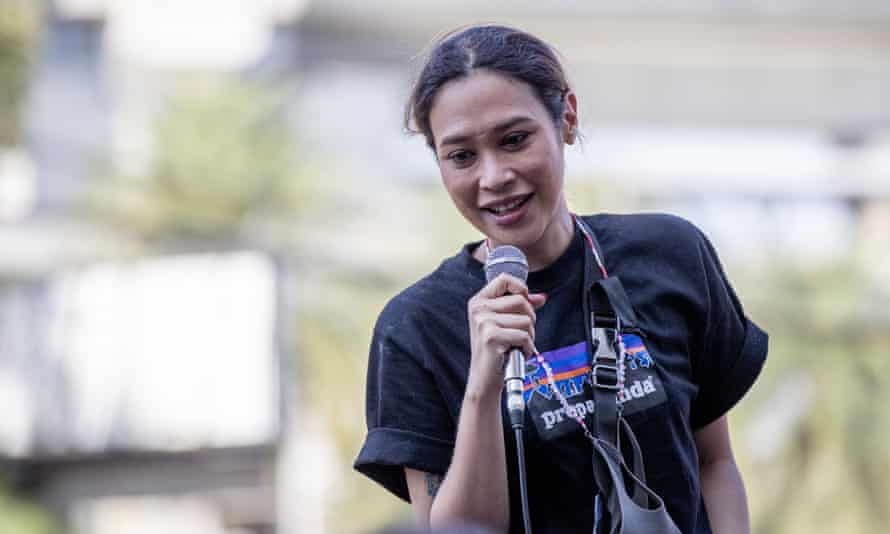 The protesters have received police subpoenas for the lese majesty cases, but are not currently in detention. It is unclear whether prosecutors will press charges. Police did not respond to requests for comment.
A government spokesman said Thailand's lese majesty law was not intended to restrict people's rights to freedom of expression and that the law was similar to defamation law. The government also supported the constructive exchange of views, the spokesperson said.
The protesters, who have faced various other charges in recent months, including sedition, declined to participate in a government reconciliation panel in November, dismissing it as an attempt to buy time.
The recent cases come after months of demonstrations in which protesters have made unusually outspoken public calls for reform of the monarchy.
After ascending to the throne in 2016, the king expanded his powers by putting key army units under his direct command and taking control of the crown's property office, worth tens of billions of dollars. Protesters have called for that change to be reversed.
Parit, the prominent student protester, said attacking protesters with lese majesty would only increase sympathy for their cause.
"They [authorities] they argue that they are fulfilling their duty to protect the monarchy, "he said. "I must ask you: are you really sure you are protecting the monarchy or are you ruining it?"
In the past, the law made people cringe, Parit added. "But since the public image of the monarchy is considered lower than ever, nobody fears the law anymore." He didn't think he was going to go to prison. "They will not dare," he said.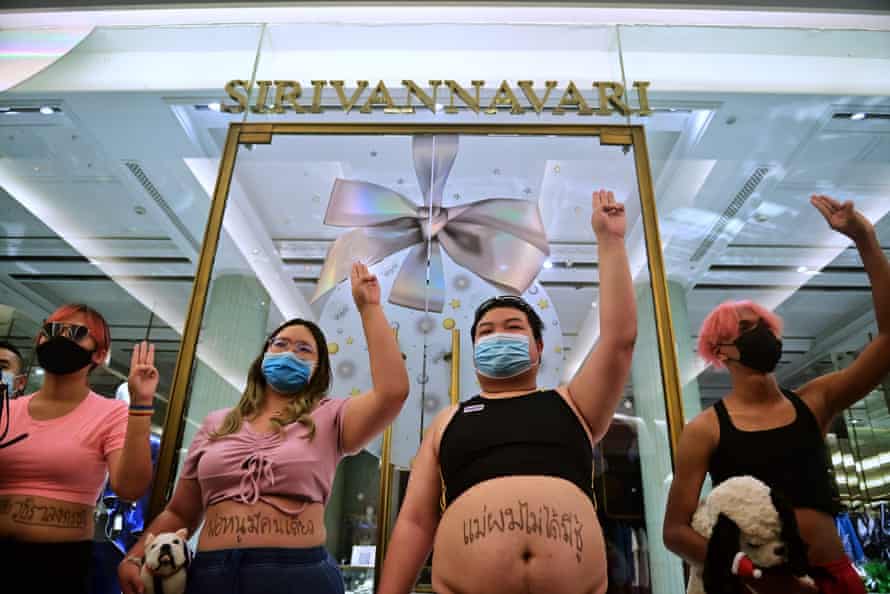 Parit has refused to acknowledge certain complaints against him and, instead of signing his name on legal documents, he wrote "Down with feudalism." Supporters have shown up at police stations when protesters acknowledge the charges, even wearing traditional Thai clothing in defiance of the crackdown.
Voule, who is special rapporteur on the rights to freedom of peaceful assembly and of association, said that there must be a space for dialogue: "If this is not possible now, I fear that the country will move towards violence that we do not want to stop. see."
Benja Apan, 21, one of 13 people facing charges for a demonstration outside the German embassy in Bangkok, said legal action is unlikely to deter protesters from leaving in the new year. "In fact, I think it will attract more people, because it is not fair," he said.
He added that if the riots provoke a coup, common in Thai politics, a harsh crackdown could ensue.
"We know if the coup happens, they are going to go after everyone," Benja said. "There is a saying among our group that they already have the keys in the ignition to start the tank engine. They are just waiting for the right moment. "

www.theguardian.com
Digsmak is a news publisher with over 12 years of reporting experiance; and have published in many industry leading publications and news sites.