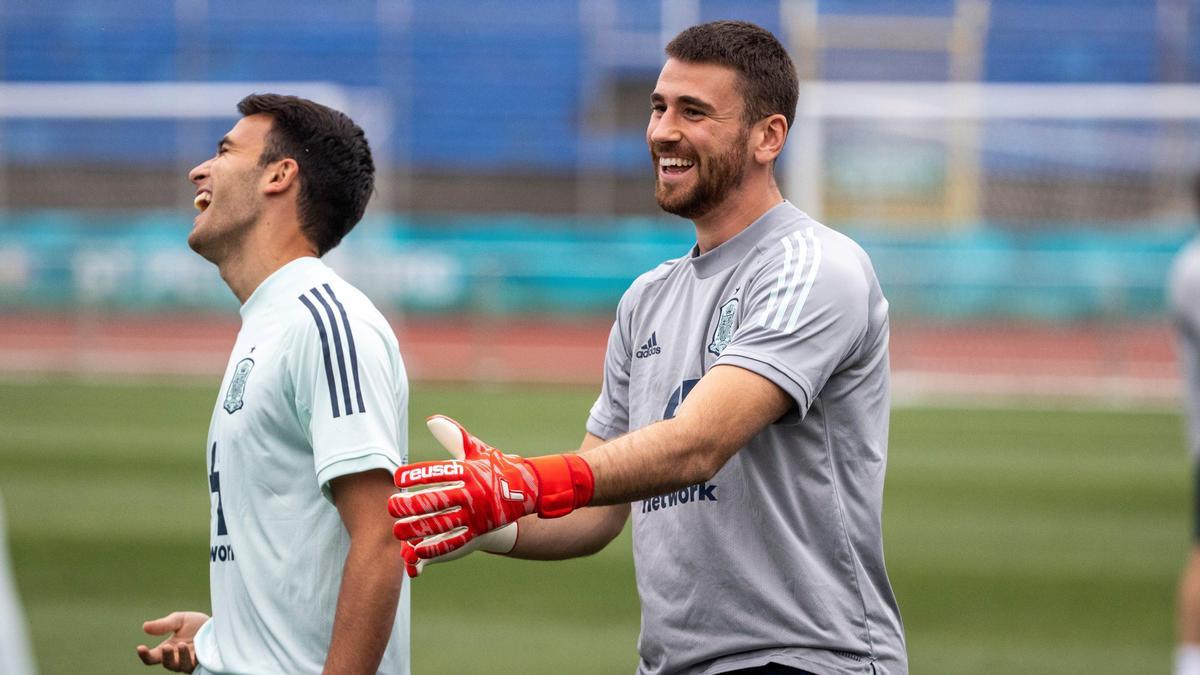 The Spanish international goalkeeper of Athletic Club Unai Simón has assured that it was a "'boost'" of morale for him to receive the support of the fans after his error in the first goal against Croatia, and he believes that his good overall game is due to the fact that he wanted to show that his level was not that of that failure that did not prevent the Spanish triumph and the pass to the quarterfinals.
"It was a 'rush' for me to support the fans after the mistake, because negative thoughts come to you, especially about what people will think. Having people cheering every time they touched a ball, applauding whatever it was, it gives you a lot of energy and I am very grateful", he was sincere at a press conference.
Spain needed extra time to beat Croatia (3-5) and, despite that error by Unai Simón when he was unable to control a pass behind Pedri, and conceded two more goals, the goalkeeper was key with several worthwhile saves. "Emotionally, for me I have lived games in which I have had stronger feelings, especially with Athletic in Cup games. But professionally, it has been the most important game of my life and I will never forget it," he said.
As for his mistake, he described it as "an accident without more." "These mistakes rarely happen, but when we make them the goalkeepers magnify themselves and end in a goal. I've seen it six, seven times, I've been a bit martyred. And I can't find what, the sun didn't bother me, it's that I do the wrong control and it slips away from me. I had a lot of space to control well, I try to get the ball out with control and it is an accident, without more, "he explained.
In addition, on a mental level, he conjured himself thanks to that encouragement he received to continue playing the same, without mentally leaving the game. "Once that happens, football is like that and you spend a few minutes thinking about why that has happened. But it is turning it around, because I was still on the field and the team needed me, I had to stay the same, risking. And before another ball like that, do it well, "he said.
"Every day I could tell you that I am a better goalkeeper. In small things you can improve, each day is a new experience. This was unique, I had never lived it and it can be special. I'd say I'm a better goalkeeper than yesterday, but worse than tomorrow"He said." I wanted to show everyone that I am not the goalkeeper of the first goal we conceded, "he was honest." We could have gone home with a bad taste in our mouths, but turning it all around together showed a the personality that this team has and how great we are, "he commented on the matter, highlighting the mental power of a united group.
He further believes that large groups "are forged in adversity". "What they have wrapped me up in the locker room says a lot about the group we have. Veterans say that these competitions are won by the teams, not the national teams. We are a team, I don't know where we will arrive but it is clear that we are united, and that we are going to go all together, "he predicted.
And in that boat that rows in one direction, Luis Enrique is at the helm. "He is the main architect of this, he is the guide and the one who tells us where we have to go. We have to go hand in hand, Luis Enrique has transmitted this to us. We are very united with him," he said.

www.informacion.es
Eddie is an Australian news reporter with over 9 years in the industry and has published on Forbes and tech crunch.