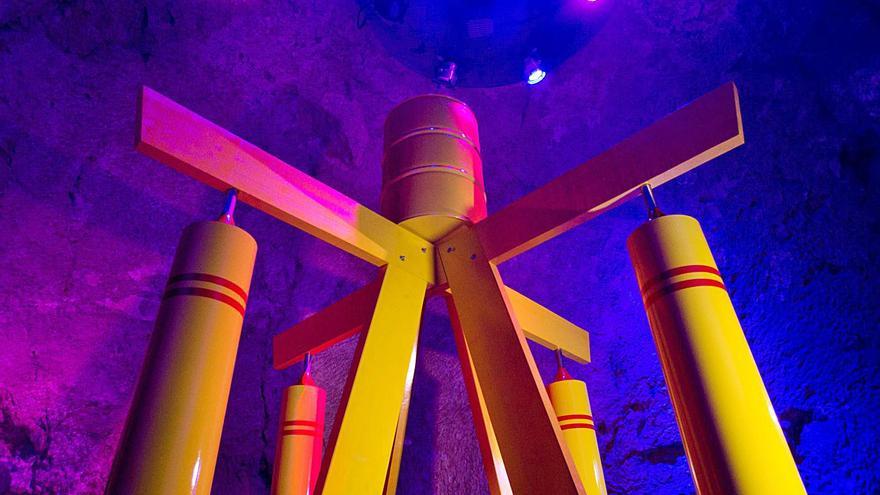 The Communication Director of Aguas de Alicante, Martín Sanz, stressed that the exhibition "is unique, tailor-made for the Garrigós Wells. It is born and dies here and will not be seen anywhere else ».
Aurelio Ayela has spent two weeks in the assembly and has had to take part of the pieces separately to install them inside the caves, given the sinuous entrance to the cisterns, since one of the sculptures is four meters high. Although the exhibition has three different artistic interventions, all three are stitched together with luminescent paint between the rocks.
The artist invites in his journey through this place so "powerful" and "full of symbols" to an "encounter with oneself" and for the viewer to ask himself "what is our place in the world and what is our relationship with nature and with the ecosystem ", all through religion, science and the mystical element.
Play, experimentation and the absurd in the face of magnificence are some key elements in Ayela's work, which here offers the visitor as an experience to "dive" through the "suggestive objects" that she raises in the exhibition that, she points out , has a "message of reconciliation with nature."
The first installation, The Fallen Kingdom, represents how religion represented a turning point in the destruction of an arboreal species (the Sandalwood of Juan Fernández, in Chile) that, due to its characteristic aromatic wood, triggered its demand for the carving of religious images and the manufacture of relic boxes, which led to their extinction in just a century. Ayela represents it through a replica of the tree under an inverted crown of leaves, all varnished with photoluminescent material that will make it shine with intensity as visitors pass by.
The second element is a mechanical device that simulates a raised water tank, "something absurd inside a well", Ayela points out of his "" pataphysical machine ", the science of impossible solutions," in the belief that only science It will save us, when science does not have definitive solutions either, there are always pending questions later, "he considers.
A video projection of a column of dishes under water is the last item in the show, with the noise of a dishwasher in the background. Ayela considered this underwater action, which she recorded at the bottom of a pool with real images of the seabed in Cabo de Palos as an "absurd challenge" and an "experiment with no guarantee of success" in front of the solemnity of the raised commemorative columns for war triumphs. Appeal to the environmental consequences of everyday acts such as scrubbing and remember how harmful it can be to pour polluting liquids down the sink.

www.informacion.es
Eddie is an Australian news reporter with over 9 years in the industry and has published on Forbes and tech crunch.