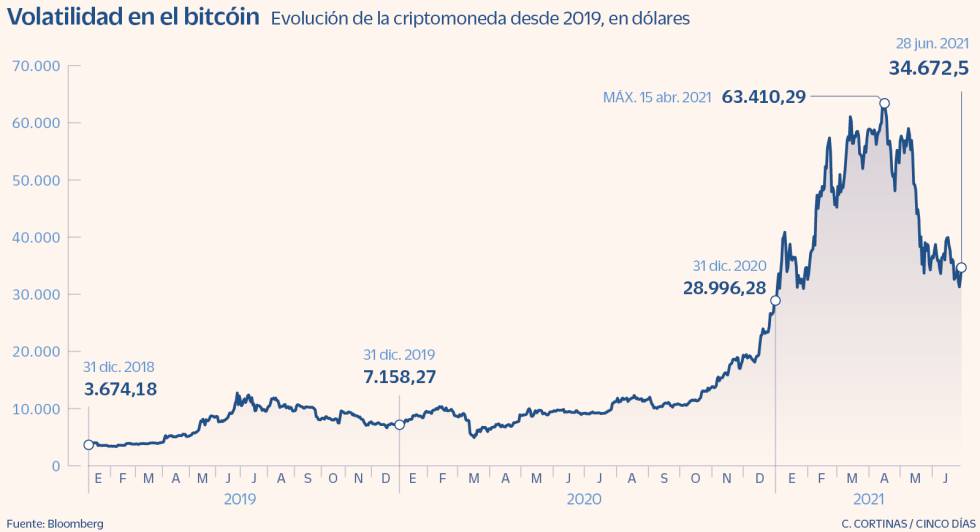 The UK market supervisor, the Financial Conduct Authority (FCA), has prohibited Binance Markets Limited, a subsidiary of Binance, from engaging in "any regulated activity" in the UK. The FCA's veto of Binance, the largest crypto-asset purchase and sale platform in the world, puts pressure on these types of firms that, in addition to operating in assets such as bitcoin, offer other types of services similar to financial ones, but without its safeguards and without the regulation to which financial institutions are subject.
Most of these platforms allow staking. That is, they give their clients the opportunity to lend their bitcoins or ethereums in exchange for a "guaranteed" annual return in the form of a reward for participating in the validation of crypto-asset miners' transactions.
In the case of Binance, the app has a tool called Earn. From Binance they explain that this service allows "our users to obtain annual interest higher than 10% for the cryptocurrencies they keep in their wallets, and without any maintenance costs." The profitability depends on what is the cryptoactive that is lent and what reward is offered at each moment, being able to obtain 7.72% per year for lending bitcoins or up to 21.6% for temporarily transferring ethereums, as the page offered yesterday.
Binance is not the only platform that offers this service. Its competitor Coinbase also offers a service of staking that allows you to earn up to 5% APR as advertised, while other platforms such as Poloniex or Kraken have similar services and their corresponding rewards.
Annual returns that can be attractive at a time when central banks keep interest rates at historically low levels and more conservative deposits and assets offer no interest. Although, they are not covered by the Deposit Guarantee Fund, which guarantees 100,000 euros per entity and client in the deposits of financial institutions in the EU.
The British market supervisor's veto of Binance comes at a time when the European Union is working on MICA, a directive to control crypto assets, which will give powers to the ECB and supervisors to control these types of assets, the CNMV and the Bank of Spain. in the national case.
No real impact
The British CNMV assures in a statement that Binance Markets Limited is prohibited from carrying out any regulated activity without its prior written consent and that there is no Binance affiliate that is authorized, registered or licensed in the country to do so.
Specifically, the Binance platform must show its users in the United Kingdom since the company is not allowed to operate in the country. Binance had previously tried to obtain authorization from the British FCA but had finally rejected it by failing to comply with the requirements on money laundering. From the platform itself they recognize that this veto is limited, since it will be able to continue operating in the United Kingdom through its parent company, which is based in the Cayman Islands.
The British supervisor thus joins the Japanese CNMV that a week ago warned that the platform was operating without a license in Japan. The FCA has also issued a warning for consumers to avoid paying attention to the advertising that through the internet and social networks promises high returns for investing in crypto assets and related products. Remember, also, that although it does not have powers to regulate crypto assets, it does have them to monitor derivatives on crypto assets, which Binance does offer.

cincodias.elpais.com
Eddie is an Australian news reporter with over 9 years in the industry and has published on Forbes and tech crunch.