Madrid
Updated:
Save

United We Can has registered this Monday in Congress a non-law proposition to urge the Government to immediately open an "independent investigation" to clarify the "human tragedy" that occurred over the weekend at the Melilla fence. Almost 2,000 Sub-Saharans tried to enter armed with shears, stones, sticks and knives and were repressed with more violence by Morocco. Several NGOs estimate that the balance of fatalities amounts to 37. Morocco has confirmed 23.
"We are horrified, not as democrats, but as people, from the images that we have been able to see on the Melilla fence. Spain has to be at the forefront of defending human rights. That is why we have presented an initiative so that there is a independent investigation», declared the spokesman for the parliamentary group, Paul Echeniquethis Monday in the courtyard of Congress.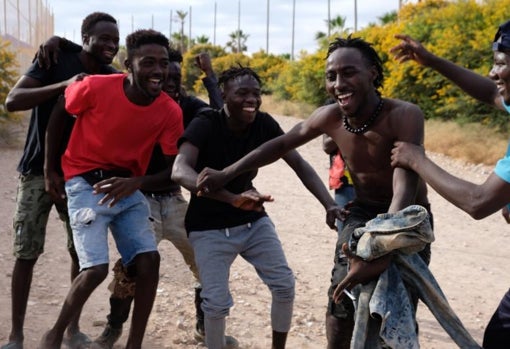 The president of the Government, Pedro Sanchez, praised the action and collaboration of Morocco in the assault on the border as "extraordinary" over the weekend, however, in the last few hours he has lamented the human losses and has recalled that the mafias are behind it. United We Can, a minority partner in the Government of Sánchez, asks the Lower House "to derive the corresponding political and criminal responsibilities». They demand that the investigation be carried out in collaboration with the diplomatic delegations of the European Union present in Moroccan territory.
The Second Vice President, Yolanda Diazand the Minister of Social Rights and leader of Podemos, Ione Belarra, they already coordinated this weekend to demand an investigation. Right after Sánchez's statements. "Very shocked with the images of the Melilla border," wrote Vice President Díaz; and added: «It is necessary to clarify what happened».
Very shocked with the images of the Melilla border. My condolences to the loved ones of all the people who have unjustly lost their lives.

It should be clarified what happened. I will always bet on an immigration policy that respects human rights.

No one should die like this.

– Yolanda Diaz (@Yolanda_Diaz_) June 25, 2022
United We Can denounce that it is "a violent reminder of the failure of the European Union's migration policies." ask theGovernment that strongly condemns the deaths andguarantee the "dignified burial of the deceased". Also to collaborate in the identification of corpses and location of families. NGOs are denouncing that Moroccan authorities are burying unidentified bodies. In addition, they ask "to enable access to the Ceuta and Melilla border offices for those people who express their willingness to request international protection."



www.abc.es
George is Digismak's reported cum editor with 13 years of experience in Journalism