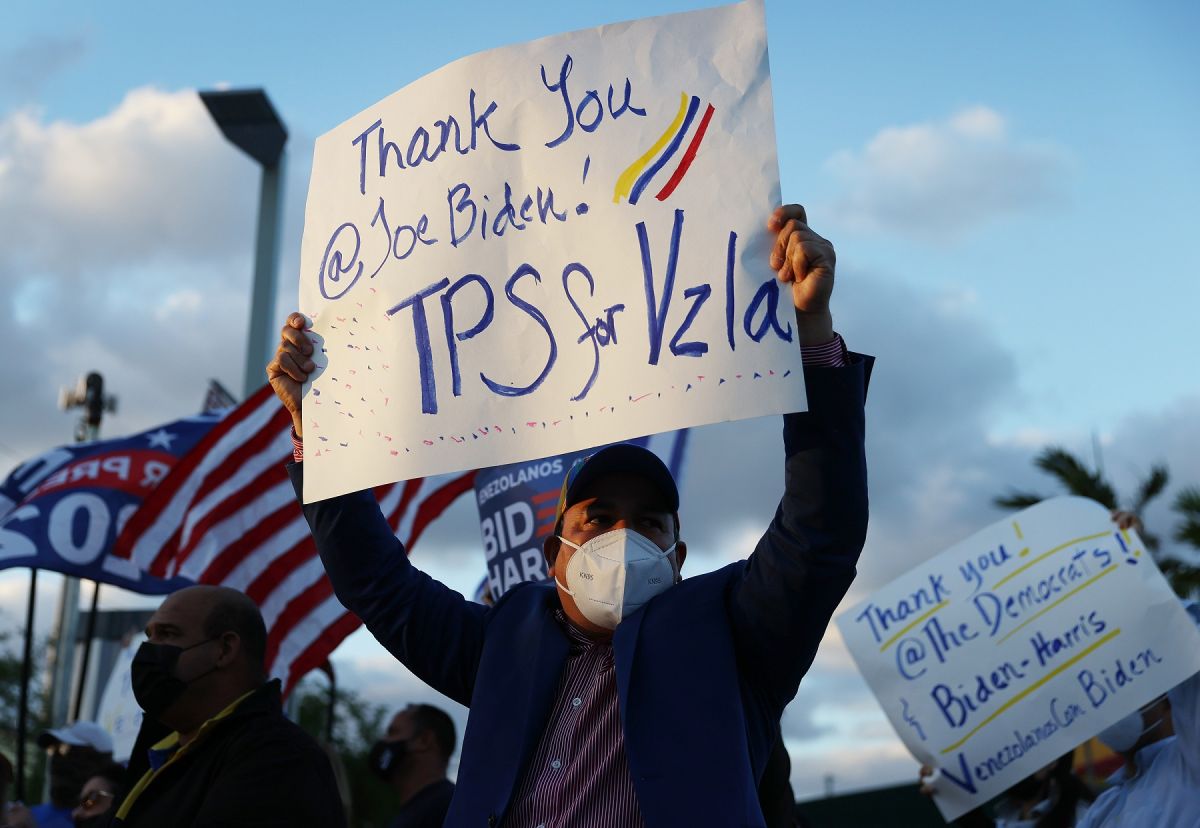 The TPS for Venezuelans is for 18 months.
Foto:
Joe Raedle / Getty Images
On April 23, a group of "coyotes" threw a 2-year-old girl and a 6-year-old boy with a rope over a 30-foot section of the border wall between the United States and Mexico. They are originally from Venezuela.
The minors were traveling with their mother and were processed by the Border Patrol, Customs and Border Protection reported (CBP), which also reported two other adults in the group.
Several similar cases of immigrants from Venezuela have been found on the border, after the president's government Joe Biden approve the Temporary Protected Status (TPS) for those originating in that country.
However, Frauds have been the order of the day and the Office of Citizenship and Immigration Services (USCIS) has implemented a campaign to remind Venezuelans how the program operates, emphasizing that only people who demonstrate stay in the United States before March 8, 2021 will be able to have access to that protection.
It is estimated that some 400,000 Venezuelans could obtain that protection to avoid deportation, but the rest could be processed to be sent back to their nation.
The Secretary of Homeland Security, Alejandro Mayorkas, reported that TPS is for 18 months, until September 2022, but individuals must meet eligibility requirements, including "Good moral character", that is, that they have not committed any crime or have processes open in court.
A USCIS spokeswoman reported that there have been several cases of fraud about the program, which has triggered alerts in the agency, as immigrants are promised protections that do not exist and they fork out money that they will never get back.
Registration for Temporary Protected Status (TPS) and Deferred Forced Departure (DED) under the designation of Venezuela is open. If you are eligible and wish to apply, do so before September 5, 2021. More information, at: https://t.co/lnS38CQIMn pic.twitter.com/uYOeQ6M2gk

– USCIS Spanish (@USCIS_es) May 18, 2021
What they should know
1. Temporary benefit. TPS is a benefit that immigrants who are already in the United States stay for a limited period of time. In the case of Venezuela, it is 18 months, until September 9, 2022.
2. Permanence. People who achieve the benefit will not be able to be deported, in addition to having an Employment Authorization, but they must continue to meet the requirements of TPS. They could even request travel authorization to re-enter the country without problems.
3. No other benefits. Get a TPS it is not a step to the "green card". It is an independent benefit, it is not a change of immigration status, but a protection to avoid deportation. No person with TPS can petition their families to travel to the US.
4. Deadline. The application period ends on September 5. You can get the details at uscis.gov (in Spanish).
5. Who qualifies. Only individuals who can show continuous residence in the United States as of March 8, 2021 are eligible. All those people who entered the country after that date ARE NOT ELIGIBLE.
"For their own health and safety, people should not believe that smugglers or others claim that the border is open now," recalls the Biden Administration.



eldiariony.com
Eddie is an Australian news reporter with over 9 years in the industry and has published on Forbes and tech crunch.