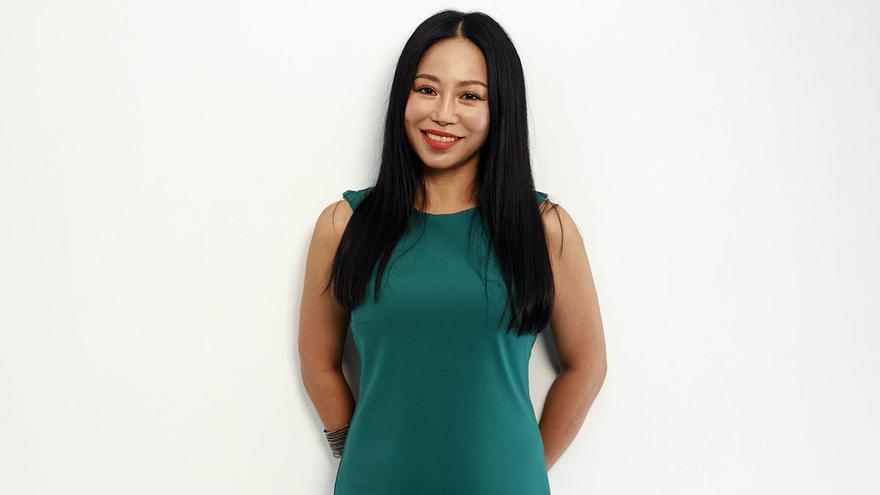 I believe in Yoon (Pusan, South Korea, 1977) was going to be an ambassador, but decided to turn her life around when she realized that it was difficult for her to climb in that profession. "She was very ambitious. She didn't want to be a secretary," she confesses. So understand what lives the protagonist of 'Supernomal', the Movistar + comedy in which the former reporter of 'El intermedio' plays the Filipino assistant of an investment bank executive who sees that she is reaching the glass ceiling by having a family.
-What did you like the most about Imelda, her character?
-That their reactions are different. I think that many times we all think that we are very normal, but for other people the same I am something different or strange, it depends on the situation.
-Different for being from Korea or for the character himself?
-By the character and the situations. I think this series has brought out the different point of each character. It's just that being normal is also difficult!
-We all have our quirks. What are yours?
-My way of thinking and my rhythm. Maybe people think of number one and number two and I'm already going for four or five. That sometimes collides.
-'Supernormal 'affects the obsession of women to get to everything. Do you think that more is demanded of us than of men?
– Surely yes, because we have the subject of the maternity. We still have a family and, in the modern world, you have to work, not only for financial reasons, but also for your own self-satisfaction and your happiness. So we are at a time when women have to do everything and it is a new situation.
-And that's where the comic situations of 'Supernormal' arise.
-My character sees Patricia as very demanding and ambitious, she believes that it is not necessary to have everything. But on the other hand, modern women have families, they must work and strive so that everything turns out perfectly. And what is normal and what is not? For me, Patricia's situation can be very normal, I know there are many women like that.
-In this series she plays a Filipina, in 'Gym Tony' she was Japanese and in the play 'The Jury' she was Chinese. Does it bother you to be given other nationalities being Korean?
-Not at all, I'm an actress and I have to play those characters because I have Asian features.
-Was your love for Spain born when your mother listened to the songs of Julio Iglesias?
-I used to listen to Julio Iglesias and another Brazilian artist who sang in Spanish, I don't know if it was Roberto Carlos … But I didn't like my mother listening to them! She was small and did not know that they spoke in Spanish.
-So how did your relationship with Spain arise?
-I lived in Canada and met some Catalan friends. It caught my attention because we were foreigners studying together, and most were Colombians, Mexicans, and suddenly there were some Europeans from Spain, who everyone thought was next to Mexico … Well, they said rather that they were de Catalunya … I took a couple of weeks to go on vacation to Barcelona … and until now. I lived in the city for three years and I have been in Madrid for more than 10 years.
-I was going to become an ambassador and studied Political Science and Foreign Affairs. Was it paternal imposition?
-No, it was my calling. I was very ambitious. What happens is that after the race, when I was doing practice, I realized that being a woman and not being anyone important, not having a plug, it was difficult to make the leap. She did not want to work as a secretary, she aspired to go further, and she saw it as very difficult at the time.
"In 'The Intermission', the politicians relaxed with me"
-Have you ever regretted leaving 'The Intermission'?
-Not. Before the show I was working in movies, doing drama. And going into 'The Intermission' was a very different experience, quite an experiment for me. I didn't know that it could be good for me to work in the comedy industry. And for seven years I did everything there: interviews, visiting villages, even a 'reality show' … But after time I decided it was a good time to return to my vocation.
-In the program he dealt with politicians a lot. Did they accept jokes well?
-Yes, but because they knew that I was asking questions that were not about politics, but about life, and they relaxed. I think the politicians came out with me on the screen very nice.
-The success of 'Parasites' has made Korean cinema fashionable. Are you not considering working in your country?
-I would love to! I think Bong Joon Ho, the director of the film, is preparing a multinational project. I hope he calls me and I will tell him that I speak three languages. In fact, recording 'Supernormal' with Emilio [Martínez Lázaro, el director de la serie] It reminded me a lot of Korean cinema.
-Why?
-Emilio takes great care of details, and in Korean cinema as well. It goes very slow and there is a lot of concentration. It is a style of work that I like.

www.informacion.es
Eddie is an Australian news reporter with over 9 years in the industry and has published on Forbes and tech crunch.