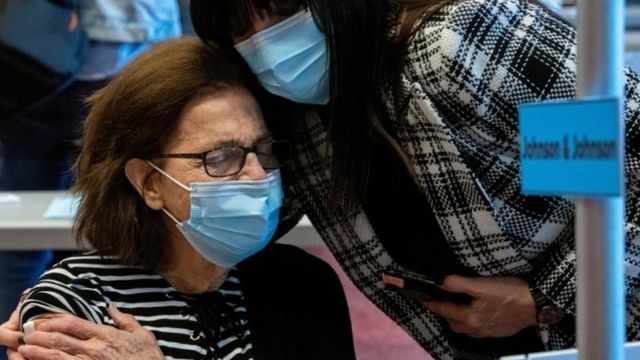 100 million doses of vaccines.
The United States arrived this Friday at the magic number that Joe Biden set as a goal to reach in his first 100 days of presidency and has achieved it in half the time.
And it is that after a few initial months of disorder and confusion, the vaccination process against the coronavirus in the United States reached cruising speed and is on track to accelerate significantly in the coming weeks.
These are some of the key points of this fast race.
1. May as the horizon
According to data from the Centers for Disease Control and Prevention (CDC) of the United States, until this March 12 they had been administered 93,721,290 doses in the country and 32,904,161 citizens they were fully vaccinated.
Currently some 2.2 million doses per day and nearly 65% ​​of adults 65 and older have received at least the first dose.
There are a series of criteria to be eligible for the vaccine that vary slightly by state and are constantly updated, but which can be summarized in the following points:
People aged 65 and over
Residents of senior centers and the staff who work in them
Health workers with direct contact with patients
Fire and security forces personnel
People with health problems who have a medical report
Teaching staff of some levels
Biden insisted Thursday that his purpose is for every adult residing in the country has the right to receive the vaccine in the month of May.
To do this, the president urged the state governors to relax the current list of requirements, especially age limits, between now and then.
Alaska became the first state in the country to eliminate priority groups on Tuesday. Michigan and Wisconsin have announced that they will relax their rules in the coming weeks.
It should be noted that opening eligibility does not mean that everyone will be able to get vaccinated in May. You will still have to make appointments and wait for your turn.
2. More staff and more places
Another way to speed up vaccination is to expand the number of centers where vaccines can be administered and the personnel trained to do so.
In this sense, Biden announced this Friday that professionals such as dentists, veterinarians and health care students will be recruited to assist in the national vaccination effort.
"The Department of Health and Human Services will launch a new portal to help individuals determine where they can sign up to volunteer in the administration of vaccines," said Marcella Nuñez-Smith, director of said government agency.
With this new measure, more classes of "vaccinators" have been authorized, including dentists, EMTs, midwives, optometrists, paramedics, attending physicians, pediatricians, respiratory therapists and veterinarians.
Students in those categories are also authorized.
In addition, some 4,000 soldiers will provide additional support, bringing the military deployment to assist in these tasks to more than 6,000, the White House said.
The number of vaccination sites is also expanding, from pharmacies, community health centers and mass vaccination centers run by the Federal Emergency Management Agency (FEMA), to large supermarket chains.
To complement these efforts, Biden announced a plan to launch a federal website, which will be ready by May 1, to help people make vaccination appointments more effectively.
3. How it was made possible
In the United States and in the rest of the world, the main factor that restricts the number of inoculations is the slow distribution of vaccines due to lack of stocks.
In the US case, the supply shortage is expected to persist throughout March, but is expected to expand considerably in April.
The federal government has told states to prepare to administer a few 25 million doses per week by the beginning of next month.
Biden announced the acquisition of an additional 100 million doses of the vaccine from Johnson & Johnson, which last week partnered with drugmaker Merck to accelerate distribution.
"We are as in times of war, the additional doses give us maximum flexibility for the next few months, "said Andy Slavitt, the White House advisor for the response to covid-19.
In his first 50 days in office, Slavitt said, Biden has ordered enough vaccines to ensure that they meet deadlines.
The acceleration of the process between now and May will be possible in large part thanks to the release of funds, many of them contained in the rescue plan approved by the US Congress this week and signed into law by the president on Thursday.
4. "America first"
The Biden administration's ambitious vaccination campaign is not without its critics and obstacles.
Within the United States, there is still a large portion of the population that is reluctant to get vaccinated.
And not just minority groups of people who believe in conspiracy theories.
A recent survey suggested that about half of Republicans are skeptical towards the vaccine.
If your doubts translate into inaction, Biden's promises – to reopen schools, the ability to travel and the 4th of July celebrations – will not be kept.
Hence, the president insisted on Thursday that citizens "have to do their part" to be able to get out of the pandemic.
And from outside the United States, criticism comes for what is seen as a "selfish hoarding" of vaccines that puts its citizens ahead of the rest of the world and leaves other countries at a disadvantage.
"The United States must listen to us because the only one paying attention to us is China," Uruguayan Foreign Minister Francisco Bustillo lamented at an event with his Mercosur counterparts in Washington DC.
5. The date of "independence"
Last year, most Americans were forced to forgo parades, fireworks displays and celebrations characteristic of their national holiday on July 4, the date that marks independence from the English.
In his speech Thursday, Biden said he does not anticipate big events this year either, but that he hopes there may be gatherings of family and friends.
"If we do this together, by July 4 it is possible that you, your family and friends can meet in the courtyard or in the neighborhood to organize a meal or barbecue and celebrate Independence Day," he sponsored.
"After a long and difficult year, it would be a really special Independence Day, in which we would not only celebrate our independence as a nation but we would begin to mark our independence from this virus, "he stressed.
Remember that you can receive notifications from BBC Mundo. Downloadto our app and activate them so you don't miss our best content.

www.bbc.com
Eddie is an Australian news reporter with over 9 years in the industry and has published on Forbes and tech crunch.