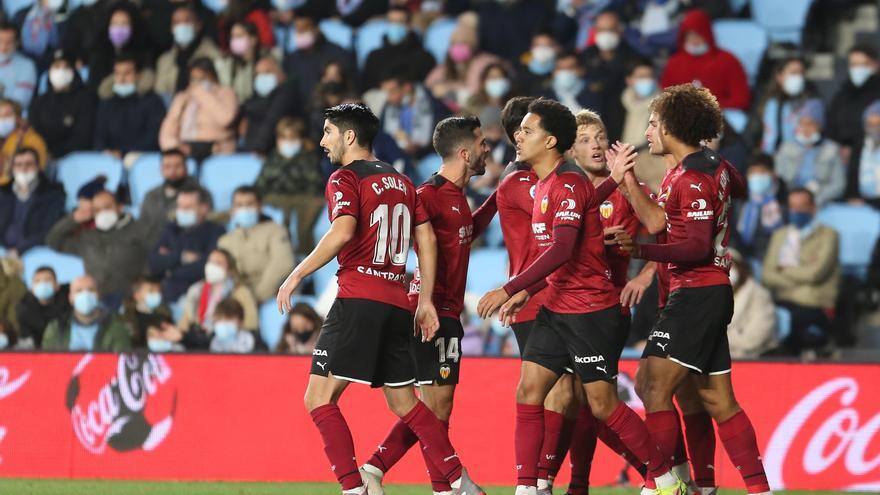 The Valencia took advantage of the defensive errors of Balaídos Celtic to add your second away win this season (1-2), a triumph that prolongs its five-game streak without losing, while revealing the Galician team's problems in attack when they lost to Aspas through injury.
The start of the game was what Coudet imagined in his plan. With high pressure, Celta drowned with several players an exit with Alderete's ball. The defender was wrong. Brais Méndez recovered the ball, Aspas faced Guillamón with mastery and then culminated with office against Cillessen. A goal in the first approach of the celestial team.
However, Aspas was injured on that play and requested the change, with gestures of a muscle injury to the right adductor muscle. Coudet put in Tapia to reinforce the center of the field; that retouching moved Brais Méndez to the front and Beltrán to the right wing.
Celta did not have time to settle into this new arrangement because, three minutes after Aspas left, a serious error by Dituro facilitated the tie. The goalkeeper wanted to start the attack with a short pass, but Maxi Gómez appeared to pressure him, cause the failure, a bad clearance from Dituro that gave the tying goal to Hugo Duro.
The game was balanced from that moment, with more possession of the ball for the celestial team, although with few occasions, beyond a shot by Araujo that Cillessen touched and a lateral foul that Brais Méndez headed deflected. Valencia took refuge in their field, waiting for a backlash.
Celta opened the second half with a couple of warnings, a deflected shot from Santi Mina and a loose free-kick from Brais Méndez. But his conviction was once again on the defense. A failure in the chain facilitated another goal for Valencia: a pass with the hand without precision from Dituro, a bad control from Kevin, the mistake of Aidoo and Araujo to cut a cross from Gayá; finally, Maxi Gómez scored heads-up against Dituro.
Celta showed its shortcomings behind. Valencia squeezed. The intensity increased. He continuously drilled the right wing of the Vigo team. Racic touched the third goal, after another cross from Gayá from the left lane. Celta responded immediately: Santi Mina headed a cross from Cervi, a good shot to which Cillessen answered with a huge stretch.
The domain was slipping away from Coudet's team before the solidity of Valencia. It was the script that Bordalás wanted. Control of the rhythm in a stuck game, with many stops. His equipment was comfortable. He found spaces, and danger, by Gayá's band, from which a great center came out again, which, after Maxi Gómez accommodated the ball, wasted Soler.
Celta clouded in attack. Without Aspas, with little contribution from Coudet's changes, a Chilean from Brais Méndez was the only opportunity to try to tie a match that Valencia oriented towards a swampy style that annulled Celta, short of ideas, subjected to the Valencian trade, which had in the last minutes several counterattacks to sentence his visit to Balaídos with more advantage.
Datasheet:
1. RC Celta de Vigo: Dituro; Kevin, Aidoo, Araujo (Murillo, min. 74), Javi Galán; Beltrán (Nolito, min. 57), Denis Suárez, Cervi (Solari, min. 57), Brais Méndez; Aspas (Tapia, min. 15), Santi Mina
2. Valencia CF: Cillessen; Piccini (Lato, min. 73), Hugo Guillamón, Omar Alderete, Gayá; Hélder Costa (Guedes, min. 83), Soler, Koba Lein (Racic, min. 52), Wass, Hugo Duro (Musah, min. 83); Maxi Gómez (Marcó André, min. 83)
Goals: 1-0 Aspas min. 10; 1-1 Hugo Duro min. 18; 1-2 min. 53
Referee: From Burgos Bengoetxea (Basque committee). He admonished Beltrán (min. 8), Aspas (min. 10), Javi Galán (min. 95) by Celta; by Valencia to Maxi Gómez (min. 36), Gayá (min. 51)
Incidents: Match corresponding to the sixteenth day of LaLiga Santander played at the Abanca Balaídos stadium in front of 11,316 spectators.

www.informacion.es
Eddie is an Australian news reporter with over 9 years in the industry and has published on Forbes and tech crunch.