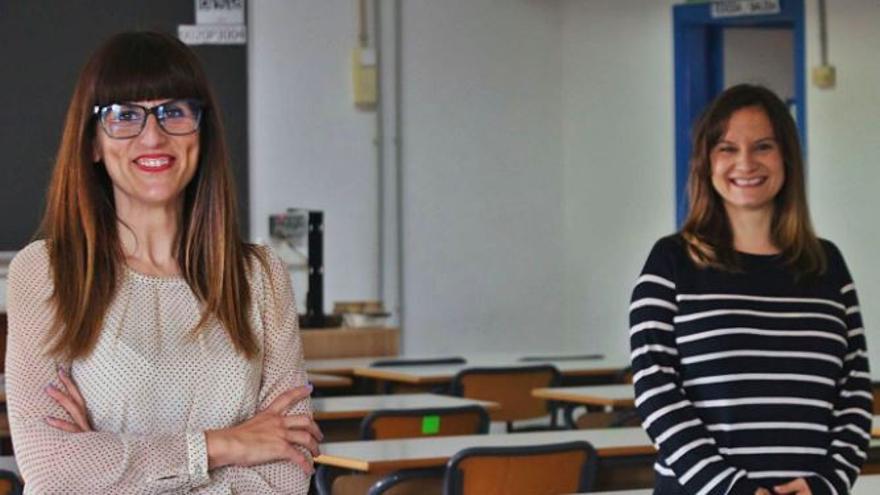 The presence of the south of Valencia in the regulatory body has been expanded with the incorporation of Sandra Montserrat and Maria Àngels Francés, professors of the Department of Catalan Philology at the University of Alicante.
Sandra Montserrat and Maria Àngels Francés, professors of the Department of Catalan Philology of the University of Alicante (UA), will take possession shortly like members of the Valencian Academy of the Language (AVL), after to have been chosen in April. With them the representation in the normative institution of the most southern counties of the Valencian Community will be extended. A south that, apart from its particular features, they believe should stop being seen with a certain paternalism from the rest of the territory.
What is the significance of the fact that you are teachers at the AU and, therefore, in some way represent the counties of Alicante in the AVL?
[Sandra Montserrat, SM] We know the terrain very well, we step on it every day. We know how teachers work and how Valencian is taught, and we always try to contribute something. Therefore, belonging to the AVL means adding a little more south to the institution.
When we talk about the south of Valencia, we usually talk about the southernmost regions of Alicante. They believe that this area is disconnected from the rest, that the Biar-Busot line [límit de l'antiga Governació d'Oriola] does it still exist?
[Maria Àngels Francés, MÀF] Circumstances do not facilitate the backbone, but I think we in the Department do an important job in that regard. Here we have students from all the counties of Alicante, we have managed to reverse the fact that before those in the north looked more in Valencia. And we all do the same job here and work together to reconstruct the collective imagination of belonging to the same territory.
[SM] Alicante and Elche are very large cities, with a very diverse population, and therefore their realities are different. However, I am also very critical of the prejudice of many people who, when they come here, switch to Spanish because they believe that Valencian is not spoken there. We must teach others that the south of the south is Valencian; that diversity is positive, and that this diversity can be structured in Valencian.
The increase in the presence of Valencian in the education system and in society in general is the subject of controversy in a part of the population. What opinion do these somewhat hostile attitudes deserve?
[MÀF] He finds it a matter of manipulation from an ideological perspective. There is no reason to justify feeding hatred or intolerance against Valencian in a territory where language is the basis of culture, such as Alicante. Trying to erase this is out of place; it has an ideological intent and feeds on a series of prejudices.
[SM] We must value globality and at the same time particularity, and our particularity is to be Valencian. If you try to make your particularities disappear, you lose your identity. School makes you value your particularities, and if you have more particularities you will have more opportunities in life; you will be able to work in a multinational as well as in a small company making T-shirts with messages in Valencian. Reducing is typical of another era, it is a very big mistake, but it is interesting to create conflict and it is very easy to tell a father that with Valencian his son will not get anywhere, when it is just the opposite.
So, do they find the policies of the Ministry of Education appropriate in this regard?
[SM] I get the feeling that the policies go a bit with the handbrake put in advance. And they have to be brave so that teachers can do pedagogy. It is more than studied that a minority language needs more teaching hours for the student to have competence in it.
[MÀF] I understand how difficult it must be to make a strong law that bets on Valencian in a country like ours, but we need it so that Valencian is a normal language and on equal terms.
Do they feel in everyday life this inequality they are talking about?
[MÀF] The fact of wanting to live in Valencian, and not only in Alicante, implies a daily anguish that is not fair or tolerable. I just want to be understood and respected; speaking Valencian is already in everyone's freedom, although if it is done, it is obviously better.
[SM, incidint en el mateix argument] Valencian speakers cannot accept that we are second-class citizens. We need to see our language protected. Or maybe we pay less in taxes?
How could sensitivity be generated towards Valencian in people who do not speak it or in Spanish-speaking territories, especially in education?
[SM] Showing that Valencian is an opportunity, and it's also free! It is a sum for the person, and to explain this is to do pedagogy. Fathers and mothers have a lot of headaches, and if they know that Valencian adds up, they will want it.
[MÀF] I don't think Valencian should be taught with the same methodologies in Alcoy as in Torrevieja, but for that we have a fantastic teaching staff. There are formulas for optimal results in every context, but we must also strip ourselves of prejudices that make no sense. And in addition, you have to give teachers strong legal and institutional support.
What do you think that the defense of Valencian tends to be associated from the outside with certain ideologies or political acronyms?
[SM] I don't see it right at all. If we are in the Valencian Country, what should we talk about if not? We will have to speak Valencian here and not in Berlin; this is not doing ideology, but the most normal thing in the world.
[MÀF] I also don't think it's a matter of ideology, but when you live in a situation of minority you are always defending yourself, and that makes you look for certain groups to have support.

www.informacion.es
Eddie is an Australian news reporter with over 9 years in the industry and has published on Forbes and tech crunch.