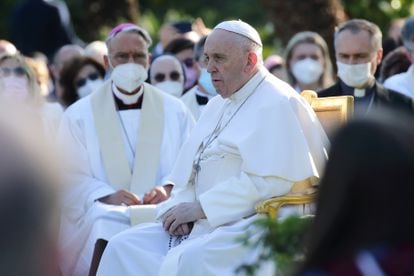 The reform of the Code of Canon Law announced yesterday by the Vatican constitutes an important step forward for Pope Francis in the fight against pedophilia, sexual abuse and the widespread cover-up of these crimes within the Catholic Church.
The modification, which culminates a review process initiated during the papacy of Benedict XVI, has three fundamental characteristics: it describes crimes from a current perspective —and in some cases broadens—, raises penalties and reduces the margin of autonomy of bishops and superiors. of the perpetrators in a clear attempt to punish active cover-up or passivity when investigating the facts. This kind of action or negligence on the part of the ecclesiastical hierarchy has been a recurrent characteristic in many cases of abuse that have come to light. The amendment also includes an article that defines pedophilia as "a crime against human dignity" that can lead to expulsion from the clerical state. These are necessary and welcome measures.
The reform, which will come into effect on December 8, introduces other important new features, including that the sanctions will not apply only to clerics, but to lay people who have some kind of responsibility in organizations of the Catholic Church. It is a wise move, especially in view of the growth of lay movements within the Catholic Church in recent decades. It is also worth noting positively the inclusion of sexual abuse against persons of legal age in vulnerable situations – one of the biggest scandals revealed has been the continued abuse of former Cardinal Theodore McCarrick against seminarians.
With this reform, the most far-reaching in four decades in the field of the Code of Canon Law, Francis faces one of the greatest problems facing the Catholic Church. The severity and extent of this kind of criminal behavior have significantly affected the credibility of the institution, and in that sense it is positive that it is taking decisive steps to overcome it. The Church lags far behind society in this area. It must be amended and regained ground with maximum speed, to avoid new cases – fortunately less likely than in the past, more because of collective awareness than because of the Church's own action up to now – and purge past responsibilities, repair the victims, recognize the brutal damage inflicted. Once approved, the reform will now have to be rigorously applied. Not only do they derive far-reaching consequences for the victims; also for the future of the Church itself, which must clear these terrible clouds from its horizon.

elpais.com
Eddie is an Australian news reporter with over 9 years in the industry and has published on Forbes and tech crunch.