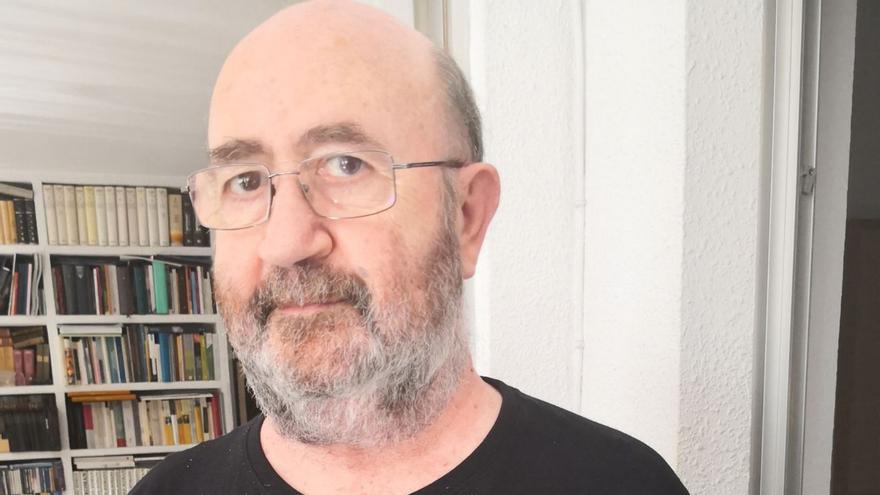 All this tedious as a brief introduction comes to mind because the other day my friends Vicente Carrasco and Amalia showed up at my house almost suddenly. They brought a splendid gift in the form of a book with a maroon cover and expressive title, A river, a carob, a sea and a palm tree. In its more than five hundred pages, Vicente was reeling off his life and miracles, adventures that many of his friends already knew about and others that surprise for their stark narration. From his childhood in that tiny dry-land town of the Valencian sierra, Gestalgar, until his first years of high school in Chiva while, as was logical in that rural Spain of the fifties, he had to collaborate as one more in the hard family agricultural tasks in order to be able to survive. That sad Spain of the post-civil war was already conveniently explained by Carrasco in a narrative that collected brilliant descriptions of those lands and their people, Remembrances of a gestalguino, a book that deserved the unconditional support of his city council and his people since they saw each other perfectly reflected in him through time.
Now, Vicente has taken two more steps but without going back an inch. He tells us with his usual good writing that day that his family, tired of being fed up, loaded all their belongings into a truck and bolted the town house to come to Alicante, to find a new life. Vicente continued his high school studies at Jorge Juan and made good that phrase of Max Aub that "it is not where you are born but where you do high school." And Magisterio, I would add.
Vicente Carrasco, who has never forgotten Gestalgar where he has a well-equipped house to receive his friends, is one more from Alicante. Especially when he fixed his eyes on that intelligent, beautiful and friendly girl named Amalia Montahud with whom, many years later, he continues to share existence. Vicente, during his time in Alicante, has gone through all kinds of experiences, the most positive but not exempt from some setback, as unfair as it is unnecessary, which has made him affirm in those words of Jack London that «the individual must rise up in front of the adversities "and because as my daughter Laura would say playing Che Guevara," the only fight that is lost is the one that is abandoned. " Professor of EGB, Inspector of Education, Hired Doctor at the University of Alicante and happily retired, Carrasco spends much of his time improving Fischer's plays against Spassky, playing the accordion as well as Argentine / Cuban Eddy Gaytan, using the notebook to go writing down those things that catch his attention and then pour them into the computer, recording them in his notebook of "Ababoles y wheat", photographing Gonçalves the most beautiful windows in the world he visits, or fighting against the Administration so that the Historical or Democratic Memory is something more than an attempt that does not fall into oblivion, like so many other things.
The book, this splendid autobiography that he himself has designed and published, is also about his son Vicente and his grandchildren, to whom he intends to leave this legacy of his. By the way, and speaking of his son, the former lead guitarist of the Alicante group Indra, later Indras out of jealousy of the multinational, pretended and incredibly managed (Eric Clapton was to blame) for a server to act as an "entertainer" in his marriage ceremony with María and one, who was very satisfied with his intervention, now contemplates, horrified when reading his father's memoirs, that of success, nothing at all. So that they can see that what Serrat says is true: "the truth is never sad, what it has no remedy …". In his next marriage that Vicente Junior does not count on me, neither for Clapton nor for Brian Wilson.
Carrasco's autobiography is not only a tribute to life but also to friends, "the old ones, like Sofo, and the new ones, those of the tuna dinner" and to those memories tinged with both colors, green and black. , which have marked the life of a character who at seventy still has a lot to tell and teach. A staunch defender of the collective memory of the people, Carrasco says goodbye with a message that he repeats on the back cover and I can't help but convey to you: vulgar as they seem, because they are unique and valuable. '
Vicente Carrasco, «Chulo» for friends, as television said when it was in black and white in that program presented by Federico Gallo, This is your life. Your life told by yourself knowing, as you know perfectly well and that is how you constantly remind us, that it is convenient not to forget that the same experiences are remembered in different ways by the different people who have starred in them.
Vicente Carrasco, honest and balanced. As always.

www.informacion.es
Eddie is an Australian news reporter with over 9 years in the industry and has published on Forbes and tech crunch.