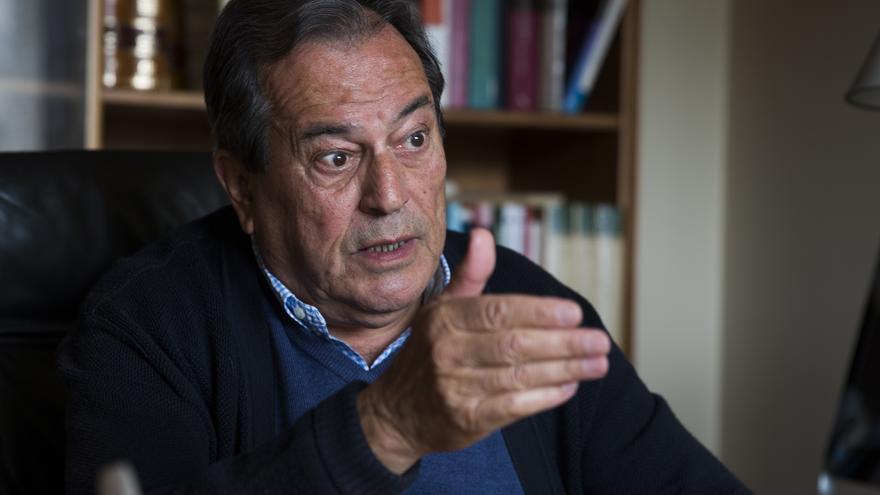 He has been the teacher of many Alicante jurists who are practicing law thanks to his teachings when he was a professor of procedural law at an incipient University of Alicante, which was beginning to take its first steps in that old campus of a part of what now constitutes our Alicante University .
Vicente Gimeno was one of those people you meet and realize at the first change that he is different from others, and that he achieves an immediate ascendancy in those who listen to him. Few people I have met with the ability to transmit with a devastating and exclusive clarity of minds as privileged as his, that he was capable of giving an answer to a legal problem with the absolute conviction that this was the truth when faced with an interpretive doubt about a norm legal. He said and wrote it with a clarity and power of conviction that you knew was the answer. There was no other. Calm in his expositions, but forceful in his affirmations. And always with that characteristic smile of his. He was a mass jurist.
Vicente Gimeno had the virtue of knowing how to explain with foundations, precision and clarity in exposition what he thought about a certain legal issue, and it was very difficult to refute his arguments due to the solidity with which they explained them and the forcefulness and determination of their legal conclusions. When you talked to him about the law, you knew that if he said something that was the absolute truth, because you were in front of those few people with whom you realized that when they speak about the law, that answer they give to the problem that arises is the correct answer and that there can be no other.
He was my professor of procedural law at the University of Alicante when I was 21 and 32, and one day, having a coffee with my admired professor, I began to talk to him about my concerns in the fourth year of career to opt for the judiciary. I did it in that old cafeteria that many remember from the old hangar of the University of Alicante. He was the first person with whom I discussed that subject of trying to be a judge. And it was because of the admiration that the extraordinary classes of procedural law that he taught gave me, and at such a young age that he was, but it seemed to me as if he was much older because of the wisdom that he derived from his teachings. It was as if an open book taught you. He was deceiving with his way of explaining and few can do it. It is a virtue that few possess. And he had that exclusivity that is an absolute gift. And they say that when you like a branch of law it is because the professor at the University where you study the degree is a great transmitter of knowledge and an extraordinary professor who makes you look forward to that class of the subject he is teaching.
Vicente Gimeno Sendra has been a Messiah of law due to the large number of followers and admirers that we follow. He has left a great school, very great. Because there are many of us who practice law thanks to him, so Vicente's death causes great pain and emptiness in Spanish law. His works and doctrinal articles remain full of wisdom in which he transmitted the absolute truth. You knew what Gimeno Sendra said was the truth. There was no legal alternative if he maintained a concrete thesis.
His family, his wife, his children, all practicing in the world of law, know much more than anyone what we have just said and, furthermore, his affection for them. He saw him with his wife, Cristina, in Madrid from time to time, because he was going to see his son Jordi who was working there, because Vicente did it in Alicante and he saw him more.
He leaves us a great legacy that will be in the permanent memory of legal reason. We have run out of him physically, but spiritually he will always be on the minds of all jurists. Although the law has been totally orphaned. And from father AND mother at the same time. Rest in peace Vicente and thank you very much for everything you have given us.

www.informacion.es
Digsmak is a news publisher with over 12 years of reporting experiance; and have published in many industry leading publications and news sites.