Victoria Hohenlohe studies International Relations at the Instituto de Empresa in Madrid, shares a flat with a friend and dresses with the carefree characteristic of any young 21-year-old girl. Whoever sees her walking through the city with the ethnic bags in which she carries her books, will hardly be able to imagine that very soon she will become the Spanish woman with the most noble titles.
Although currently having these deep-rooted stamps does not entail legal or fiscal privileges and only provides those that society wants to grant them at all times, Victoria Hohenlohe was clear Since his father passed away in August 2016 from cancer, he would not renounce the inheritance of his ancestors. A legacy that entails real estate possessions where encounters and feats that are part of the history of Spain were carried out, but also the responsibility of carrying on the shoulders the weight of distinctions that date back to centuries of family tradition.
Because a part of the inheritance that Victoria Hohenlohe receives cannot be understood without paying attention to the neat genealogical tree of her father, Marco Hohenlohe-Landgenburg, heir to the Duchy of Medinaceli, title with Greatness of Spain that gives its name to one of the noble houses with more tradition and pageantry of the country, descendants of King Alfonso X El Sabio.
When the young woman was still mourning her death, she claimed, at the end of the summer of 2016, the titles that her father already possessed and subrogated herself in a request that her father filed in 2014 to add to his duchy of Medinaceli, another 38 noble records, nine of they with greatness from Spain that belonged to his grandmother, Victoria Eugenia Fernández de Córdoba. The ownership of some of them was in dispute since Victoria's great-uncle, the Duke of Segorbe, requested in March 2015 the succession of 20 of them, whose rights had previously been reserved by his nephew Marcos.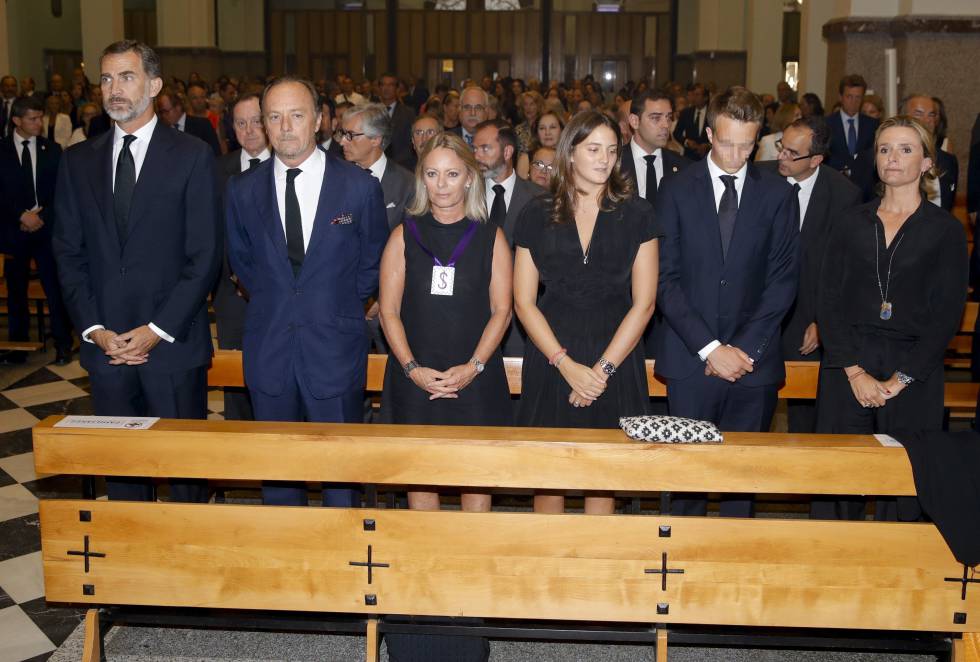 A situation that goes back to years ago, when in 2006 the law of the nobility equated the rights of women with those of men in the succession of titles and deprived the Duke of Segorbe of an inheritance, which he took for granted, in favor from his older sister, Ana, Victoria's grandmother. She died a year before her own mother and never received the titles of discord that they fell directly to Marco Hohenlohe, his first-born.
The young heir, to whom the legislation proves to be right and granting one title after another, has grown up in Munich for years under the tutelage of her mother, Sandra Schmidt-Polex, who was married to Marco Hohenlohe from 1996 to 2004 when the couple divorced and she returned to live in her hometown with her children. Despite this physical separation, both Victoria and her brother Alexander spent their holidays in Spain with their father and in particular she has always felt a strong bond with the country. Any time was a good time to escape to Pilatos' house in Seville, where his father lived. He had that affinity with him that goes beyond blood ties and he was with him during the last months of his life, when the cancer he suffered worsened and which was the cause of his death when he was only 54 years old.
Marco Hohenlohe suffered a serious motorcycle accident shortly after marrying Victoria's mother, from which he had important consequences for life, but those who knew him speak of his great humanity and sense of humor. From him Victoria received the secrets, history and traditions of the family, although what she could not do for her shy daughter was to teach her to cope with the media interest that was going to haunt a young woman who would rather be able to go unnoticed.

elpais.com
Eddie is an Australian news reporter with over 9 years in the industry and has published on Forbes and tech crunch.