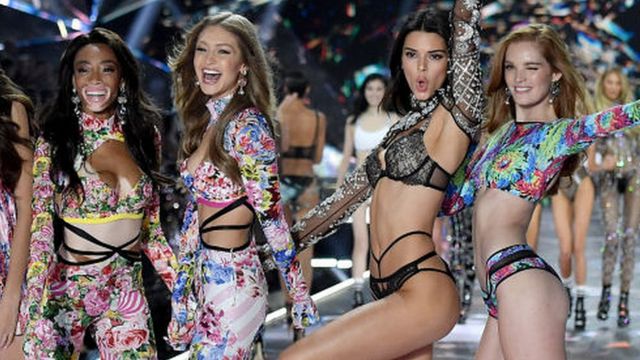 The irruption of the #MeToo movement by which thousands of women around the world denounced situations of sexual harassment and abuse and the changes in the perception of the female body caused the giant of Victoria's Secret lingerie to reel.
The fashion shows of slim models, known as "Angels", and hypersexualized lingerie ads have been losing fans and gaining naysayers, as if they were something from the 90s or early 21st century.
In this context, the company set out to reinvent itself and one of the first steps was taken two years ago when it decided to cancel its famous annual event in which models such as Heidi Klum, Gigi Hadid or Alexina Graham paraded wearing the brand's garments.
Now, that process of image washing has been deepened with the hiring of figures such as the American star of women's soccer Megan Rapinoe or the Indian actress and singer Priyanka Chopra.
Both will be part of The VS Collective, a group of women who will work with the company in "collaborations, business agreements and initiatives to defend or promote different causes."
However, the lingerie market has changed and in recent years several companies capable of competing have emerged with the once dominant Victoria's Secret.
Will he be able to win back his crown?
New faces for a new project
The announcement of the signing of soccer player Megan Rapinoe and Indian actress Priyanka Chopra made this week reflects that process of renewal of Victoria's Secret in its effort to improve its image.
Rapinoe, 35, who was part of the U.S. women's team that won the soccer World Cup twice, is also well known off the field for her political activism and community advocacy. LGBTQ.
"I am excited and ready to partner with @VictoriasSecret as part of #TheVSCollective – women I admire and who are icons of our time," Rapinoe wrote in a message on Twitter last Thursday.
"I look forward to working with them to show ALL women their individual and collective beauty and power."
Change of perspective
The company still generates billions of dollars in sales.
However, the cultural shift fueled by the #MeToo movement and a new approach to the body saw rival companies like Savage X Fenty, the underwear brand founded by singer and cosmetics mogul Rihanna, rise in popularity.
More and more women began to choose more comfortable underwear, inspired by a concept that combines sport with leisure.
The company's desire to change its image was confirmed by its CEO, Martin Waters, in a call about the company's financial situation last February.
"I could not be more delighted to lead the work to refresh the positioning of the brand to make it more relevant, more inclusive, more consistent with the attitude and lifestyle of the modern woman," he said.
He added: "We are moving from what men want to what women want."
"Patriarchal, sexist"
The company does not rule out taking up the idea of ​​the annual parade, although in a renewed version.
A spokesperson for the lingerie firm said: "As an entertainment brand, with a strong cultural footprint, we are reimagining what a fashion show will look like in the future."
Yet Waters, who is Victoria's Secret's fourth chief executive officer in five years, told The New York Times that "right now" he doesn't see the "Angels" as "culturally relevant."
Rapinoe was more forthright in speaking about the company's image in the past, describing it as "patriarchal and sexist," which viewed "what it means to be sexy through the lens of men and what men desire."
The athlete added that "it was very aimed at younger women", a message that, in her opinion, was "really harmful."
Dangerous friendships
Victoria's Secret was bought by Les Wexner in 1982.
Wexner, the former CEO of L Brands, the parent company of Victoria's Secret, recently announced that he will not stand for re-election as president emeritus.
In 2019, Wexner came under fire for his long-standing friendship with Jeffrey Epstein, the New York billionaire accused of child sex trafficking and abuse who died in a cell in 2019.
Wexner hired Epstein to manage his finances, but cut ties with him in 2007 and later said he was "embarrassed" by his friendship with the financier.
Asked why Victoria's Secret is now launching its new face, Waters told The New York Times: "I knew we needed to change this brand for a long time, we just haven't had control of the company to do it."
Waters joined L Brands in 2008, as supervisor of its international division, before taking over as the new head of Victoria's Secret last year.
A new panorama
The new leadership of the company is aware of the change in mentality of society and also of the need to adapt its business to the world of social networks, especially Instagram.
Women of all ages are looking for new brands with which they can identify better, firms that offer them comfort without losing appeal and that broaden the spectrum of sizes.
They also demand that women not be objectified in advertisements and that models be more diverse.
In this sense, in recent times, lingerie brands such as ThirdLove, Negative, Cuup, Skims, Savage X Fenty and Parade have appeared, among others, which in some sectors are known as the "anti-Victoria's Secret".
Simone Mariposa, an influencer from Los Angeles who calls herself "super fat," says that while these brands are heading in the right direction, she would like to see older women represented as "sexy," not just in basic underwear.
"There has to be more real diversity of sizes, not only in what is manufactured but in what is advertised. I know that if I see a body that looks like mine, I will feel that that brand understands what it is about."
Remember that you can receive notifications from BBC News Mundo. Download our app and activate them so you don't miss our best content.

www.bbc.com
Eddie is an Australian news reporter with over 9 years in the industry and has published on Forbes and tech crunch.