British billionaire Richard Branson was asked in a 1988 television show if he had ever thought of traveling into space. Branson, who had made his fortune on his Virgin Records label with groups like the Sex Pistols and the Rolling StonesHe was thoughtful and addressed the person in the audience who had asked him the question. "I would love to go into space. I think there can be nothing better. So if you build a spaceship, I'd love to go with you, "he replied with a laugh. More than three decades later, Branson, 70, has fulfilled his dream and has traveled in a spaceship built by a company he founded in 2004: Virgin Galactic. It is the twenty-second test flight of the device, the fourth manned mission and the first with the full passage. The company aims to make space tourism easier for those who can pay for it.
The device took flight this Sunday at 9.25 (17.25 Spanish peninsular time) from a mother plane that in turn had taken off from the Spaceport America, in New Mexico (USA). On board were two pilots, Branson himself and three other crew members, all of whom were Virgin Galactic employees. The ship, baptized Unity (Unit) at suggestion by British physicist Stephen Hawking, is designed to reach an altitude of more than 80 kilometers, the limit between the atmosphere and outer space according to the US Federal Aviation Administration. Branson has advanced by nine days to the also billionaire Jeff Bezos, founder of Amazon, who has planned a similar trip andl July 20 with his own aerospace transportation company, Blue Origin.
The competition between the two tycoons is fierce. Bezos's company suggested this friday that what Virgin Galactic offers are not space flights, because they do not reach the call Kármán line, the altitude of 100 kilometers considered the door of space according to international standards. "Only 4% of the planet recognizes the 80-kilometer limit as the beginning of space," said Blue Origin. in their social networks. Branson's craft requires a mother plane for launch, while Bezos's apparatus is a vertical takeoff and landing rocket, capable of reaching the 100 kilometer barrier.
Branson has been making bombastic announcements of impending feats that never came for more than 15 years. In 2004 declared that he would travel to space in 2007 and that by 2009 there would be more than 3,000 new astronauts. In 2013 he proclaimed that singer Justin Bieber would also fly into space. On October 31, 2014, Branson experienced a reality bath when one of his experimental ships suffered an accident in the Mojave Desert (USA), causing the death of the co-pilot, Michael Alsbury. The pilot, Peter Siebold, was seriously injured. The investigation concluded that the event was due to a combination of human error and poor security measures.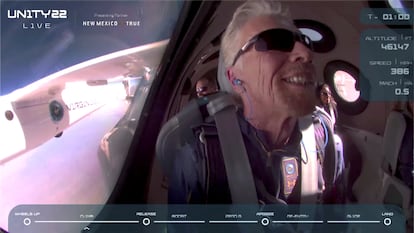 Richard Branson is an extravagant billionaire who one morning disguises himself as Che Guevara to sell products from one of his companies, Virgin Mobile, and another day he buys a Caribbean island, Necker (British Virgin Islands), to establish his residence there and pay less taxes. The founder of the Virgin group of companies assures that his intention with Virgin Galactic is "to open the space to everyone", although each ticket will cost in principle about $ 250,000 (about 210,000 euros), for a flight of just an hour and a half in which passengers can enjoy a few minutes of weightlessness and views of the curvature of the Earth's surface.
Pilots Dave Mackay and Michael Masucci, engineer Sirisha Bandla, astronaut instructor Beth Moses and engineer Colin Bennett traveled with Branson this Sunday. "Our dream is that one day everyone can take a space trip", Moses has proclaimed.
The first space tourist was the American billionaire Dennis Tito, who paid about 20 million dollars to get on a Russian Soyuz spacecraft and spend a few days in 2001 orbiting the Earth aboard the International Space Station, about 400 kilometers high. The American company Space Adventures has since organized another seven trips similar to Titus. The companies of Richard Branson and Jeff Bezos now offer suborbital travel, with less prohibitive prices. The journey on July 20 will be the first manned mission of Blue Origin and on board, along with Bezos, will sit his brother Mark, the veteran aviator Wally Funk and an anonymous space tourist who has paid almost 24 million euros in an auction for be in the passage.
The third billionaire in contention in this peculiar space race, the South African American citizen Elon Musk, founder of the space transport company Space X, has assured that he will take the Japanese tycoon Yusaku Maezawa to the Moon in 2023. Before, from September of 2021, Space X plans a mission of a few days orbiting the Earth with American billionaire Jared Isaacman.
You can follow MATTER in Facebook, Twitter e Instagram, or sign up here to receive our weekly newsletter.



elpais.com
Eddie is an Australian news reporter with over 9 years in the industry and has published on Forbes and tech crunch.