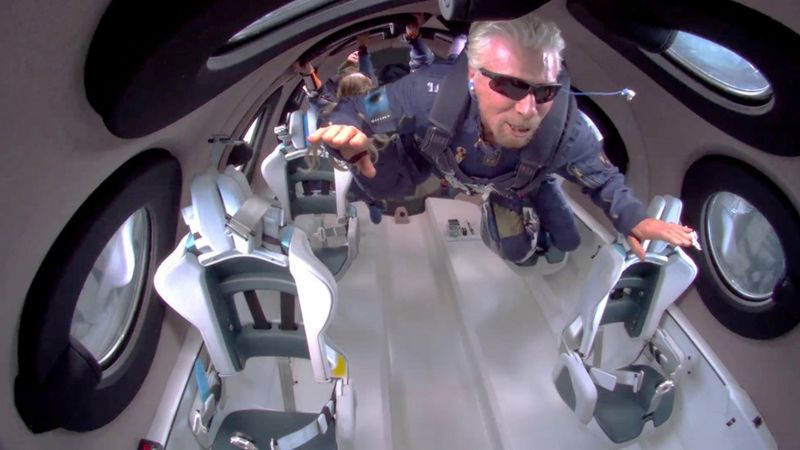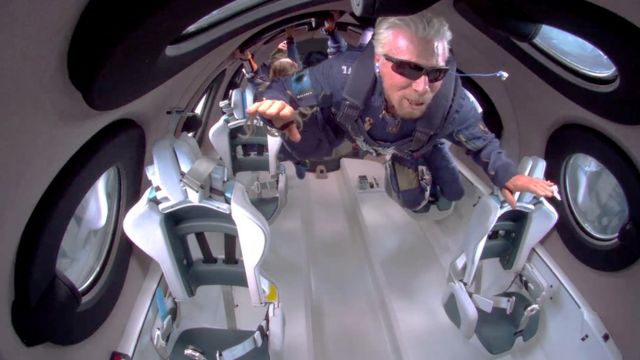 British billionaire Sir Richard Branson fulfilled a lifetime's ambition by flying to the gates of space this Sunday.
His Unity rocket plane took off from New Mexico, in the United States, to spend a moment of weightlessness outside Earth. Shortly after an hour, he returned safely to the planet's surface.
The mission of the owner of Virgin Group is clear: to evaluate the experience to open these trips to the public and to boost the nascent space tourism industry.
The journey made him the first of the new space tourism pioneers to test his own spacecraft, surpassing Jeff Bezos, from Amazon, and Elon Musk, de SpaceX.
Musk traveled to New Mexico to support his friend, and Bezos sent his congratulations via an Instagram post.
In a lecture after the landing, Branson, 70, labeled the flight as "the experience of a lifetime".
"What a day, what a day. I think that, like most children, I have dreamed of this moment since I was a child and honestly, nothing can prepare you to see Earth from space," he said.
"My mission was to make the dream of space travel a reality for my grandchildren, for his grandchildren, for many people who live today, for everyone, "he added.
"And having flown into space, I have seen how Virgin Galactic is the space line for Earth. We are here to make space accessible to all, and we want to turn the next generation of dreamers into the astronauts of today and tomorrow." .
Branson came a long way to get here. The first time he announced his intention to fly into space was in 2004, hoping to have a commercial service available in 2007.
However, some technical difficulties – including a fatal accident on a flight in development in 2014 – made achieving his goal take longer than expected.
How does your rocket plane work?
Branson's plane, known as Unity, it does not take off on its own from Earth. To fly, it needs to be carried by a much larger plane at an altitude of about 15 km, from where it is launched.
The aircraft then starts its engine to propel itself up to an altitude of approximately 90 kilometers.
The height that Branson reached in Unity this Sunday was 85 km.
The businessman was accompanied on the mission by the vehicle's two pilots, Dave Mackay and Michael Masucci, and three Galactic workers: Beth Moses, Colin Bennett and Sirisha Bandla.
Of Branson's companions, the only one who had left Earth prior to this trip is Beth Moses, Virgin Galactic's lead astronaut instructor.
For her, the view from above through the window is "just phenomenal."
"The images do not do it justice. It is so bright and beautiful. I saw the ocean, and half of the United States and half of Mexico. I saw the green of the land and the white mountains covered with snow," he told the BBC. .
"Because you are weightless and still, and the ship has stopped, you can immerse yourself in the view in a truly timeless way. It stuck with my soul," he added.
After the flight, Branson, Moses, Bennett, and Bandla received the commercial astronaut wings from Canadian astronaut Chris Hadfield.
Competition with Jeff Bezos
Branson is not alone in the race for space tourism.
Jeff Bezos, founder of Amazon, has also created a ship with a suborbital system.
The British billionaire has already sold tickets to travel to space to more than 600 people (for US $ 250,000 for a 90-minute flight).
These people hope to reach a height where they can watch the sky turn black and marvel at the Earth's horizon as it curves into the distance. Such a flight should also allow them about five minutes of weightlessness during which they would be allowed to float inside the Unity cockpit.
Meanwhile, Bezos has said little yet about how he intends to market his space business.
Still, Branson has said that he has spoken with Jeff Bezos on the phone and they have wished each other the best in their space endeavors.
"However, there is clearly some tension in the Branson-Bezos relationship," writes Jonathan Amos, the BBC's Science correspondent.
"On Friday, Bezos' space company Blue Origin posted a tweet criticizing Virgin Galactic's Unity vehicle. The post repeated a claim that anyone flying the rocket plane would always have an asterisk next to their name because it would not hit the mark. the 'internationally recognized' altitude where space begins: the so-called 100 km Kármán line, "adds Amos.
"The US government has always recognized that the limit of space is about 80 km and grants astronaut wings to anyone who exceeds this altitude," explains the correspondent.
Now you can receive notifications from BBC Mundo. Download our app and activate them so you don't miss our best content.

www.bbc.com
Eddie is an Australian news reporter with over 9 years in the industry and has published on Forbes and tech crunch.