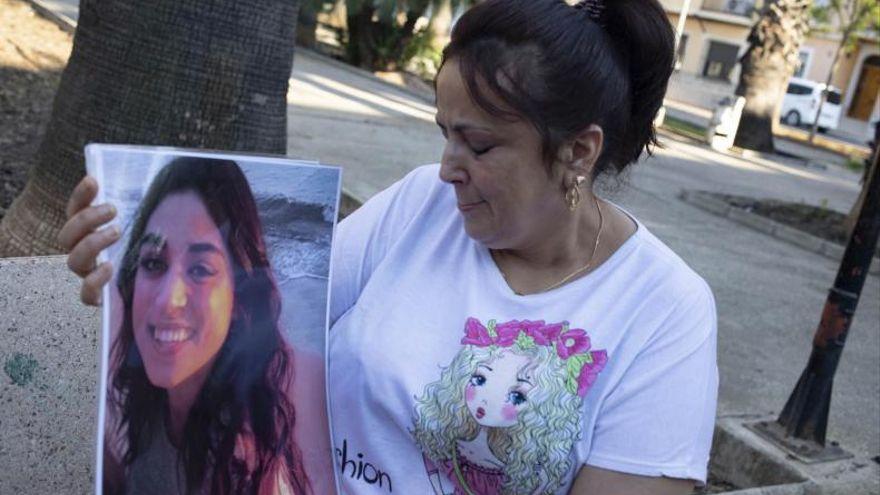 Soraya didn't know. But every second of these 18 unbearable months in which his life and his gaze have been emptied of light, tearing inside and out because nobody gave him answers about where his daughter Wafaa was, he had her 1,250 damn meters from his door , your kitchen and your living room. From each corner that he has been filling with enlarged photos with the wide, open, fearless smile of the young woman. "There is no more joy in this house"It is a phrase that Soraya has repeated in each of our meetings.
From the roof of his house, you can even glimpse the palm trees raised to the sky that surround, like an oasis, the farm and the well where Wafaa had been hiding since the very night she disappeared and was killed, that Sunday, November 17, 2019. Like mute beacons.
Up to a week before the arrest of his alleged murderer, David SO, El TuviSoraya, Wafaa's mother was holding on to her being kidnapped on the other side of the world, but she felt very close. He has also said it every time we have met. "Sometimes I woke up at night because I heard a knock on the door. Or in the street window", the same one that opens on the living room flooded with the perfume of mint and tea where we are."I would get up, because I had heard her say 'Mom, open up', but she would go out and there was no one. You know? We Muslims believe that when a person is not buried as it should, in contact with the earth, his soul does not rest. It floats over the body. And she came to see me to tell me. "Listening to her breaks the soul.
Until a week before the arrest of her murderer, she dreamed of laughing, jumping, dancing... Wafaa told him not to worry. He began to do it when in the last dream he saw her curled up on her side, on the floor, with her hands clutching her mother's legs. She was wearing a red dress from top to bottom. He was terrified. Her husband, Nabil, remembers that "I had been telling her for a long time that she had to start thinking about the worst, but she kept me quiet."
"He couldn't hear it, he collapsed"
Of the four interviews with me, only in the penultimate, three weeks before the discovery of the young woman, Soraya was able to pronounce the word "dead". And he did it with a quiet voice.
At five minutes to four in the afternoon on Wednesday, June 16, just one day before the 18 months had elapsed since the disappearance, the usual civil guard called them. To announce that he was going to stop by. They had just had a large family meal to celebrate Nabil's return home after a long absence. He knew right away what was there. Soraya "couldn't even hear him; he collapsed in the kitchen." The next five days were sedated. "They prodded her every day. She was terrible. I thought she was dying too," Nabil describes with anguish.
When they located the body, Thursday at noon, they were warned not to find out from the media. But Soraya kept denying. "She is not my daughter. It's Marta. Or maybe another girl. It is not Wafaa"On Sunday, two civil guards knocked on the door. The usual ones. To tell them in person that the DNA test certified that it was their Wafaa." Until that moment, Soraya did not accept reality, "details her husband.
Now, it is an emotional carousel. Her black eyes as soon as they exude a primitive anger that they teach the fighter that she is, as they are clouded with an unfathomable sadness. But something is very clear: "I want to know everything that happened. Everything he did to her. And that he does not stop paying a single day in jail for everything he has done to my daughter"And it breaks again:" Why? Why did he do that to Wafaa? If it was his friend! ". It does not fit in his head. His gaze almost hurts. I give him the answer that the Civil Guard has not yet given him. He seeks some consolation. Nabil agrees:" Yes, Soraya, yes, because I didn't want anything with him. There are men like that. "Soraya's eyes, full of disbelief, dance from one to the other.
To the pain of the loss is now added another equally lacerating: the slanders that they have been forced to listen to and read about their daughter. "How dare they talk about Wafaa, to say if she did this or that, if they did not know her! How is it possible that they say that on TV, on the news, in the newspapers? How is it that we have to find out from what journalists publish?without even knowing if it's true. "They are scandalized. And ready to go to court." Please say so, tell them I want them to stop publishing lies about my daughter. I ask for respect. And right to his honor. And to our pain. "Soraya's plea shouldn't even be necessary.
Another question. "When will they give it to me? Tell me the truth," he asks. You know it's weeks. "When they give it to me, I will not follow the Muslim custom. I want to buy her a white dress, like a bride".
"Why didn't anyone say anything? They all knew what it was like; what I wanted! And they shut up"
"What if he knew El Tuvi ese? Sure! It was from his group of friends… He was talking about him, and about other boys and girls. Wafaa was very cheerful, very sociable. He had loads of girlfriends and friends, how could we think that one of them was going to do this to him? "
The mother did not know the real David SO, the one that Wafaa's friends, and almost anyone from Carcaixent or La Pobla Llarga, identified as a controlling, jealous and obsessive guy with the girls he liked and who had been arrested several times for mistreating them . "Did they know that? And do they say it now?" Soraya explodes, offended. "And why didn't those who call themselves friends of hers say it when the Civil Guard asked them? They knew what it was like, They knew I wanted to have something with my daughter. That he was obsessed with her. And they fell silent.… "His eyes turn blacker. The accusation hangs in the air. It is justified.
He remembers "that he used to come here a lot, through La Pobla. Sometimes Wafaa would have a drink with him. Other times I would go home. He came to look for her with the white car and he went to that house with the well, to eat with parents. One of those days, she arrived very happy, loaded with avocados that they had picked at the farm and that they had given her to bring home. "She shakes her head, dejected. Sunk.
"Is that house?" She asks with wide eyes when her husband describes it to her. "Do you know how many times we've gone for a walk around? I can't believe it, I still can't believe it. So close … I was so close …".

www.informacion.es
Eddie is an Australian news reporter with over 9 years in the industry and has published on Forbes and tech crunch.