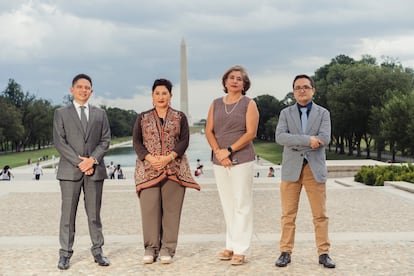 Exile is not that golden place that you were once told about. Juan Francisco Sandoval, who less than a month ago was Guatemala's anti-corruption prosecutor, is in Washington without a job, not fluent in English and trying to digest the idea of ​​starting from scratch in a new country. On July 23, Sandoval was dismissed. As he denounced at a press conference that day, the dismissal was illegal and was ordered by the attorney general, Consuelo Porras, to protect friends potentially affected by the investigations he led at the Special Prosecutor Against Impunity (FECI). Hours later, the 39-year-old lawyer crossed the border into El Salvador in a car with a diplomatic license plate accompanied by the human rights attorney and the Swedish ambassador. He couldn't even say goodbye to his family, but his collaborators convinced him to act fast for their safety.
"They are going to try to destroy me morally, even though I am already very affected. The question is almost to give a civil death to one, to discredit him, to criminalize him. The expulsion has not been enough but they want my arrest, "laments Sandoval from Washington, where he arrived thanks to a safe conduct. There he joined other high-profile Guatemalan jurists recognized for their fight against corruption who, after denouncing threats and pressure, fled to avoid reprisals. His main sin: attacking or prosecuting causes that evidenced, among other things, diversion of public funds, corruption and attacks on the independence of the institutions.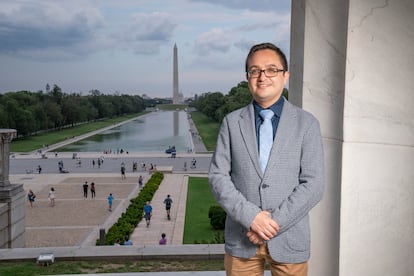 Like Sandoval, former attorney general Thelma Aldana, former judge of the Court of Appeals Claudia Escobar, former FECI prosecutor Andrei González and elected judge of the Constitutional Court (CC) Gloria Porras left Guatemala because they felt that their life was at risk and ended up in the capital of the United States. THE COUNTRY spoke with them. Everyone blames the "mafias" or the "corrupt pact" for their situation, two terms with which Guatemalans refer to the sectors of power that, from their perspective, have co-opted state institutions to act on their behalf. favor.
Some have applied for asylum, others have obtained visas that allow them to live and work and others, like Gloria Porras, remain determined to exhaust all legal options to recover the positions from which they were disqualified for justice to be done. "As a lawyer, I believe that I have the responsibility to fight for things to work properly," justifies Porras, who served for ten years as a CC magistrate, where dozens of judicial proceedings were opened for her for decisions she made in favor of human rights and against corruption.
From hope to the "capture of institutions"
The last time Claudia Escobar had hope was in 2015. She left Guatemala with her family at the beginning of that year due to the pressure she received for a case she promoted and that ended with the then president of Congress, Gudy Rivera, in prison for influence peddling. The former judge of the Court of Appeals emigrated to the United States while the Executive campaigned against her and the Supreme Court threatened to take her to trial for an alleged crime of sedition after she accused the lack of transparency in the process of choosing judges for the court. But what is known as the judicial spring came. And Escobar believed again.
The former judge recalls with enthusiasm when, in September 2015, then-president Otto Pérez Molina and his number two, Roxana Baldetti, fell due to corruption cases. "At that time, people took to the streets to ask for justice, there was hope," he says. Then Jimmy Morales became president of the country. The initial attempt by his government to reform the Constitution in order to strengthen justice soon met with refusals from Congress, came to nothing, and the decomposition of the institutions accelerated.
Hope disappeared like an abandoned car that has its parts stolen. The deterioration has been gradual, explains former prosecutor Sandoval: first, the United Nations mission against impunity, the CICIG, whose mandate was not renewed in 2019, was discredited; then Thelma Aldana was criminalized; later they expelled the Colombian Iván Velásquez, who was in charge of the UN mission; and, finally, when Consuelo Porras was appointed attorney general in 2018, it fell to the institution where he worked, the FECI. "It was total war (…) People are working under conditions of intimidation," warns the former head of that prosecution while trying to hold back tears. Now, he says, he fears for the well-being of his colleagues who remained in Guatemala.
Andrei González, who was his partner at FECI and came to the United States as a refugee after fleeing Guatemala in 2019, assures that Porras has "close commitments" with organized crime and regrets that, despite having had the tools to work independently in the prosecution, he is obstructing justice and "using in his favor and with perverse purposes the law that protects him." EL PAÍS has contacted the Public Ministry to find out its position on these accusations but has not received a response.
Sailing "with the flag of hope"
The departure of these men and women who once symbolized Guatemala's commitment to the fight against corruption has sparked protests in the country. Citizens see those efforts being forgotten as levels of poverty and inequality worsen amid a pandemic for which vaccines have barely arrived. "Today Guatemala is experiencing a human drama with the pandemic, with corruption, with poverty. The lack of sentiment of those who govern us is incredible, "laments Thelma Aldana, who fled her country in 2018, the day after ceasing to be attorney general, and months later requested asylum in the United States." There has always been an expression for those who have gone into exile: 'How Guatemala hurts', they say. And it is true".
After his departure from the country, the Public Ministry issued two arrest warrants against him for corruption cases that, according to his testimony, were manufactured by sectors affected by his investigations. In February 2020, the United States granted him asylum and he now works at WOLA, an organization that promotes rights in the Americas. But the process has not been easy. "You feel like you are giving up your country, your life, your family," he explains. At first, the former prosecutor had to survive on donations after her accounts were blocked in her country. Now he lives in a studio in the US capital, a one-room apartment far removed from the big house he shared with his family in Guatemala. Aldana wants to use her experience to help those who have come to Washington in recent months. "We are trying to support them, giving them this experience of ours so that they become aware that they have to stay. It is not what one would like, but only the United States offers us the security we seek ", he says.
Among the exiled jurists, an informal help network has been generated which, for Sandoval, has been the best in the midst of the uncertainty. He considers Thelma Aldana and Claudia Paz —the attorney general who tried the dictator Efrain Ríos Montt and who is now exiled in Costa Rica— he considers fundamental mentors and supporters. Of Andrei González, with whom he shared long days at FECI, he says that in the two weeks he has been in the US he has become a "brother" who helps him with translations or takes him where he needs to be in Washington. While Claudia Escobar says that she has introduced her to her family and made her feel at home.
"Now I am analyzing whether to request asylum. Those of us who have just left sail with the flag of hope, "says the former anti-corruption prosecutor. "Perhaps, if I didn't love my country so much, I would say: 'Clean and clean. I'm going to start from scratch. I'm going to wash dishes or I'm going to see what I do ', but like Andrei González, Thelma Aldana, Claudia Escobar and Gloria Porras, I have the conviction that it is impossible [ahora estar] in my country. But it does not mean that we cannot contribute something so that there is progress in the recovery of the rule of law ", he affirms.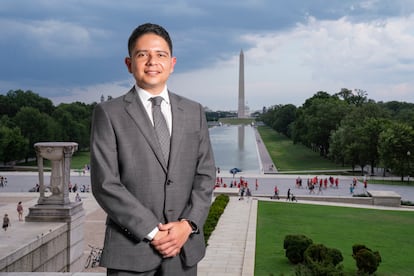 Gloria Porras agrees that everyone is united by the idea of ​​not giving up in their attempt to see justice done in Guatemala, even from afar. "I also notice a sense of satisfaction for the duty fulfilled and I have not heard anyone say, despite the fact that it is not an easy situation, that he regrets having played the role that he was entitled to within the functions he performed", affirms the elected magistrate of the CC.
The solutions to dismantle such a complex process of corruption entrenched in the public powers, for most of them, involve citizens exercising their force, both in the streets and at the polls, and the international community supporting the country. "We are facing international criminal networks with many resources, with a lot of power. A country where institutions are co-opted and captured in the justice sector cannot succeed alone, "says former Magistrate Escobar. For her, the international community should ask for the resignation of Attorney General Consuelo Porras or implement sanctions against her country for not doing enough to fight corruption.
Last month, Sandoval's removal generated reactions outside of Guatemala. The United States, which this year had decorated him for his anti-corruption fight, announced that it was temporarily freezing cooperation with the Guatemalan Public Ministry, alleging that it had lost confidence in the attorney general. For Escobar, with this case, his country sent the message that it does not care about the opinion of the Joe Biden administration, which has linked its cooperation with Central America to stop migration to the fight against corruption.
In addition, the former magistrate believes that it is urgent to expand regional relations and create international parameters that directly affect the institutions. A first step would be for the Organization of American States (OAS) to play a more leading role in seeking solutions. "I think that [el presidente Luis] Almagro could get involved in Central America. They pay a lot of attention to Nicaragua and Venezuela. We have to understand that this is a problem in the region, "he says.
For her part, Thelma Aldana believes that Guatemalans abroad can play an active role in raising awareness of the problem in their country. "The Guatemalan mafias know how to keep the forms, appear legality and use the law to their advantage for impunity, for corruption, to criminalize and they have a whole structure that goes with a campaign of disinformation, criminalization, discredit and that can be very confusing. well within the country and outside of Guatemala ", he explains. "It is our job, especially those of us outside the country, to speak of that truth because even though we may suffer for the revenge of the mafia, they do not get to where we are."

elpais.com
Eddie is an Australian news reporter with over 9 years in the industry and has published on Forbes and tech crunch.