Fernanda Paul
BBC News World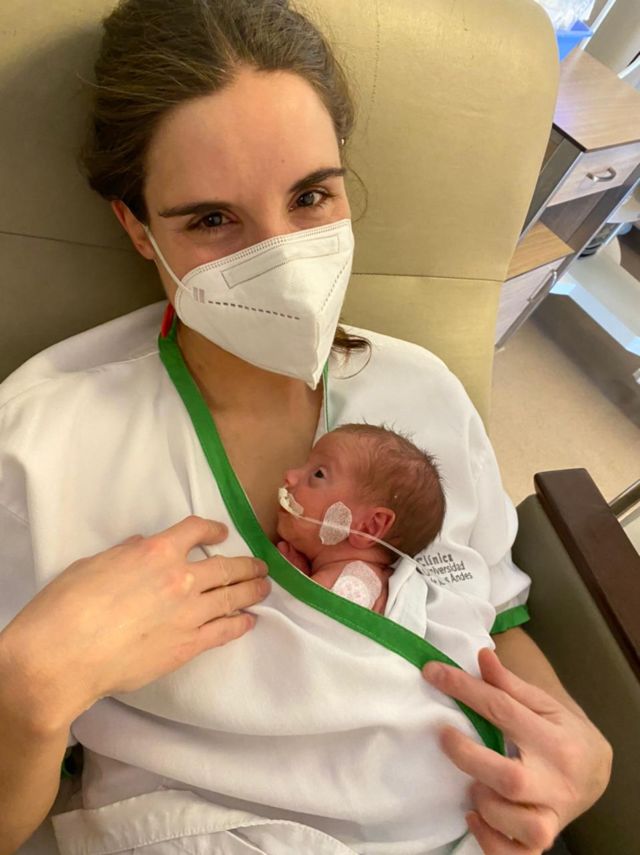 Verónica Julio was 29 weeks pregnant when she was hospitalized for covid-19.
Although she tried by all means to avoid an emergency delivery, her respiratory distress forced the doctors to decide on that option.
His daughter, Jacinta, was born with a barely beating heart, as she fought for her own life. But both managed to get ahead.
The case of the Chilean, a doctor by profession and mother of four other children, crossed borders: her photo went viral in more than 15 countries.
A few weeks after leaving the hospital, and still with some consequences, Verónica tells BBC Mundo her story from Chile, a country where to date 31,000 deaths from covid-19 have been registered despite its successful vaccination program .
This is his first-person account.
"This started like a cold.
One of my children had a bit of snot but nothing too serious. After two days, he started with a cough at night and I thought I had laryngitis. He felt bad, he told me he was tired.
Afterward, my second daughter started to feel lousy. I also thought he had laryngitis. And then the older one started with a headache.
A few days later, I left with a sore throat. The Friday, May 21, It was a holiday in Chile, we decided to go to the hill with my husband and the children. When we were going to go out, I told them that I was not feeling very well, but we were the same.
When we arrived, I couldn't get out of the car. So I decided to stay there and wait for them. On the way back, my husband told me that I had to get a test PCR.
"Do you think? If it's laryngitis," I replied. "Can you imagine it was covid-19?"
At 3 in the morning, out of pure nervousness, I went to the page to see if the results of the PCR were available. I updated the website until they finally appeared. The result was positive.
I woke up my husband and told him. There we start our quarantine.
It gave me a little nervous because I was pregnant. I knew there was no risk for the baby, the only one was for me, although I still imagined that something bad could happen.
I was feeling worse and worse. The Sunday, May 23 I had to stay in bed. At times I would dips, my head hurt a lot, my whole body hurt, and I needed to sleep.
Three days later I couldn't get up anymore and my husband started putting food to me in bed. My chest felt tight, my back ached.
I thought that maybe I could have pneumonia,but he tried to deny it. "It's okay," he told me.
On that, I put on a saturometer to measure oxygen in the blood. I asked my gynecologist and he said he couldn't saturate less than 95.
As the days went by, I started to drop to 94 and 92. It was on the limit, so we hired an oxygen concentrator. I used it especially to sleep, because that was when my saturation dropped the most.
I remember that Friday May 28 I went to shower and had to sit for a long time. I couldn't move anymore.
"I have shortness of breath, I think I'm not well," I told my husband.
I started to get more nervous, and when I told some friends, they insisted that I please go to the emergency room.
But me did not want to go, because I knew they were going to take my baby out. That it was my biggest fear.
I did not want to have a premature daughter, because they tend to have many complications. And this was going to be extreme premature.
I told the children that I was going to the clinic. They asked me for how long. "Three hours," I replied.
But those three hours turned into 11 days.
"We are going to terminate your pregnancy"
The doctor who examined me said: "You are not well. You are in respiratory distress and you are pregnant. I think it is best if you stay.
I was tachycardic, it was hard for me to breathe. He had a slight fever.
At one point they thought I might have a thrombus in my lung, so they did a scan.
There they saw that he had pneumonia that affected both lungs, more or less the 25% of lung volume. Although it was not that serious, there was an important commitment.
I spent the next four days hospitalized in the Intensive Treatment Unit (ICU).
I couldn't speak, my breath caught. Every day I felt worse and I got a terrible cough. I couldn't go to the bathroom because I was choking, I didn't want to move, and I had a bad headache.
One morning I got a fever, I reached the 39 temperature.
When the gynecologist saw me, he ran out to ask for it to be taken down. They gave me another remedy, they did an ultrasound and they realized that the amniotic fluid.
The baby was no longer 100% well. And I was getting worse.
They increased my oxygen. At that point, I was already desperate, I had a lot of anguish. He didn't want more, he couldn't take it anymore. He no longer gave off the headache, he didn't know what to do.
Until a doctor arrived from the Intensive Care Unit (ICU) and he said: "We are going to have to intubate you and terminate the pregnancy before it is too late."
My greatest fear was being fulfilled: that they would take my baby out of me.
So I said, "But why, if I'm still breathing. Look, I can breathe, I'm fine."
But there was no other option. And well, I got it.
I knew that COVID-19 patients can get worse from one second to the next, and if it takes you a day to react, the risk is very high.
Before intubation, I asked to see my husband.
When he arrived, I spoke by video call with the children. I cried, tears fell and tears fell on me. He didn't want to fire me.
"I love you very much, I send you a kiss," I told them.
My husband asked me if I wanted to say something to my parents. "I'm not going to say goodbye. Tell him I adore them," I replied.
I was not able to feel fear. I gave myself to the hands of God, I thought it had to be his will.
My husband gave me a kiss and left. They took everything from me and left me on a stretcher alone with a rosary in hand. I didn't know anything else.
"Your daughter is fine"
I woke up two days later.
I saw that he was in the ICU. Someone came up to me and handed me a pencil and paper. I wrote "time". I don't know why I asked the time.
They told me it was 4 o'clock in the afternoon Thursday June 4.
Immediately after I saw the scar, I touched my belly and I realized that my baby had been taken from me. Tears were falling, I was terribly sorry.
"Your daughter is fine," they told me. Then my husband showed me a photo, and I couldn't stop crying. I think I was like this for two days.
Later I found out that when I was intubated, my oxygenation did not improve and that after two hours the baby was delivered.
They let my husband in when he was born. He wanted to baptize her, as an emergency baptism. She wet her finger, made the cross on her forehead, and they took her away quickly. They had to intubate her.
He saw a practically dead baby. Because the truth is my daughter was born almost dead.
I was very depressed because of all the drugs that they had given me for sedation; he wasn't breathing, his heart was barely beating.
They revived her and she didn't react, but it was a matter of time. Little by little it was cleaning up and it rebounded.
I got to know her when she was one week old. I asked every day: can I see it? Until the following Tuesday (June 8) they said yes.
I bathed and got ready to go to Neo (neonatal ICU). When I got there, I had to ask what my baby was, I didn't know her. And there I saw a small, exquisite mouse. She was very littleIt was exciting to see her there, okay.
They handed it to me and it made me nervous. I felt like a new mother because I had never had such a small baby, I did not dare to take it.
I was with her for an hour. I couldn't believe it was okay, I was crying with emotion.
Then I had to leave her there and go home alone.
At some minute I felt bad because I thought that I was not able to resist; that they had to rush her out because I was not able to breathe. I thought it was my fault.
But they are things that one thinks. And today the truth is that I am very grateful.
Grateful for the help, as a gigantic wave of prayer was generated. In more than 15 countries they prayed for us.
And also grateful to be able to see and hug my children, my husband. When you go through these things, you value what you have on a day-to-day basis: being able to breathe, walk, move.
If all goes well, Jacinta should be out of the hospital in about three more weeks. And there, finally, we will all be together.
Now you can receive notifications from BBC News Mundo. Download the new version of our app and activate them so you don't miss out on our best content.

www.bbc.com
Eddie is an Australian news reporter with over 9 years in the industry and has published on Forbes and tech crunch.