Alejandro Millan Valencia
BBC News World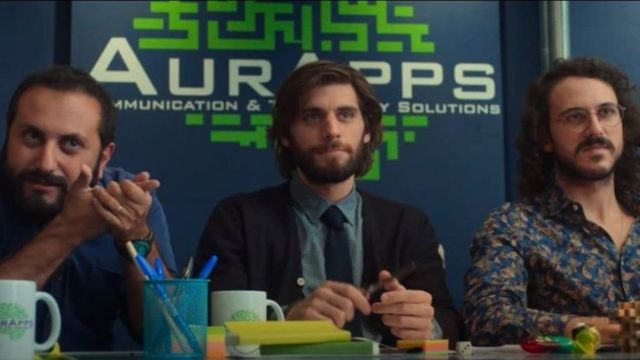 In mid-2017, a song went around the world: the successful song "Despacito", by Luis Fonsi and Daddy Yankee.
And one of the viral videos that accompanied the phenomenon in those days was that of three Italians who showed the effects that the catchy song had on those who listened to it.
They were Ciro Priello, Fabio Balsamo and Gianluca Fru, from the Italian humor collective The Jackal. Although they had been working for many years and were recognized in their country -especially in Naples, where they are from-, the video led them to be known around the world, especially in Latin America.
And it was thanks to that video that, three years later, the group returned with a global production on the Netflix streaming platform: Generation 56K, a series that is a love letter to the beginnings of the internet and how it influenced our lives. The name, in fact, alludes to those modems that worked by dial-up in the late 90s and, slow and noisy as they were, became the gateway to the vast world of the Internet.
"And it's not just about love and nostalgia. It's about friendship. About time. And of course, about Naples," Gianluca Fru, one of the protagonists of the series and founding member of The Jackal, tells BBC Mundo.
BBC Mundo spoke with Fru about the series and about what it's like to create content in internet times. In addition to the success of the "Despacito" video, of course.
You became famous in Latin America for a parody video of the song Despacito, what came after that?
The funny thing is that with that video we didn't realize its impact, really. We are a content production group for the Italian public and we thought it had been popular in Italy. However, while on vacation in Greece, we ran into a group of women who were coming from Spain and were, I think, in the middle of a tango class and several of them recognized me, approached me and asked me for a selfie. They came from Barcelona. That's when we realized that the video had gone viral, beyond what we had noticed.
The most curious thing is that this video was very different from the ones we had done before. We had been making high-quality videos in Italy for several years, with a professional production degree, but in this video we only used one camera. At first I didn't want to do it because it seemed to me that it went against what we were doing, but in the end we decided to try it and it turned out very well.
And was it a redefining moment for the group?
As I was saying, we were barely known in Italy and suddenly we started receiving messages on Instagram from people in Colombia, Argentina, Chile… And that was very satisfying in the sense that we saw that what we were doing could go beyond the borders of our country.
As you point out, The Jackal is a group of content creators in digital media, how did they manage to join and stand out in this medium that has so many competitors?
Really our main objective is to focus on the Italian community. But considering that, there are two things that we have been clear about since the formation of the group: the videos have high standards in writing and production. That has always been the goal and I think that has made us a nationally recognized group.
But that recognition for "Despacito" led to them having a series on Netflix, which is essentially a global product.
Yes, without a doubt that they knew us for that video allowed us to reach Netflix with Generation 56k. But something that has become clear to me over the years is that it's not about being known around the world, it's about how honest you are with yourself in this industry. In other words, you have to like what you're doing and popularity is secondary.
How was the origin of the 56K Generation series?
It was a joint effort between several colleagues, in which the main idea was the beginning of what was now our medium: the internet. But most of all, it's a look at how we related to that invention in the beginning.
There are several things combined in the series, like the nostalgia of that primitive internet, first loves, and, of course, Naples, which is the place where we all grew up. Everyone sees what they want to see in the series.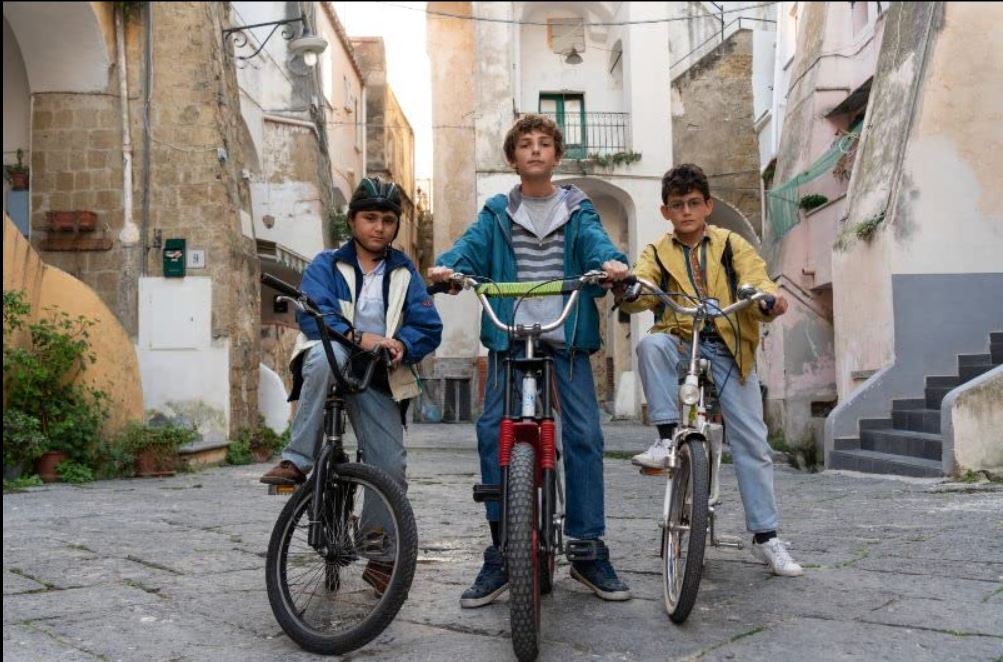 Netflix
It's a series about how the weather does or doesn't change. For example, you can see how the internet has changed all these years, but also that friendship has remained the same since childhood"
And you,what do you sees in Generation 56K?
I see a relationship with time. How time changes or does not change things. For example, in the series you can see how the internet has changed all these years, but you can also see that friendship between the three characters that has remained intact since childhood.
How love surprises us in the same way when we were teenagers or when we are a little older, more adults if you will.
In the series there is also an intention to show another Naples. We didn't want to fall into that stereotype, which has a lot of truth but is still a cliché, of a messy, noisy city. We wanted to show a modern, vibrant city where conversations about technology and digital products are taking place. That has to do with time, because cities also change.
Let's see, for example, Gomorra, Saviano's novel, which we love and are fans of, extends those stereotypes of the city a bit, so we decided to show a version that was not connected to that landscape, not because it we want to hide, but because we believe that another face of the city can be shown at this time.
Youis They wanted to go back to the beginning of what is now almost the world where they move: the internet, the digital…
Yeah, one of the best things that happened to my generation is that we grew up with the internet. That is not the same thing that happened to the new generations, who grew up when the technology was already here, or to my mother, who now uses TikTok more than me but came to social networks later in her life than we did.
In addition, we had to learn step by step how to use it at home when we were teenagers. And I don't know if I can explain to you how important this is: that allowed us to gradually approach the infinite possibilities of the Internet.
We did not start with massive videos on YouTube or Instagram. We started in the forums or posting videos for a small group of friends on Facebook. But that learning, that doing it step by step, gave us the tools to grow, to learn from the processes, to advance in the measures of our possibilities. And that is also shown in the series.
But they are aware that, despite the fact that we navigate in times when videos have the chance of going viral, they are also times when the contents are ephemeral and do not last long.
It's true. It is very difficult, because not only is content being produced at an amazing speed, but we are seeing a lot of content, every day at all hours.
So I think the answer to what you call ephemeral, which is true, is to be focused on the objectives of your work. Continually asking myself questions about whether what I'm doing is really what I think, what I believe in, if I like doing it.
That helps to carry the load that content creators carry on our shoulders: everything goes very fast and it is increasingly difficult to stay current.
Speaking of what they have done, can we now speak of Italian humor on the networks?
I believe that what we do is a reflection of what is happening in the country, there are many influences. But our content is also influenced by things that we have seen in India, in Turkey, because that is what social networks allow: you can see content from all over the world and start producing your material with all those influences, which before of course they existed but access was much more difficult and delayed.
That's why I think it's also very difficult to talk about current Italian humour. At most it is a humor made by Italians in a globalized world. Jokes can no longer be as local as they used to be, because as has become clear in our case, people from different countries see us.
The Jackal
The digital age leads you to that, to try different ways of entertaining through the content you create"
Going from making videos for YouTube or Instagram is very different from producing a series for a streaming giant like Netflix, how did you take on that challenge?
I am not going to tell you that it was not something risky, but there is something that we have been doing and that was very useful for this project: risks are part of this work. Every video we made in previous years was always a bet to do something different.
The digital confronts you with that: trying different ways to entertain yourself through the content you create. And the series has been another path in which we have found ourselves so that people from all over the world, at the same time, could see a product of ours. That was totally new, but we always knew that trying different things is the main objective of what we do.
Now you can receive notifications from BBC World. Download our app and activate them so you don't miss our best content.



www.bbc.com
Eddie is an Australian news reporter with over 9 years in the industry and has published on Forbes and tech crunch.