Bilbrough Dawn, 52, intensive care nurse from York, works in Leeds
In the mid-afternoon of Thursday, March 19, Dawn Bilbrough, a 20-year-old intensive care nurse, was heading home after four hard days of 12-hour shifts. Stopping to buy fresh food at the supermarket, she found the shelves empty and people walking around in a daze, "just stunned." The next morning, on his break from work still in his robe, he was on the ITV show. This morning.
"I'm pretty introverted, usually," she says of the video she posted on Facebook, in her car, which quickly went viral, "but I felt very strong from what I just saw." In the video, she collapses with exhaustion and frustration from the aftermath of the panic shopping. "You have to stop," she says, her voice cracking, "because it's people like me who are going to take care of you."
About 27,000 people shared Bilbrough's emotional 52-second clip; four days later, the closure was announced. March is always a difficult month for the NHS even without Covid-19, says Bilbrough. "I don't think the public realizes how challenging the winter pressures are every year. By then we are exhausted. "This year, however, he had been viewing footage from Italy and his team was having training sessions after learning that London hospitals were badly affected. However, it still felt as if Covid struck out of control. overnight. "Suddenly, the areas were off limits, the doors were locked and duct tape was put on the places. There was a lot of apprehension and fear."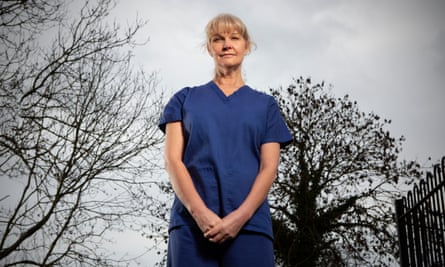 Things "went crazy" after Bilbrough was published and he now has a publicist to handle press requests so he can get on with his work. But she has no regrets. "I felt it was the right thing to do and it still does. We have to keep talking about how we feel as NHS workers, how it is affecting us. " He has received many messages from strangers throughout the year, including panicked former buyers who hadn't realized the impact of his actions. However, his newfound fame is not discussed at work. "Every now and then we laugh a little, but then we do it again."
She is still talking, she says, because the NHS is "at a very low point again now"; Lessons have been learned on how to treat some aspects of the disease and the teams are well coordinated, but he is frightened by how many people have become desensitized to the risks. "And even now, the label is maintained that only adults who are vulnerable get it, which is simply not true. But even if they are vulnerable, so what? These people are still people. Every life matters and the NHS matters. We want to help everyone ".
At the end of the year, Bilbrough's life outside of work also remains very different from what it was before. On her days off, she tries to take care of herself by exercising, eating healthy, and talking to friends and family on video calls. But she still doesn't hug anyone, she says, and hearing this her voice cracks. "I'm sorry. I'm sorry. But it's been difficult not having that contact. We are not robots. We have emotions. We are still human beings."
Karan rajan, 30, surgeon from Hampshire, works in London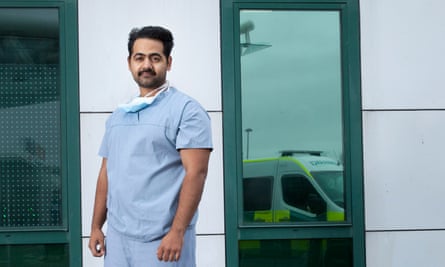 On Sunday, April 5 at 4 a.m., Dr. Karan Rajan was on the last break from his night shift, looking at his surgical gloves, when he decided to post a video on TikTok. The day before, she had noticed that many people were using them in the supermarket, thinking that they were protecting themselves when, instead, they were at risk of contracting and transmitting Covid-19.
He began to speak into his phone camera, effusive in his scrubs, cap, gown, and lanyard, sprinkling his glove with pen lines to show the effects of touching everything: "Your glove is now more germ-ridden than your hand would have been. "" Spread the knowledge, not the virus, "read the text that was displayed on his image. Spread it did: it now has more than 1 million visits and has 2.2 million followers.
Rajan wasn't a newcomer to social media when his video went viral. He had been posting videos on Instagram to help trainee doctors with exam evaluations for a few years, and after signing up for TikTok in late 2019, he started post videos about "crazy medical factsLike how the human stomach produces an acid that can dissolve razor blades, "he smiles. He had also started posting short videos to help combat conspiracy theories and misinformation about science, health and medicine, "something that is very important to me," but the glove guy started a busy extracurricular career.
Has been invited in Good morning Great Britain, and is now working on projects with the Red Cross. Colleagues "laugh" when they see him on television, but when patients recognize him at the hospital, they usually message him on social media later. ("Everyone seems to be so British, but I really don't care if people come to talk to me").
Rajan spent the early part of the first wave calling on patients to postpone non-urgent surgical procedures, which he claimed was difficult, but if people had needed an emergency bed after a procedure, there would not have been a . During that time, he worked in emergency surgical services, but had to change work practices quickly, moving from keyhole surgery to open surgery, for example, as Italian research showed it produced fewer risks of Covid transmission. . He also collaborated with A&E. "A lot of people were doing a lot of 12-hour shifts," he says. "It was difficult."
He also contracted Covid-19 in April, at the beginning of a week off, and although he recovered quickly, he has had Covid symptoms for a long time, including post-viral fatigue; he only felt normal again a month ago. Covid has changed it in other profound ways. In the summer, watching so many close friends get sick and hearing stories of young people whose relatives had died, he was moved to go back and live with his parents in Hampshire; He is an only child and they are "more than willing" to have him around. "On a certain level, this year it made me want to see my parents come home every day, and before going to work in the morning, have that contact. It has reminded many of us how important we are to each other. "
Natalie Silvey, 35, West Midlands anesthetist, works in London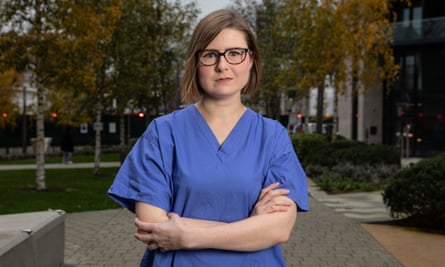 On Saturday, March 21, Natalie Silvey was in a taxi coming home from work and was surprised by the crowds on the streets. "The incongruity of watching people go through normal Saturday nights with what I just experienced … excites me to even talk about it now."
In the previous nine hours, Silvey had been in full personal protective equipment transporting two intubated Covid-19 patients out of an overwhelmed hospital to relieve pressure. She had volunteered to do this shift outside of her normal work patterns in response to an urgent request from the NHS. Back at the base, he had showered, then looked in the hospital mirror, seeing deep welts on his face. "Basically, I took a picture to show my mother because it looked so ridiculous."
In the taxi, "a crying disaster", she tweeted it as part of a thread ("I feel broken, and we're only at the beginning," she said). An hour later, she returned to her phone with a cup of tea, and her best friend had texted her the words "Nicola Sturgeon," without context. Thousands of people, including the prime minister of Scotland, had already retweeted his thread. "It was all, oh holy… I wasn't expecting this. I eliminate it? But the genie was out of the bottle. "
However, Silvey's colleagues were "very positive" about his post. "They said it was a good time, and it seemed to generate the right kind of awareness." On Twitter, he now has 26,000 followers, which he finds "a bit crazy," but he tweets like he did before the pandemic, commenting on things that happen at work and his normal life (like where he left his glasses).
With 10 years of experience behind her, Silvey was reassigned to intensive care units during the first wave. From very early on, she decided not to see her family, including her very pregnant sister, who had a daughter on March 13, with whom she is very close. "I wrote a letter to my niece telling her why there are no pictures of me hugging her when she was little," says Silvey. He also wrote a will in March, on the advice of the NHS, and left everything to his niece. At the time, she says she "was very afraid to go to work every day."
Then in early April, Silvey got Covid-19, despite adhering to scrupulous PPE decontamination measures (he wonders if he got it in the tube, while commuting to work). He felt "very bad" and "very guilty for letting the team down", but after recovering, she remained reassigned until June. He had to get to know patients from letters and photos pasted on the walls, rather than family visits, which was difficult. Each morning, purple hearts placed outside intensive care alerted her to patients who had been discharged. Many may continue to suffer from prolonged Covid symptoms, he says. Others did not survive. "I signed many deaths and I will not forget those people … each one of them is someone's son, daughter, mother, father, grandfather." We must not forget that this is still happening, he says. "It's terrifying that so many people still lessen that impact."
In November, he moved from the hospital and is now working on elective surgery. She is "very proud" of how the NHS manages to keep that job in this "terrible second wave". It is very important ", he adds. "Imagine being in horrible pain earlier this year and having your operations continually postponed." It has been a year that has passed quickly, but he feels a ray of positivity with the news of the vaccines. "It's very hopeful, amazing, especially since we didn't really know anything about Covid-19 a year ago."



www.theguardian.com
Digsmak is a news publisher with over 12 years of reporting experiance; and have published in many industry leading publications and news sites.