Cups underpin Chelsea's season. After a streak of three wins in nine games that has made a title challenge extremely unlikely and cost them first place in their Champions League group, victories in the first leg of the semi-final of the Carabao Cup and the FA Cup third round have been restored. a sense of stability at Stamford Bridge. This worked out as well as it could have done for Thomas Tuchel's team – forward early and so in control at half time that he was able to allow the players to rest in the second half.
"It's very good for young children, and again they stepped up and showed what they are capable of," Tuchel said. "It was good. There is no need to speak artificially, but there is no need to be overwhelmed: we play against a fifth division team."
But the magic of the Cup is that anything can happen: even Timo Werner can score. He had a chance of both being offside and missing, but managed to get the ball into an empty net after Hakim Ziyech's initial effort, cleverly created by Mateo Kovacic, was blocked. There was the inevitable wait for the VAR to ratify it and, for once, having canceled Werner's 16 previous efforts since arriving in West London, it did.
And so, after six minutes, the possibility of a surprise, of the National League team beating the European champions, was indeed gone. Which, in a sense, took the pressure off. Six thousand Chesterfield fans, roughly your average front door, packed the shed, determined to enjoy the day, so much so that they received the dimmed lights before kickoff with a great gasp of amazement and delight, before perhaps even realizing it. that even in the most remote corners of Derbyshire, the lights going on and off are no longer so exciting, and they try to correct the flaw by scoffing and asking "Who are you?"
The answer came quickly: a soccer team much better than them. Callum Hudson-Odoi, given too much room, curled a second after 18 minutes, before Romelu Lukaku converted a cross from impressive rookie left-back Lewis Hall. Chelsea fans responded with applause warm enough to suggest that Lukaku has been forgiven after his interview with Sky Italia. Chesterfield fans responded by chanting "Romelu Lukaku, it's Inter Milan." And why not? With the last three-quarters of the game turned on display, they can hardly be blamed for taking their fun where they can find it.
"It was a fantastic experience for us," said Chesterfield manager James Rowe. "When the team card arrives it is exciting for everyone. That is what we have worked for. It is an extraordinary day for everyone. "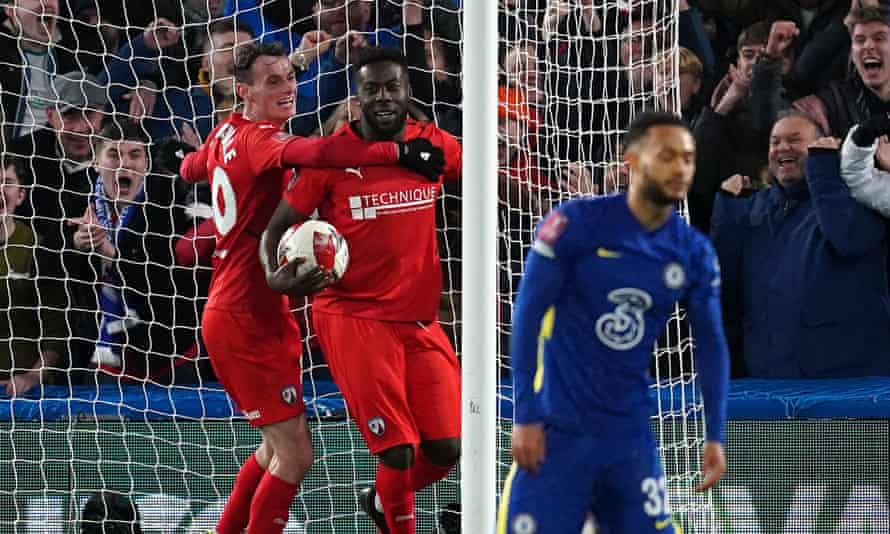 When a looping Andreas Christensen header, after Chesterfield goalkeeper Scott Loach had parried Hall's shot, made it 4-0 six minutes before the break, he recalled 7-1, the score in 1907 when they met for last time to Chelsea in a league game. England international George Hilsdon, nicknamed the "Gatling Gun" for the speed of his shots, scored twice in that game, but when war came, the Gatling Gun disappeared as he tried to dodge its call. They finally found him hiding in a chicken coop.
Severely gassed in Arras, he never played football again and tried to earn a living by working as a tea helper on construction sites, running a pub and organizing raffles. When he died in Leicester in 1941, only four people attended his funeral and he was buried in an unnamed grave. A collection of Chelsea fans bought a tombstone in 2015.
Yet the memory of Hilsdon lives on: the weather vane on the east stand, which according to tradition (and recollections of the club's decline when it was remodeled in the 1970s) should never be removed for fear of terrible misfortune, is inspired by at. . It may be a mismatch today, but last season Chesterfield had been the first visiting team to win at Stamford Bridge. This is an accessory with the story.
The questions for the second half were whether Chesterfield could score a goal and whether they could keep the margin below the six they lost to Hilsdon and company.
The answers to both questions were yes. Akwasi Asante struck with joy after Kabongo Tshimanga's tireless shot had been stopped to provide a fitting memory for the visiting fans behind that goal. And while Ziyech scored a penalty in the 55th minute, Chesterfield was determined enough that the scoreboard never threatened to get embarrassing; as such, both teams probably ended up satisfied enough.
This was the other side of a mismatch in the third round: it was not a surprise, but a pleasant day for everyone.

www.theguardian.com
George is Digismak's reported cum editor with 13 years of experience in Journalism