Carlos Serrano (@carliserrano)
BBC News World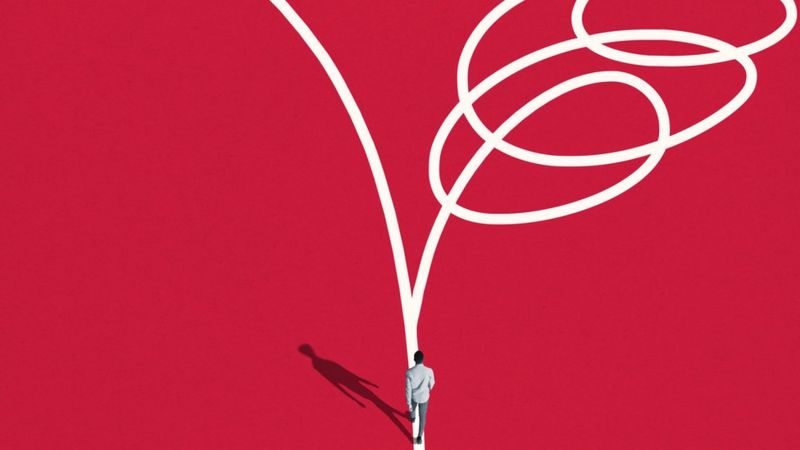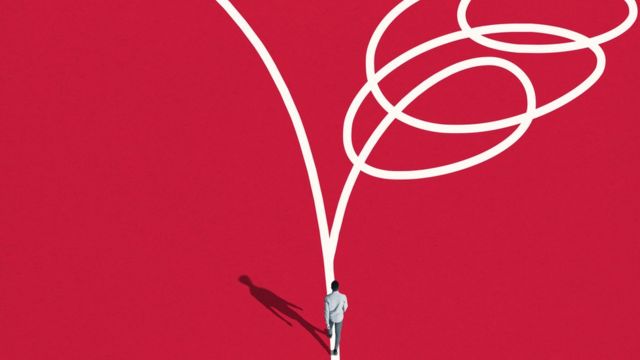 Imagine that you are walking down the street and suddenly stooping to tie a loose shoelace.
Behind you comes a man walking eagerly with a boiling coffee in his hand, he does not realize that you are crouched there, he bumps into you, the coffee spills on his hand, it's burning and he has to go to the emergency room to be cured.
The coffee lord is a pilot and by accident can't make it to the flight that I had programmed.
One of the passengers on the flight was traveling to a job interview, and since she did not arrive on time, lost his job.
Another was a man who was traveling to his wedding and left the bride planted on the altar.
And there was also a couple of brothers who wanted to say goodbye to their grandmother who was terminally ill and could not give her the last good-bye.
Do you realize the chaos what did you form
That seemingly insignificant detail, that you have tied the cord just at that moment and in that place, unleashed a series of events very different from what everyone expected.
But don't worry, if one day this happens to you in real life, don't feel remorse, what happened is nothing more than Chaos Theory and its Butterfly Effect in action.
Both concepts are present in our daily lives, help us understand how the universe works and serve as a basic principle to develop new technologies and applications in various areas of knowledge.
The butterfly Effect
Let's start with the Butterfly Effect, which has inspired to writers, filmmakers, artists and also scientists.
In 1952 the science fiction writer Ray Bradbury published the short story "The sound of thunder".
In the story a character step on a butterfly, and that little detail has great consequences, so much so that it even makes a fascist leader come to power.
In 1961, what until then was fiction became a scientific reality.
That year, the meteorologist Edward Lorenz was working on a mathematical model for the forecast of the weather conditions.
To do this, he entered data such as temperature, humidity, pressure and wind direction into his computer, and observed the results.
Then he re-entered the data to to check the results he had obtained the first time.
Unexpectedly, even though you had entered the same data the second time, you got a weather forecast totally different to the first.
At first both forecasts were similar, but as the model advanced in time the two results were increasingly different.
What happened?
This radical difference between the two forecasts was simply due to the fact that the second time, Lorenz's computer had rounded the data, that is, they had a few fewer decimal places.
Thus he realized that a few seemingly insignificant tenths can over time mean monumental changes.
For Lorenz, that was equivalent to the fact that the wind that produces the flapping of a butterfly in Brazil, can unleash a tornado in Texas.
That is how the Chaos Theory and its Butterfly Effect were born, which indicates tiny variations that may seem innocuous, over time they will generate enormous changes, generating a feeling of chaos.
Chaos theory
Chaos Theory posed a great challenge for the classical physics, which is guided by Newton's laws.
According to these laws, if the initial conditions of an object are known, it can be predict with relative ease their behavior in the future.
That is, they are laws deterministic.
Thanks to Newton, for example, one can predict the movement of the planets, or the trajectory of a bullet.
Chaos Theory cautions, however, that tiny initial variations over time will make impossible the predictions.
In principle, Newton's laws say that if you have the perfect data, you will be able to make predictions, but in practice, Chaos Theory tells us that since it is impossible to have perfect data, from a certain point it becomes impossible to make predictions. .
"Chaos Theory is revolutionary because it says that even for Newtonian physics there may be cases where determinism is true in principle, but in practice the system seems to behave as unpredictably as throw some dice", tells BBC Mundo Paul Halpern, professor of physics at the University of Sciences in Philadelphia, United States.
Chaos but not disorder
Chaos Theory is a principle that applies to what mathematicians call "dynamic systems".
A dynamic system is any set of events that change or evolve over time, such as the weather, or the population of a city.
When this system is very sensitive to variations in the initial conditions, it is called a chaotic system.
But although chaos makes things seem like they become random, messy or unpredictable, the truth is that chaos is creating patterns.
As chaotic as it may seem, a system follows a trajectory towards certain points.
Those points to which the system tends to go are known as "attractors".
In Lorenz's case, for example, the calculations he used for his model created a pattern that coincidentally looked like the wings of a butterfly.
The set of attractors of a system forms the so-called "fractals".
Fractals
"A fractal is something that is 'autosimilar', explica Halpern.
It is a mathematical object in which, if you look closely at any section, that section itself looks like the entire object.
"A perfect fractal is one that when making zoom in, look exactly the same as when doing zoom out", says the expert.
"Some of the attractors look like fractals."
Reaching the limit
In daily life, Chaos Theory "helps us to know the limits of our knowledge", dice Halpern.
In the weather, for example, it is useful to know at what point a weather forecast begins to lose precision.
Halpern also mentions that the concept of the patterns that the attractors create serves as the basis for medical research In which it is sought to make predictions of what can happen to a person's health based on the data they obtain.
Fractals, meanwhile, are widely used in the development of digital technology, telecommunications, production of high definition images and even in the development of cosmological models.
And if we go further, Chaos Theory leads us to existential questions.
"It shows us that even if we have perfect determinism, there are gaps in our knowledge, there are empty when it comes to predicting the future ", dice Halpern.
For some, says the professor, this is an argument to show that the free will, but that would already be a more chaotic discussion.
Remember that you can receive notifications from BBC Mundo. Download the new version of our app and activate them so you don't miss out on our best content.

www.bbc.com
Eddie is an Australian news reporter with over 9 years in the industry and has published on Forbes and tech crunch.