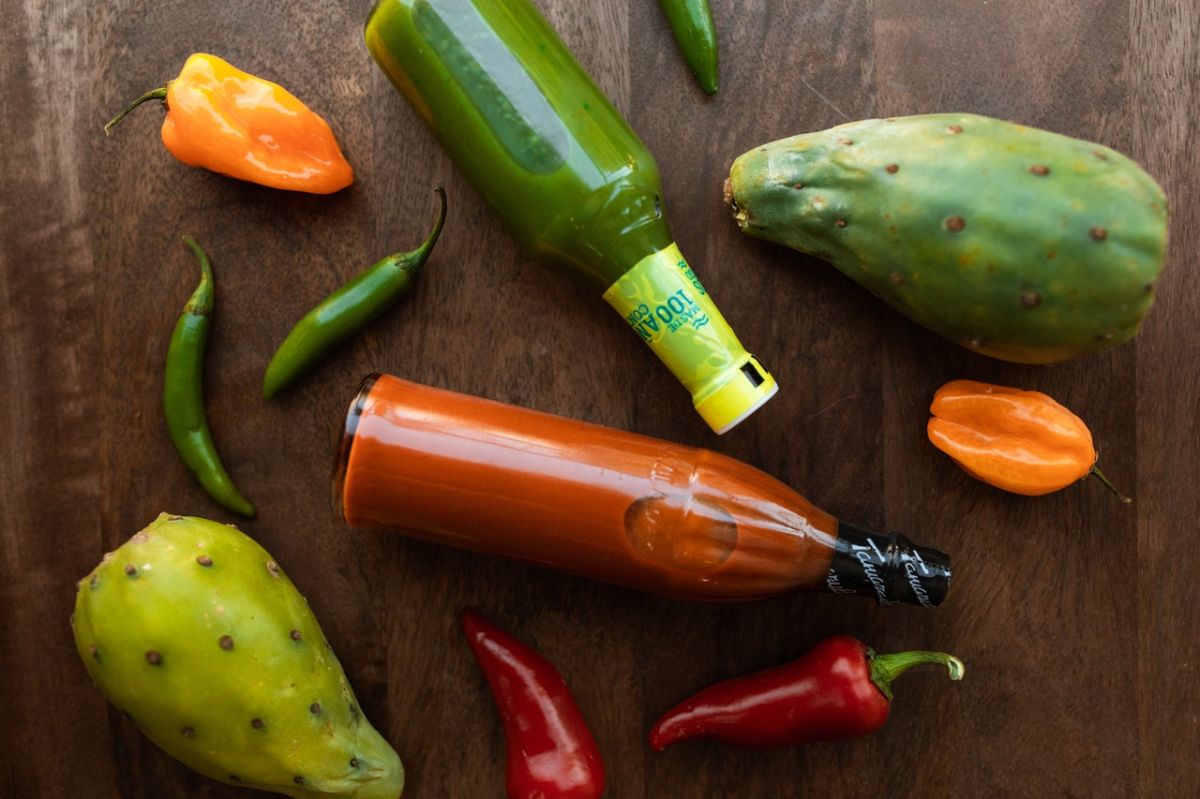 Mexican botaneras sauces are made with dried puyas, arbol, cascabel and habanero chilies and a wide variety of chilies.
Foto:
RODNAE Productions / Pexels
Sauces are a traditional preparation within Mexican gastronomy. There are more than three hundred sauces, some have existed since pre-Hispanic times. Since then, a variety of ingredients have been used in addition to tomatoes, peanuts, spices, and cocoa. Currently there are Mexican sauces that are processed and sold bottled as snack sauces and are very popular in the US market.
Traditional Mexican sauces are made with a variety of chili peppers and spices, some include other fruits and even vegetables. One of the simplest, but with great flavor and popularity is guacamole, while mole is an example of the most complex sauces. On the other hand, Mexican snack sauces have also become a product of great acceptance in the market.
Here are 5 of the most popular Mexican snack sauces you can find in the United States:
1. Valentina
Salsa Valentina is the most popular botanera sauce in Mexico. Is a sauce with dried puyas chili peppers, vinegar and seasonings that make it spicy and with a touch of acidity. It is consumed with fried foods, seafood, fruit, potato chips, peanuts, soups, popcorn, and other snacks.
Valentina sauce is made in Guadalajara (Jalisco) by Salsa Tamazula, created in 1960 and which has gained ground in the United States market, mainly in California, Texas and Illinois. But Mexicans who love this sauce have taken it to Canada, Spain, Brazil, Finland, Germany and other corners of the world.
2. Cholula
Cholula is distinguished by its characteristic wooden stopper. It is made with tree and piquin peppers, vinegar and a mixture of spices. It is perfect for tacos, burritos or roast beef, you can also add it to your rice and other stews, as well as add it with salt to a cocktail glass.
Cholula sauce It is made in Chapala, Jalisco and is named after a 2,500-year-old city in the state of Puebla (Mexico) that it is considered the oldest inhabited city in America. Cholula is sold in Mexico and in more than 20 countries internationally.
3. The Yucatecan
Yucateco is the most popular Mexican sauce made with habanero pepper. Spicier than the other classic snack sauces, but with a great flavor that makes you want more.
This sauce is made in Yucatán, manufacturers have their own fields of habanero and annatto, which are its main raw material. What started as a small family business dedicated to making homemade habanero chili sauces, today exports its Mexican products to the United States, Europe, Asia and Oceania.
4. Salsa Huichol
Huichol sauce is made with bell pepper, vinegar and other spices, all natural essences. It has a great flavor and a slightly thick consistency, it can be used as a companion to your food or snacks, thus giving it a special touch when preparing your meals. It pairs well with red meat, fish, and chicken.
This sauce is made in Xalisco, Nayarit. The Salsa Huichol factory began in 1949, founded by Roberto López with a capital of 40 Mexican pesos and having as main assets a hand mill, a manual capper, 5 kilos of bell pepper. Currently, the sauce has managed to position itself in national and foreign markets such as the USA, Canada and Europe.
Buffalo
The classic Buffalo sauce is made with guajillo chili, vinegar and spices. It has a thicker consistency than the Valentina sauce and is ideal for appetizers, snacks and especially seafood.
This sauce is made by Grupo Herdez, a Mexican company with origins in 1910. Buffalo sauce is one of the oldest hot sauces on the market.
And the Tapatío sauce?
The Tapatío sauce has excellent consumer reviews and great flavor. It is a product with a very Mexican name (Tapatío means a person from Guadalajara) and its creator, Jose Luis Saavedra, is also Mexican. Although with Mexican roots, Tapatío was born in the United States, is a sauce that began to be manufactured in the United States, in the state of California in 1971.
—
It may interest you:



eldiariony.com
Eddie is an Australian news reporter with over 9 years in the industry and has published on Forbes and tech crunch.