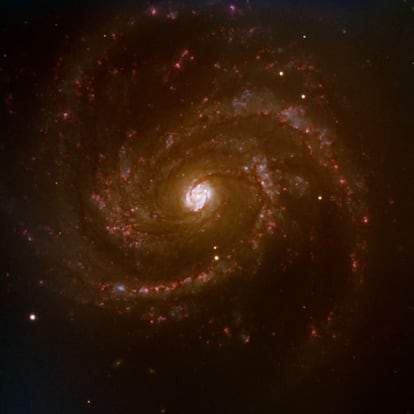 The largest structures in the universe are superclusters of galaxies, groupings of hundreds of galaxies that interact gravitationally. So that you fully understand the dimension of what we are talking about, I will tell you that a galaxy is a group of stars, gas and cosmic dust that are held together by the gravitational attraction between them and, above all, by dark matter. In a galaxy there can be billions of stars, the dwarfs have around 107 and the giants can have 1,014 (which would be respectively 100 million in the first case and 1,000 trillion in the second). The groups of galaxies that are close together form what are called clusters, which are sets of these structures also held together by gravity. It is estimated that a cluster can contain between 50 and 1,000 galaxies. The superclusters I was talking about at the beginning are groupings of galaxy clusters in which there may also be some isolated galaxies.
The best known supercluster is called the Great Wall of Sloan and it was discovered in 2003. Sloan refers to the telescope with which it was observed and which is in the United States, but in which people from all over the world work, in fact I participated in this international collaboration for several years. The Great Wall of Sloan measures 1.3 x 1025, this is slightly less than a Gigaparsec. As in astronomy the dimensions are so huge we cannot work with meters and we use other types of units which are the parsec (and kiloparsec, megaparsec and gigaparsec). One parsec equals approximately 30.9 trillion kilometers. So you can get an idea of ​​the dimensions we are talking about. I can give you an example as a reference: the number of times that the distance between the Earth and the Sun fits on the Great Wall of Sloan is the same by which the size of the coronavirus that causes covid-19 would have to be multiplied to that was the size of the Earth.
In fact, the entire observable universe is equivalent to having 60 Great Walls of Sloan. Before this structure, another similar to the one called the Great Wall of the CfA had been discovered and which is also a grouping of a lot of galaxies.
As the Sloan telescope has continued to map the sky, it has found even larger structures. The last one was discovered in 2016 and is called the BOSS Great Wall. In mass, this structure is about 10,000 times our galaxy, the Milky Way, and groups about a thousand visible galaxies.
The way we see the distribution of galaxies on very large scales in the universe is like a spider web
Telescopes that come in the future like the Vera Rubin or the DESI (spesctroscopic instrument for detecting dark energy, for its acronym in English), in which I am also involved, are going to map deeper so maybe they will find superclusters of this type still bigger.
The way we see the distribution of galaxies on very large scales in the universe is like a spider web. There are areas where there are more threads, there are pieces where there are no threads and areas where there is only one thread of the fabric. If you look at images of the cosmic spider web it is quite similar to this, there are areas where many of these threads intersect, which in astronomy we call filaments. When several filaments cross is when we have the clusters. The structures that I have told you about, which as I was saying are superclusters, are like several nodes of filaments in a row. In the universe there are areas that are almost empty and then we find other areas where you have a lot of galaxies together. But these huge structures that we are talking about are rare. That is, there is more mass distributed in filaments and areas where there is only one node than in these things where there are a lot of nodes together.
The Milky Way is in the Local Group which is a small grouping of galaxies that does not become a cluster. And there are studies that say that our group is on the fringes of a vacuum, although this statement is not fully accepted by the scientific community.
As for structures larger than these great walls, it is possible that large gas structures can be found, but it is physically difficult and this type of research is now beginning its journey.
Violeta González Pérez She is a researcher at the Center for Advanced Research in Fundamental Physics (CIAFF) of the Autonomous University of Madrid.
Question sent via email by Martín Gartziandia
Coordination and writing: Victoria Toro
We respond is a weekly scientific clinic, sponsored by the Dr. Foundation Antoni Esteve and the program L'Oréal-Unesco 'For Women in Science', which answers readers' questions about science and technology. They are scientists and technologists, partners of AMIT (Association of Women Researchers and Technologists), those that answer those doubts. Send your questions to [email protected] or on Twitter #nosotrasrespondemos.
You can follow SUBJECT in Facebook, Twitter e Instagram, or sign up here to receive our weekly newsletter.
.



elpais.com
Eddie is an Australian news reporter with over 9 years in the industry and has published on Forbes and tech crunch.