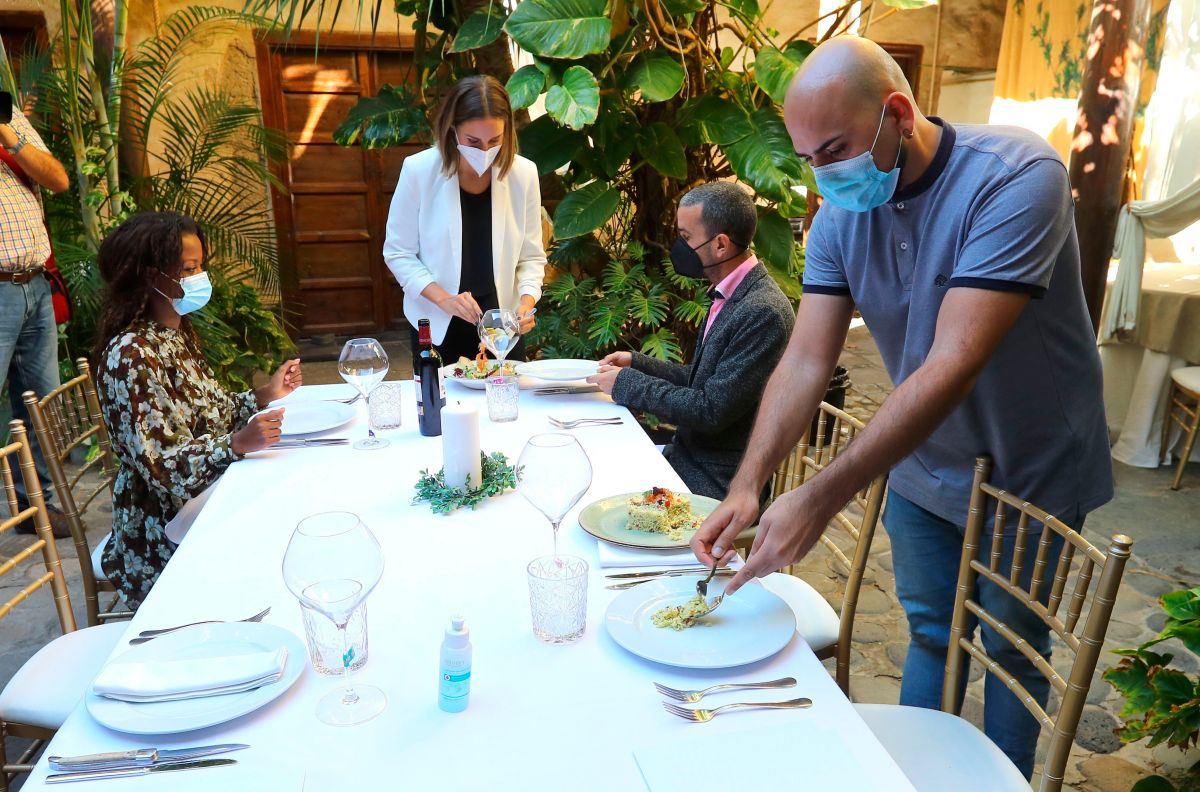 The CDC recommends that even with a vaccine, people should wear masks if they are in public spaces or where there are several people.
Photo: Elvira Urquijo A. / EFE
WASHINGTON – The Centers for Disease Control and Prevention (CDC) published on Monday their long-awaited recommendations for those vaccinated against COVID-19, who can be with other immunized without danger to their health in closed places and without a mask, although caution was advised.
The country is immersed in the vaccination campaign against the disease, after the authorization for emergency use of sera from Pfizer, Moderna y Johnson&Johnson: the first two require two doses and the third one.
So far, at least 59 million people have received at least one dose of one of the vaccines in the country, while 31 million – 9.2% of the population – are fully immunized against the coronavirus.
These are the main recommendations explained by CDC Director Rochelle Walensky, at the daily press conference of the White House team of experts on COVID-19 for people who have been fully vaccinated, that is, for those who have been two weeks since they received the second dose of the preparations of Pfizer or Modern, or the only one of Johnson & Johnson.
Those vaccinated can be found without a mask
The CDC notes that fully vaccinated people can gather in "small groups" indoors, without wearing a mask or practicing social distance.
"If you and a friend, or you and a member of your family are both vaccinated, you can have dinner together, without wearing a mask or keeping social distance. You can visit your grandparents, if you and they are vaccinated, "Walensky explained.
What happens when the vaccinated meet the unvaccinated?
Here the CDC considers two situations: unvaccinated at high risk of complications from COVID and those without.
Walensky noted that "fully vaccinated people can visit unvaccinated people from another home in a closed place without wearing masks or maintaining social distance, if the unvaccinated (…) are not at high risk of severe COVID-19 disease." .
The director of the CDC specified that those not vaccinated without risk of suffering serious COVID are people under 65 years of age and who do not have any previous disease, such as cancer, diabetes, or heart problems.
In that sense, he affirmed that "if the grandparents are vaccinated they can visit their daughter and her family, even if they have not been vaccinated, if the daughter and her family do not suffer a risk of serious (COVID) disease."
However, if they are non-immunized people with risk factors for severe COVID-19, those vaccinated should wear a mask, maintain physical distance, and try to meet them in open or well-ventilated areas.
"This is recommended to keep high-risk, unvaccinated individuals safe," Walensky said.
If I am vaccinated, do I have to quarantine?
For those immunized who have been exposed to someone with COVID-19, the CDC indicates that they do not need to quarantine or undergo tests, as long as they do not have symptoms.
In this regard, Walensky added that the CDC is "readjusting" its travel recommendations, although he recalled that the US and the world are still in the middle of a serious pandemic and that still "90% of the population is not yet fully vaccinated ".
Therefore, "everyone, whether vaccinated or not, should avoid large or medium gatherings, as well as non-essential travel, and when in public spaces they should continue to wear well-fitting masks, social distance and follow other public health measures. to protect themselves and others ", stressed the head of the CDC.
Is the vaccine being effective?
Walensky highlighted that there is "solid" clinical data that is showing that "current vaccines against COVID-19 are being highly effective in protecting vaccinated people from suffering this disease in a serious way, being hospitalized or dying from COVID- 19 ".
Even so, there is still "a small risk" that those immunized will become infected with the disease and are asymptomatic or suffer from it in a mild way, which could transmit the virus to those who are not vaccinated.

eldiariony.com
Eddie is an Australian news reporter with over 9 years in the industry and has published on Forbes and tech crunch.