Cristina J. Orgaz @cjorgaz
BBC News World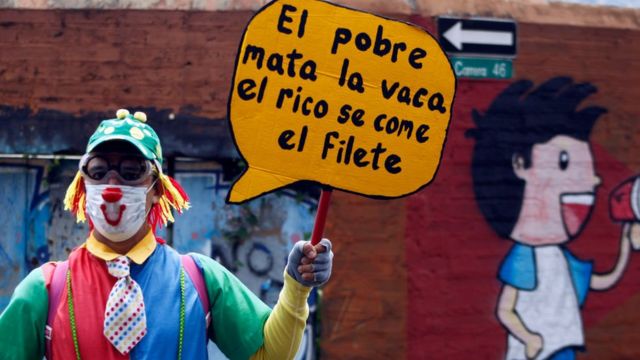 Neither an army of legal advisers nor the pressure groups in the institutions of each country have managed to stop one of the biggest tax reforms at the global level in recent decades.
The finance ministers of the G7, which groups together the world's seven main economies, reached an agreement this Saturday that is considered historic and that is intended to tax the profits of multinationals with a minimum amount, but which will be the same for all: at least 15%.
This point is important because slows the race between jurisdictions to offer the highest corporate tax discounts, something that causes many companies to move their headquarters to tax havens or territories with very low taxation in order to pay less or even nothing.
In this way, the seven most advanced economies in the world are promoting a plan to combat tax evasion and make companies pay in the countries where they do business, regardless of where the headquarters of its subsidiaries are located.
Germany, Canada, the United States, France, Italy, Japan and the United Kingdom will try to extend their proposal – which has the tech giants in its sights – and negotiate for other countries to join.
"The G7 deal will need to be confirmed at the G20 in July, and then further negotiated under the OECD (Organization for Economic Cooperation and Development). There is still a lot of work to do before any final decision is enforced, "says Gilles Möec, chief economist at Axa Investment Managers (Axa IM), a global investment management company.
The OECD estimates that the proposal could generate between $ 50 billion and $ 80 billion in additional tax taxes per year that companies would end up paying globally.
That, at a time when economists foresee growing fiscal deficits as a consequence of the crisis caused by the pandemic in the world in general and in Latin America in particular, sounds promising.
And it is that, a greater contribution of companies to state coffers it would be a relief in these difficult economic times.
But will it really benefit the Latin American region?
Multinationals
"The existence of this global minimum tax can stop the tax race between countries and allow lnations latinoamericanas compete for investments without having to sacrifice tax revenues, "Jaime Vargas, managing partner of taxes at the EY consultancy and leader of the firm's Latin American Business Center, explains to BBC Mundo.
"However, given that Latin America is not home to the headquarters of any of the world's largest multinationals, it is unclear how it would benefit from the additional revenues."
And it is that apart from Brazil, Mexico and some oil companies and airlines based in other nations, Latin America or the Caribbean is not home to many multinational companies.
For the expert, the way to take advantage of the G7 plan would be through the implementation of "the taxation rule" that can only be implemented through treaties.
"Mexico and Chile are the only Latin American countries that have a strong treaty network. In fact, Mexico is the only Latin American country that has an enforceable treaty with the United States, "he says.
"In such a way that if the rest of Latin American countries want to continue protecting their tax collection, they may have to do so. imposing withholdings on payments abroad at relatively high rates or by limiting deductions, "says Vargas.
For Javier García-Bernardo, of the Tax Justice Network, a coalition of researchers and activists who investigate tax evasion, this G7 plan is far from eliminating tax havens and will do nothing but "perpetuate" them.
"Instead of paying 30% tax in Latin America, large multinationals could continue to move profits to a tax haven and pay 15%, "he explains.
What he refers to is that the tax havens of British territories such as the Virgin Islands, Bermuda or the Cayman Islands as well as the Bahamas, Hong Kong or Luxembourg will go from 0% to 15% with the agreement, but even so, the difference with the tax systems of Latin America still great.
That is why García-Bernardo believes that the G7 decision is one step forward but it is not enough.
"The benefits of this measure must be distributed fairly. With the current plan, most of the benefits go to the richest countries. If a US multinational moves its benefits from Peru to the Islands Cayman and we decided that those benefits have to be taxed at 15%, that money should go to Peru, not the US, "he adds.
According to the 2020 report by the Tax Foundation, a think tank specialized in tax policy based in Washington, South America has higher corporate taxes, for example, than Asian or European jurisdictions.
Companies in the South American region pay on average around 27.54% compared to, for example, 19.99% in Europe or 26.06% on average in the North American region.
In its 2018-2019 tax reform, Colombia introduced measures to reduce the corporate income tax rate from 32% to 31% in 2021 and to 30% from 2022, thus matching the percentage of Argentina, Mexico, Nicaragua Costa Rica and El Salvador.
Peru taxes the profit of companies 29.5%, and Bolivia, Chile, Ecuador, Guatemala, Honduras, Panama and Uruguay 25%.
And Brazil and Venezuela, with 34% of corporate taxes, are located, according to the Tax Foundation, in position 15 and 16 among the 20 countries with the highest rate in the world.
Meanwhile, Paraguay taxes its companies with 10%.
Historically, countries have always faced the double dilemma of attracting companies by lowering their taxes or leaving the percentage unchanged and risking relocation.
Negotiation table
Many NGOs calling for "fairer" tax systems agree that this global minimum tax benefits the richest nations to the detriment of the poorest.
"Decisions on international tax reform should be taken at the UN, through a truly inclusive process in which all countries have the right to vote, "says Grazielle David, Global Advocacy and Campaign Coordinator for the Global Alliance for Tax Justice (GATJ).
"Obviously, these decisions they cannot be taken over by clubs in rich countries, like the OECD and the G7 ", he adds.
But moving forward on a proposal like this will require both rich and developing country governments to reach an agreement.
Remember that you can receive notifications from BBC Mundo. Download our app and activate them so you don't miss our best content.

www.bbc.com
Eddie is an Australian news reporter with over 9 years in the industry and has published on Forbes and tech crunch.