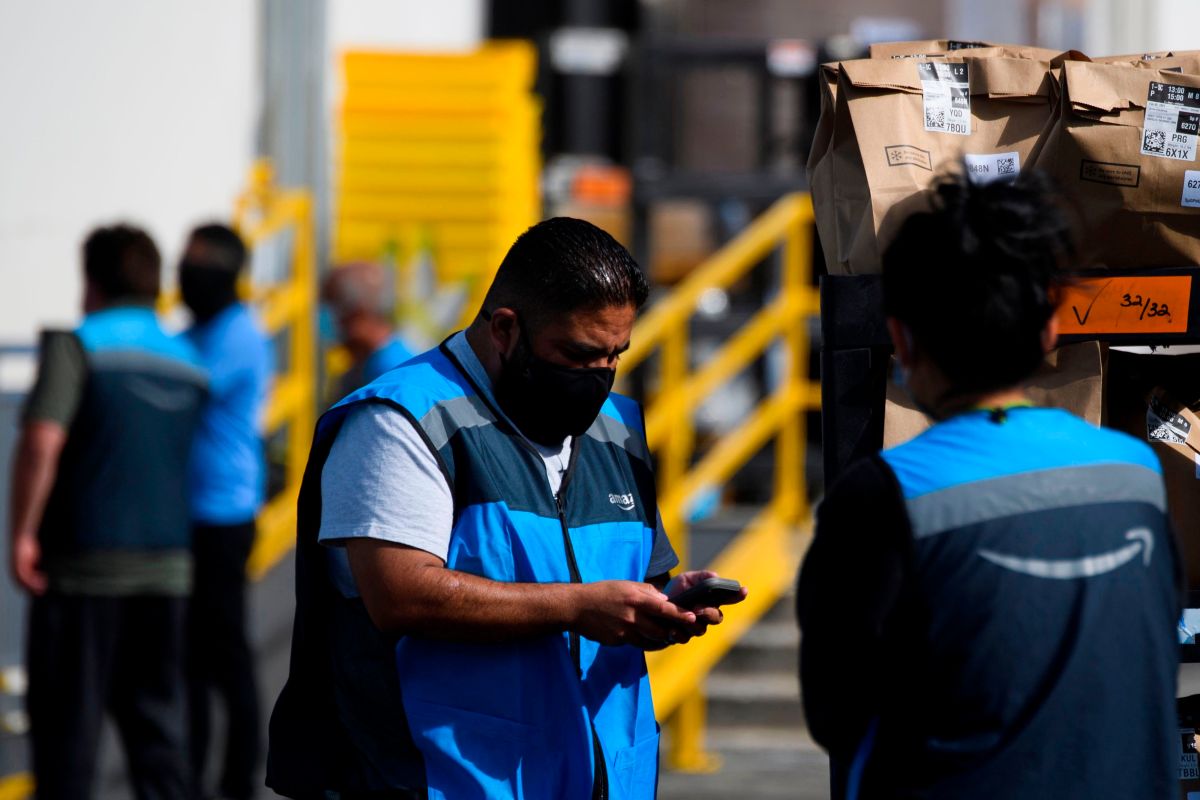 In 2020 Amazon paid a bonus to its employees as a way to compensate for their efforts during the pandemic.
Foto:
PATRICK T. FALLON / AFP / Getty Images
In areas where Amazon operates, low-wage workers from other companies have seen wage growth since 2018. The wage increase that Jeff Bezos's company implemented for its workers appears to have raised the wages of workers at other companies where the e-commerce giant operates according to an investigation by the Berkeley University and Brandeis University.
Research reveals that it is difficult for a worker to get a higher salary until an outside actor such as the government or an employer does it. Research shows there is little evidence that raising the minimum wage causes significant job losses, even in low-income rural areas.
Proponents of a higher minimum wage have argued that raising the bottom of the pay scale would help alleviate income inequality, including racial disparities in income.
Critics have said that an increase in the minimum wage would cause a large number of small businesses to be prevented from paying wages to their employees and would have to lay off part of their staff to pay part of their wages. personnel since companies such as hotels, restaurants and cinemas have been the companies most affected by the coronavirus pandemic.
In February the Congressional Budget Office estimated that a $ 15 increase in the minimum wage would now allow 17 million workers to receive a new wage and lift 900,000 people out of poverty.. However, said increase it would also end 1.4 million jobs, since employers would cut jobs to compensate for higher labor costs.
However, in the new study, the academics studied Amazon, Walmart and Target that operate in areas where wages are typically low and found that wage increases at large companies had gone up without reducing employment.
"When you have those corporations paying so much, you only put pressure on the smallest business owners," Tony Darden, Mooyah president, told the newspaper. The New York Times.
What the researchers found is that rising wages did not put large companies at a disadvantage. Rather, it gave local workers a reason to pressure their own employers for a raise.
"If an employee has the chance to earn two, three, four or five dollars more an hour in another job, it goes directly to the owner or his manager," said Darden.
The Berkeley and Brandeis researchers found little evidence of massive job cuts when wages rose. A 10% increase in base salary for a company like Amazon translated into a 1.7% loss of local jobs and 0.4% of jobs for low-wage workers. So the study seems to be helping to raise wages without the need for a law.
Related: Why did Amazon change its logo that looks like Hitler's mustache?
Other ways to increase salary
Research suggests that there may be other methods to increase the salary of low-paid workers. Political pressure on large companies can raise wages not only from your direct employees, but also from other workers in the same area.
The Amazon effect
So far it is not known what are the reasons why Amazon promotes the salary increase of $ 15 dollars but it occurs at a time when the company faces scrutiny from Democratic legislators about its treatment of workers, the accusations and their movements to fight against unions. While other groups accuse the e-commerce giant of using its size to pressure smaller competitors.
The so-called effect that companies like Amazon is causing is no surprise to some organizations like Fight for $ 15, which since its inception have sought to pressure not only the government, but also employers.
Related: Careful! You could receive an unsolicited package from Amazon and it is a scam
One year of earnings
During the coronavirus crisis Amazon had never recorded profits since its inception during the first half of 2020. While retailers had to close their stores, Amazon not only hired more workers but rewarded more than $ 500 million in bonuses to its front-line employees. The company said that revenue increased 40% from last year to $ 88.9 billion. During the second quarter of 2020, the company earned $ 5.2 billion, double its earnings for the same period but the year before.
You may be interested:

eldiariony.com
Eddie is an Australian news reporter with over 9 years in the industry and has published on Forbes and tech crunch.