Cecilia Barría
BBC News World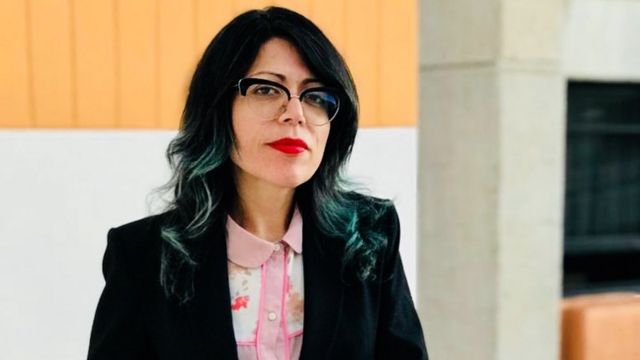 Tortured and dismembered bodies, corpses hanging from a bridge, blood …
The problem is that there are no tickets for sale because there is no film premiere and although the term "gore" comes from the movies, PhD Sayak Valencia uses it to refer to the daily atrocities that are experienced in border cities like Tijuana, Baja California.
And he uses the concept of "gore capitalism" to refer to an economic system that, from his perspective, has turned violence into a profitable business.
Being from Tijuana, it is not uncommon for an important part of his research to be linked, in one way or another, to the socio-economic and cultural phenomena that take place in border territories.
Researcher at the Department of Cultural Studies of the Mexican university El Colegio de la Frontera Norte, Valencia published in 2010 "Capitalismo Gore", a book that for the first time introduced a concept that has gained traction in some circles of left-wing thinkers who reject the model neoliberal.
"The dismembered bodies terrorize the populations but, at the same time, create market niches", says the researcher. "Gore capitalism makes violence a profitable business".
Valencia, who presents herself as a "cross-border queer theorist and transfeminist performer", develops in the following interview her vision of how the economy of violence operates and explains why she believes that mutilated bodies have become a commodity.
Where does the concept of gore capitalism come from?
It is a concept that I take from gore cinema where there is bloodshed, violence, dismemberment. Like, for example, the movie Kill Bill by Quentin Tarantino.
It is a category that I invented to talk about the economy on the northern border of Mexico linked to violence and drug trafficking.
It refers to how massacres are transformed into a commodity for the morbid. How dead bodies create a kind of economic necrovalue. How the dismembered bodies terrorize populations but, at the same time, create market niches.
Gore capitalism makes violence a profitable business. It is capitalism that spectacularizes the daily atrocities in which we live.
How does capitalism spectacularize atrocities?
For capitalism it is important to show the vulnerable body, to show the dead body.
Spectacularize the bloodshed. It is not just infringing the damage, but showing that damage to create a pedagogy of fear.
And what does capitalism have to do with making violence a spectacle, that is, who are responsible for this pedagogy of fear?
Those responsible are a series of devices and institutions.
Financial markets, for example, are heavily implicated in gore capitalism through money laundering. At first he used the concept to talk about what was happening in Mexico regarding the economy of drug trafficking.
Places like Ciudad Juárez, which became a ghost town when many people abandoned it because of the violence. They left their houses and those lands were taken over by people who sold them.
There is a whole economy of dispossession through displacement that gore capitalism can cause. Also to the economy of the sale of organs and other gruesome things.
But why do you associate violence with the capitalist economic model? What I mean is that in the history of humanity there have always been people and institutions that profit from the death of others. In other words, the "economy of death", understood as enrichment from violence, is not something exclusive to capitalism. It is something that has been around since medieval times, or in the time of Hitler or Stalin, or currently under corrupt "anti-capitalist" dictatorships that profit from the death of opponents. Or arms trafficking and organized crime are global businesses that flourish in any economic system …
This question is important because I am not just talking about capitalism as a form of commodity production. Let's go to the Middle Ages, for example. The humiliation in public was something very important and the capitalism of that time understood that it was very important.
When I speak of capitalism, I am speaking of the capitalism that Silvia Federici writes about. The capitalism that is built between the fourteenth and fifteenth centuries. Just when we went from feudalism to capitalism.
We went to capitalism, but not as a system, not through a direct route, but rather as a way of breaking solidarity and encircling the communities in struggle that existed at that time in medieval Europe, which were heretical communities.
I link capitalism with colonialism, as a way of governing through necropolitics, through massacre and the spectacularization of violence.
Capitalism works by destroying. Basically this has to do with Schumpeter's thesis of creative destruction. That which needs to be destroyed in order to generate scarcity, surplus value.
I understand gore capitalism, and I say so in the book, not as a commodity production system, but as a cultural system. That is why other systems such as the Stalinist or the Nazist also used violence.
In Latin America there are countries like Venezuela or Nicaragua, which do not define themselves as capitalist and which have been denounced as governments that exercise violence. Following your thesis, wouldn't that be gore socialism?
I think we have to return to the idea that, beyond the small socialist utopias that have not crystallized, there has been a misogynistic and authoritarian way of governing where violence has remained.
It is not something typical of those political systems that were supposed to be more democratic or more communal. Rather, it is a form of government that comes from a colonial perspective.
That is why I am interested in the idea of ​​capitalism as a form of contemporary colonialism that brings the tools of violence to this historical moment. I am not talking about capitalism as a form of economic production.
But isn't there gore socialism?
There is gore. It is a gore linked to colonialism, as a form of instruction through massacre that has been used by governments. Here a central thing is the State.
The state, of any kind, has the ability to inflict harm on its populations. It has an armed wing which is the army. The issue here is the use of violence against their own populations.
Violence not only occurs in capitalism, but also in other authoritarian systems.
So there is gore authoritarianism …
What exists is a thing that I call necropatriarchy.
From his point of view it is correct to speak of gore capitalism, but not gore socialism …
It seems to me that what I would say now, making a critical review of my work, is that it is a gore colonialism, a necropatriarchy.
What does necropatriarchy mean?
We live in macho societies, in patriarchal societies that have the capacity to kill their populations.
In your book you say that under gore capitalism mutilated bodies are transformed into a commodity. Who sells those bodies and who buys them?
The production processes of goods are no longer the same as in the past.
The forms of production of capitalism have diversified and that is why we would have to use other nomenclatures, but we are not going to delve into that now.
The point is that the dead body becomes a commodity because it activates certain circuits. In the case of the drug trafficker, the mutilated body has already passed through an entire chain that ends up turning it into a commodity.
The dead body is a commodity on a symbolic level, it is part of a market of fear. For example, there are the bodies of migrants. Who is responsible for those bodies? Sometimes it is the narco, sometimes it is the State.
We could also analyze, for example, public spending on security. There are different ways in which dead bodies become a commodity, generate a necrovalue and a pedagogy of fear.
There are also the bodies of women victims of femicides and sexual torture found in wastelands.
These deaths are the latest result of a whole process of dispossession, of a gore economic chain that has used their bodies and that has created a market around them.
Now you can receive notifications from BBC Mundo. Download the new version of our app and activate them so you don't miss out on our best content.

www.bbc.com
Eddie is an Australian news reporter with over 9 years in the industry and has published on Forbes and tech crunch.