Jose Carlos Cueto
BBC World News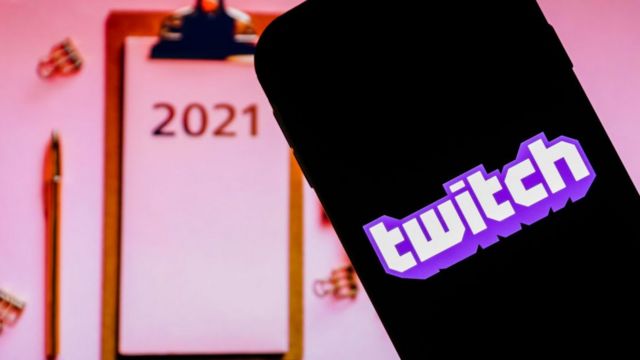 If you don't know what Twitch is, go and ask the relative at home not to be over thirty.
It is an online live video platform that your younger children, siblings, nephews and cousins ​​have been consuming in recent years. For them, it is their television.
To situate you, it is usually a person who puts a camera in front of his computer, starts the live broadcast and from his chair he talks directly with his audience about any topic that may occur to you while playing a video game, analyzes a news story or comment on posts on the net.
At first, Twitch was primarily used by gamers, video game fans who broadcast their games with a whole network of followers. Millions, in many cases.
But in recent months the platform has rapidly mutated and has been filled with content creators with channels of all kinds: influencers, cooks, travelers, journalists or artists. To be streamer –as broadcasters are known – seems to be in vogue.
Each day Twitch receives an average of 26,5 million visitors and every month more than 6 million people transmit their own content, according to data from the platform.
And several of the most popular content creators they earn millions in advertising, sponsorship and donations.
But what is really behind the success of Twitch and its millionaire audiences? Will this type of platform be the future of television as we know it?
"Twitch has come at the right time"
Experts agree that the great Twitch boom occurs when Amazon buys it for $ 1 billion in 2014.
"Before it was a consolidated platform, but from there and from the rise of video games like Fortnite, Twitch takes off definitively," Elena Neira, professor of communication studies at the Open University of Catalonia, in Spain, tells BBC Mundo.
It may seem strange to many, or at least curious, that so many people can entertain themselves by watching others play video games.
But says the American sociologist TL Taylor, a specialist in culture gamer online, that this pleasure comes from afar.
"Watching others play is a powerful modality that has been tried to carry out since the 80s, what happens is that now there has been a lot of progress in improving internet infrastructures and devices such as cameras, headphones and microphones", explains Taylor to BBC Mundo.
"Twitch has come at the right time and has exploited it. The expansion of culture gamer and technological improvements have been great for him, "he adds.
The pandemic, another catapult
It wasn't just the Amazon purchase that boosted the platform. Like many other services on the internet, the coronavirus pandemic has also consolidated a paradigm shift for Twitch.
"During the lockdown, it has perhaps become more apparent that Twitch has abandoned the video game redoubt a bit and has quickly become a platform with more typical broadcasts, a serious alternative to YouTube", explains Neira.
As of the second quarter of 2020, already consolidated many of the national confinements around the world due to the pandemic, Twitch experienced a 56% growth in total hours consumed, exceeding the five billion hours mark between April and June, according to data from the specialized consultancy Streamelements.
"I think a large part of the key to Twitch's success is that it perfectly combines the enjoyment of viewing content with a strong sense of community. This is a global phenomenon," says Taylor.
Threat to television?
The growth is such that many debate whether the consolidation of various services such as YouTube, Netflix, and now Twitch are leading to the decline of traditional television.
Professor Taylor understands that this is a valid debate and gives an example: "Before, eSports organizers dreamed of their competitions being broadcast on traditional television, but little by little they have been convinced that they don't really need it."
However, Elena Neira believes that it is a mistake to pose the phenomenon Twitch as a "thief" of television audiences.
"What happens is that now we consume many different media. But it is true that television on the grid is aging and for very specific cases it cannot be renewed," he explains.
"Likewise, right now there is so much supply that it is very difficult to have a regulated consumption of how many people consume what type of medium or entertainment. Audiovisual consumption is more fragmented than ever."
How do you make money on Twitch?
How it is monetized on Twitch can be a bit more difficult to understand, Taylor cautions, as virtually most content creators are experimenting and there doesn't seem to be a clear path.
"At the moment we are seeing publicity, but also sponsorships, donations and subscriptions. It makes money, but really all models are being tested", explains the expert.
A successful, experienced and established content creator can earn millions on Twitch, although to reach these levels you have to gather a fairly large group of followers and spend many hours streaming content. Twitch should literally become your job.
This is the case, for example, of the Spanish Ibai Llanos, perhaps the streamer most popular in the Spanish-speaking community. He became known as an eSports event narrator, but now resides in a mansion in Barcelona with other content creators and from there they broadcast hours and hours of varied streaming on Twitch.
The "perverse" part
Like other platforms on the internet, Twitch is not without privacy and inclusiveness concerns.
At the end of December, the service announced new policies on hateful behavior and harassment in order to protect its users.
"We know that many people on Twitch, especially women, members of the LGBTQIA community, blacks, indigenous people and people of color unfortunately continue to experience a disproportionate amount of harassment and abuse online, including on our service," Twitch said in a statement.
In recent months, The platform has expelled some streamers for inappropriate behavior.
On the other hand, Neira warns, there is another "perverse" part in Twitch about the way it collects our data, consumption habits, keywords we use, geographic location and content we consume. This information allows you to optimize the advertisements based on the tastes of the users.
"Twitch is not a neutral platform and has commercial interests, but I do not think that the possible 'dangers' are greater or less than other services in its ecosystem. In fact, its younger audience perceives this monitoring of their consumption not as an inconvenience but as a better user experience ", clarifies the specialist.
Appealing to a younger demographic, in fact, is one of the keys why experts like Neira consider that Twitch still has a long way to go.
"It's still in the process of maturing. Considering its exponential growth from video games to mainstream content, I think there is a lot of room for the development of many stars on Twitch."
Now you can receive notifications from BBC Mundo. Download the new version of our app and activate them so you don't miss out on our best content.

www.bbc.com
Eddie is an Australian news reporter with over 9 years in the industry and has published on Forbes and tech crunch.