Charlotte Booth*
The BBC HistoryExtra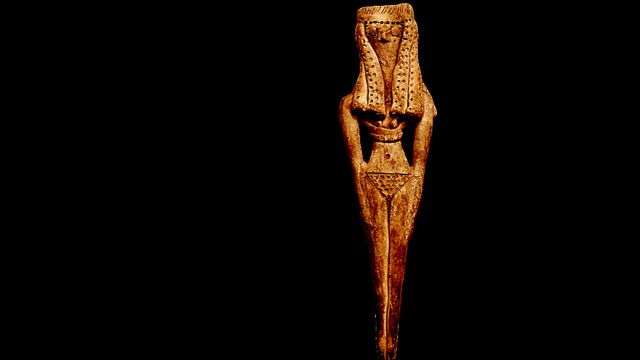 Although you can think that the behavior of the ancient Egyptians was very different from ours, they had the same doubts, fears and motivations regarding the concepts of love, sex and marriage.
The difference is in the way they dealt with those emotions.
In the modern world, "sex sells" and can sometimes be considered gratuitous or even taboo. The latter is something that a typical ancient Egyptian would not have understood.
For the Egyptians, sex was a staple of life, along with eating and sleeping, and therefore not something to laugh at, be ashamed of, or avoid.
And to speak of it, the Egyptian language, like modern ones, had various words for sexual intercourse, as well as, naturally, euphemisms that could be used poetically such as "bonding with", "meeting", "spending a pleasant hour together", "enter a house", "sleep with" or "have fun with" …
In fact, poetry is a remarkable source for learning about matters of the heart and libido in Ancient Egypt.
The art of innuendo
To describe the female sexual organs they also had several words, such as xnmt (uterus), iwf (meat), kns (pubic area) o k3t (vulva). Others were more subtle, like keniv or "hug".
A New Kingdom poem, for example, describes romantic relationships as "she showed me the color of her hug"." Color "was often used as a euphemism for skin and in poetry we find phrases like"see the color of all its limbs" The "its color was soft".
However, not all poetry was so subtle: there is one that describes a young man wanting to "charge towards his grotto", a metaphor that doesn't really need to be developed.
The ancient Egyptians also used sexual language to insult, curse, and as general exclamations.
To rush a work colleague, an Egyptian boatman could have said: "Quick, fornicator!", as attested in Ti's Old Kingdom tomb at Saqqara. The expression, apparently, was considered harmless enough to be in the tomb with the deceased for eternity.
While sex was a normal part of everyday life, it was preferable in the confines of marriage, which is why most people married, often at a young age.
As the love poetry of the New Kingdom is full of sexual and romantic desires, as well as unrequited love, we find clues about the cultural practices of the time through the poems. For example: "He does not know of my desire to hug him, or he would write to my mother", allows us to know that if a young man wanted to marry, he should speak to the girl's mother to obtain permission.
A New Kingdom poem explains how simple tasks are impossible because of love: "Won't let me act sensible".
Couples in love also gave each other affectionate nicknames like 'The feline', 'The much wanted' Y 'She (What is it) short-tempered like a leopard'.
"A year eating"
The wedding was a simple affair, with no religious or civil ceremony; generally the woman – although occasionally the man – simply moved into her husband's house, perhaps accompanied by a procession through the streets and a party.
With nothing ceremonial or official, most marriages were left undocumented, yet wealthy couples often drew up contracts outlining the financial consequences of a divorce.
But more intriguing are the documents describing temporary or trial marriages:
"You will be in my house while you are with me as a wife from today, the first day of the third month of the winter season of the sixteenth year, until the first day of the fourth month of the flood season of the year seventeen.".
This temporary marriage was known as "one year eating" and it allowed the couple to try the marriage, as well as a quick exit in case there were no children during this time or if they decided it was not working.
Married life in Ancient Egypt was not much different than it is today, and a married couple had many of the same concerns: essentially raising, feeding, and providing a home for their family.
However, not all ancient Egyptian marriages were perfect and medical papyri show that men often consulted a doctor due to sexual problems within their marriage.
In case of problems …
There were numerous recipes available for the husband to seduce his wife:
"Quita dandruff from the scalp of a dead person who was murdered and seven grains of barley, buried in the grave of a dead, and crushedathose with ten ounces of apple seeds. Add the blood from a black dog tick, a drop of blood from the ring finger of your left hand, and your semen. Triturait until obtaining a compact mass, put it on in a glass of wine … and leta let the woman drink it".
It would certainly be difficult to persuade a disinterested wife to drink such a potion, but if she did, it was believed that she would fall hopelessly in love with her husband again.
In that case, the next step was taken, which was to grind acacia seeds with honey and "rub your phallus with eso and sleep with the woman". If this did not work, the man was advised:"Frote his phallus with the foam of a stallion's mouth and sleep with the woman".
The same level of medical help was not available to a wife, as it was considered inappropriate for a woman to consult a doctor on such matters: "A wife is a wife. She shouldn't make love. She shouldn't have sex".
This makes it clear that it was considered inappropriate for a woman to wish to have sex, as she should only be available to her husband at his request.
"Keep your heart in a hurry"
However, marriages were dissolved for various reasons, the most common being childlessness or adultery.
Although women were not supposed to want to have sex, adultery was claimed to be "the great crime that (usually) found in a woman".
But both men and women committed adultery, and both men and women could trigger divorce because of this.
Adultery was so common that it appeared in the Book of the Dead in the so-called 'Negative Confession', where the deceased denied having done things considered illegal or socially unacceptable.
It is in the last category that adultery falls, and the Instruction of Ani (Dynasty XXI or XXII around 1000 BC) advises the new spouses: "contain the racing heart. Don't go after a woman; don't let her steal your heart".
If such advice fell on deaf ears …
Although divorce was generally granted for adultery, if the husband wished, he could request that his adulterous wife be severely punished, in some cases with mutilation or execution. However, these harsh punishments were generally the plot of literary tales, and divorce was easier and more common in the real world.
Both men and women could divorce each other, with the man simply saying:"I miss you", or the woman saying:"Leave", or either spouse saying:"I divorce you".
Divorce was generally as simple as a wedding, with the woman moving out of her husband's home, either returning to her father's home or to her own.
Divorce did not carry any social stigma and both men and women remarried and many had large families.
However, if a woman divorced when she was in her 30s, it was rare for her to remarry. At that age, she was considered old.
When it comes to matters of the heart, whether in the modern world or in Ancient Egypt, there is a lot of information that is simply not recorded.
However, to some extent, we can get an idea of ​​how the ancient inhabitants of the Nile Valley conducted their relationships and their vision of sex and relationships.
And while it's certainly incomplete, a lot is familiar: Ancient Egyptians weren't that different from us when it came to relationships … they lived, fell in love, loved, got married, got divorced, and sometimes repeated.
* Charlotte Booth is the author of "Lost Voices of the Nile: Everyday Life in Ancient Egypt"or "The lost voices of the Nile: daily life in Ancient Egypt".
Remember that you can receive notifications from BBC Mundo. Download the new version of our app and activate them so you don't miss out on our best content.

www.bbc.com
Eddie is an Australian news reporter with over 9 years in the industry and has published on Forbes and tech crunch.