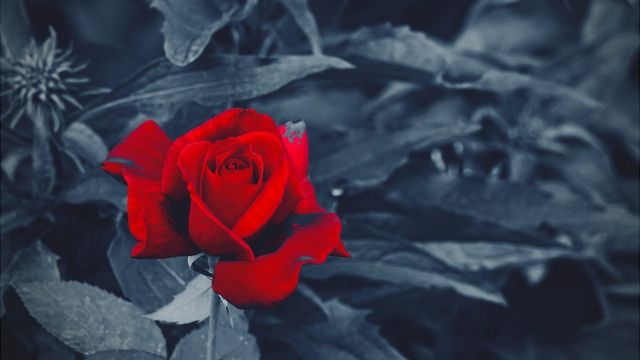 Can I ask you a question?
It's about Mary, a brilliant superscientist who lives in a black and white world.
Although he has never seen the colors, he knows everything about them.
You know that different wavelengths of light stimulate three types of cone cells in the retina; you know that electrical signals travel down the optic nerve to the brain. He knows that there they create patterns of neural activity that correspond to the millions of colors that most humans can distinguish. And he knows all the details about all those physical and biological aspects.
He also knows that the leaves of the trees are green in summer and yellow and red in autumn; that the sun is yellow, that the sunrises can be orange and the sunsets, purple.
He even knows what combination of waves stimulates the retina, and exactly how this produces through the nervous system the contraction of the vocal cords and the expulsion of air from the lungs that results in the pronunciation of the sentence "the sky is blue."
You know about associations like yellow being upbeat, happy, and fun; the blue, serene, faithful and constant; the light blue, refreshing, and the most poetic, as green is the color of hope, and red, of passion and danger.
In short, without having seen them, she is an unparalleled expert in colors.
One day he saw a red rose.
Did you learn anything new? Is there something about color perception that you couldn't know before you saw it?
Yes?
Intuition tells us yes: there is nothing to replace experience.
You can know a lot about love, but until you fall in love, you don't know everything, right?
But think that, with the advancement of science, we have discovered that even feelings are a series of electrochemical stimuli.
And what we are wondering is if, assuming that we had all the necessary information to reproduce the neurobiology and behavior of when we fell in love, in terms of knowledge, do we acquire new ones by experiencing it?
If so, there would be mental states that cannot be fully described with physical facts.
There would be something more, something that transcends the physical, something philosophers call quale, singular, and qualia, on plural.
They are the subjective or qualitative properties of experiences, those that make seeing a red rose not the same as seeing a yellow one or that falling in love the first time is not the same as the last.
Mary's room
Mary's room, also known as Mary the superscientist, is a thought experiment proposed by the Australian philosopher Frank Jackson in 1982, (and extended in the 1986 article "What Mary Didn't Know") to challenge the theory of physicalism, that affirms that everything that exists is exclusively physical.
In discussions of philosophy of mind, proponents of physicalism argue that what really matters is physical matter. For them, consciousness has to do with the brain, or more specifically, it is identical to the brain. Physicalists have formulated 'identity theories' that equate human consciousness with the human brain.
The experiment describes what is known as the Knowledge Argument, which states that there are properties and knowledge that can only be discovered through conscious experience.
But not all philosophers agreed.
Mary doesn't learn anything new just because, based on her complete physical knowledge of color vision, seeing the rose would tell her that it is red, some physicalists argued. But this argument is countered by saying that the experience of seeing red goes beyond the ability to recognize it.
Others dived into human biology and argued that the phenomenal state of seeing red is a physical event: the individual needs to be connected to a red thing in order for the experience of seeing red to be triggered. Since phenomenal states are physical events, so is what Mary goes through.
Another argument is that when Mary sees red, her sense of what she is like just means that she is acquiring some practical skills. Knowing what an experience is like is not knowing that, it is knowing how.
On the other hand, remember that we were assuming that Mary knew all about color vision, so her extensive knowledge would have enabled her to create the same state of mind produced by actually seeing color.
Sure, that's if we assume that recreating a physical state would recreate a corresponding mental state. In other words, if we were ever to build a computer that mimics the function of every neuron in the human brain, would a conscious computerized brain be created?
Change of mind
Interestingly, over time, Jackson refuted his own argument.
He decided that Mary's experience corresponded to a measurable physical event in the brain, not an unknowable qualia beyond physical explanation.
After seeing the color red, Mary did not learn anything new about the world, although she did learn something new about herself, she concluded.
Nevertheless, there is still no definitive answer to the question.
Remember that you can receive notifications from BBC Mundo. Download the new version of our app and activate them so you don't miss out on our best content.

www.bbc.com
Eddie is an Australian news reporter with over 9 years in the industry and has published on Forbes and tech crunch.