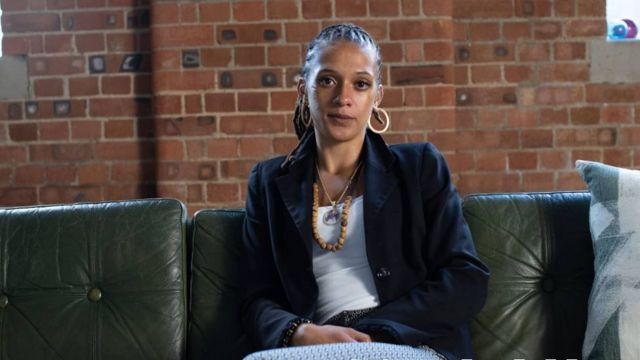 At first glance, Aliyah looks like any other 24-year-old: she loves fashion, posts selfies on Instagram, and seems happy. But her smile hides an undertone of abuse and exploitation, a pattern that experts warn is all too common among adolescent girls forgotten by society.
Aliyah's earliest memories are not of family trips or of teddy bears.
Instead, she remembers coming home from school and being relieved when she saw that the front window was open. It meant that his father was letting air in.
Aliyah didn't know much about drugs back then. But he had learned that the open window meant he would be in a good mood: "Whereas if the window is closed there is no smoke, then Daddy doesn't have what he needs," he says.
At the time, no one outside the family knew what was going on behind closed doors at their home in South London.
She says there was violence in the home and that it was sometimes inflicted on her.
She and her sister hugged each other on the bed crying until they fell asleep.
Sometimes money was scarce and food was scarce as a result: Aliyah remembers the days when there was nothing in the house and I went to school hungry.
It would be years before social services took over Aliyah and her siblings. She believes they missed many opportunities to protect them; he remembers that his parents put on their "best faces" when the authorities showed up.
Stories like yours follow a classic patternsays Kendra Houseman, a consultant on child criminal activity: "If the home is not a safe place, that makes them vulnerable to exploitation"And he warns that there are many more girls like Aliyah.
But against all odds, Aliyah finally managed to change her life.
One sunny day when she was 8 years old, her father invited friends to celebrate her birthday. Someone gave Aliyah champagne. She drank so much that she had to be taken to the hospital for alcohol poisoning.
It was the beginning of Aliyah's descent to alcohol abuse. "After that, I just drank, I always wanted to drink," he says. By age 13, he had become dependent on alcohol. "Drinking became a problem, I drank because I was depressed."
His parents separated, his father left the family home and over time it became a place where he they kept drugs and weapons, and where is traffickers congregated.
Aliyah remembers that she was once left there alone. "I was 10 years old and I kept all these drug dealers in my house," he says. While still a little girl, she assumed it was her fault, somehow: "I honestly didn't know what I had done."
There was a man, a regular visitor to the house, who noticed that something was wrong. "He showed a more genuine interest," she says. He would take care of Aliyah. He became her friend and remains in contact with her to this day.
"I think she saw a little girl who didn't have her parents, the way she needed to have her parents, and I think she just wanted to show a little support here and there when she could."
But even though Aliyah was on the child protection registry, she still lived in those circumstances. The conduct of the authorities is difficult for her to understand.
"I don't think they saw a lot of things," he says. "At this time, if that was happening in a home, they would take the child out immediately."
Finally, when Aliyah turned 12, she was taken to a foster home. However, at that time she was already a child in deep conflict.
Aliyah says that they moved between about 20 foster homes over a three-year period. She fled and slept in the open. He drank until he passed out. At school, his behavior got worse: he broke things and bullied other children.
Remember it felt like he had no way out, he existed in survival mode. I know self-harmed and tried to kill himself many times.
While hanging out with older teens, she was drawn into a world of crime, violence, and drugs. Aliyah started robbing and beating people; her childhood trauma had put her on a destructive path, she says.
He quickly built a reputation: if someone in the gang did something they shouldn't, Aliyah would be the one to physically punish them.
"It was years of hurting myself and hurting other people," she says. "It was what I went through, the things that I didn't deserve to go through, it was getting to me."
"He stole my childhood from me. It was taken from me when I was too young. I couldn't get it back because things just got worse after that. "
All of this made her a target for those who wanted to take advantage of her. Eventually, Aliyah met an older man who convinced her that they were in a relationship. "I thought I was in love with him," she says.
But the reality was very different. "He made me sell his drugs," he says. "I couldn't realize that they were exploiting me." Very soon they parted ways.
Rita Jacobs, a social worker in London, says this "model of exploitation froml boyfriend" he has observed it with increasing regularity.
"Some girls do not know that they are actually being exploited; they think they are in a romantic relationship with a partner and what they do not realize is that the partner is actually an assailant," explains Jacobs.
Aliyah's preparation was not online. But Hannah Ruschen, a child internet safety policy officer at the National Society for the Prevention of Cruelty to Children (NSPCC), says that in the decade since, technology has made it even easier to identify and exploit vulnerable girls.
According to the NSPCC, the 80% of the victims that are identified by the internet are girls, and most of 12 and 15 years.
"Because there is constant access to the child via the Internet, it can happen very quickly," says Ruschen. "It can go from a simple act like a friend request to quickly escalate to online image sharing."
At age 14, Aliyah ran away from her foster caregivers. He stayed with several friends. She knew she had been reported missing, so she couldn't get out.
Eventually the isolation became too much for her and she turned herself in at a police station. For the first time, she was referred to a protection home.
He didn't know it at the time, but this marked the first step in changing his life.
By the time she reached Bridges Lane, a large building in Croydon, south London, Aliyah was 15 years old. When she arrived, she pretended that she was not afraid, but deep down she was scared: this was a new experience for her.
On her first day, an adult staff member set the rules: There was a curfew and she had to get home on time. Every night, all the residents sat down to dinner with the caretakers.
"She just laid the law on me and that's what she needed," Aliyah recalls. I have never experienced discipline before. "I loved it. I just didn't show it, because I didn't trust anyone."
Aliyah got off to a rocky start at Bridges Lane: misbehaving, seeing how far he could push the boundaries.
"I think he was testing them, but he was also crying out for help," he says. "I needed a family. I just wanted to cry and hug someone and I did it here. And I met Rowena."
Rowena Miller was the social worker assigned to her. For her it was her first job. Somehow Aliyah knew instantly that Rowena was finally backing her. It was the first time in her life that she felt that someone believed in her.
"I was definitely traumatized by my life," she admits. "And a little of that is still in me."
"I know how to handle it a lot more than before, because I didn't know I was traumatized. Before, I didn't know what was going on."
The effects of exploitation can last for years and many girls like Aliyah never manage to escape it. But Aliyah did.
"That house calmed me down," he says. "I no longer felt lost."
Aliyah left Bridges Lane with a new attitude. Then, at age 16, he discovered that he was pregnant. It was a wake-up call. "I was not going to let my son experience a quarter of what I went through," he says.
She knew she was still on the radar of social services and that her baby would be taken away from her if she committed any wrongdoing. She attended all the meetings she was called to, followed the instructions for quitting smoking and drinking.
Seven years ago her daughter was born. It was a difficult pregnancy, but you think the experience changed his life. "If it wasn't for her, I wouldn't be here, she saved me," says Aliyah. "She is 7 years old and she did not experience anything that I suffered when I was 7 years old. And I thank the Lord every day for that."
Today Aliyah lives with her daughter in what she describes not only as a house, but also as a home.
They carry a normal life: Aliyah works, likes to write poetry and is about to study to become a social worker so she can help other children in the same way that Rowena helped her.
"I'm still in the process. My daughter is in my care. I'm a mom, I have a home, not a house. I work. The community in the area I live in smiles at me every day. I made it. And I'm in a better place ".
Remember that you can receive notifications from BBC Mundo. Download the new version of our app and activate them so you don't miss out on our best content.

www.bbc.com
Eddie is an Australian news reporter with over 9 years in the industry and has published on Forbes and tech crunch.