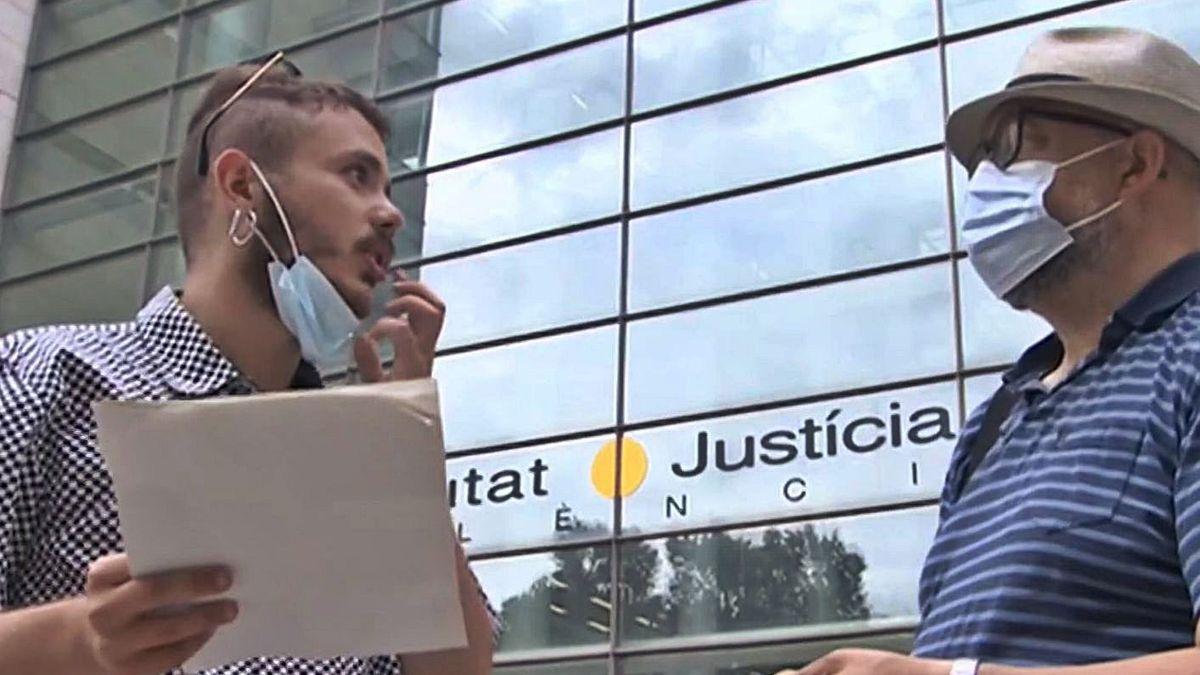 The situation in which the 21-year-old Valencian Alejandro Ocaña Last weekend in Valencia was so similar to the one that resulted in the murder of the Galician Samuel – with just hours of difference – that Alejandro can't help but think that he might "have ended up dead". Both were homophobic assaults in which the word was uttered "fagot", both started with a misunderstanding and in both a large group of boys beat up a person from the LGTBI collective. The difference between the two attacks is the fine line between life and death. "When they came to hit me, they said: 'Are you wavering me, fagot?', that stuck with me, "he says to Lift-EMV Alejandro Ocaña.
Yesterday, Ocaña filed a complaint for hate crimes accompanied by the prosecutor Susana Gisbert in the Superior Court of Justice of the Valencian Community (TSJCV). After go through several police stations without success During the weekend, the organization for the rights of LGTBI people Lambda and the Orienta service, dependent on the Generalitat, contacted him to advise him legally.
This young student in the last year of Fine Arts at the Polytechnic University of Valencia and a native of Vila-real has gone through a nightmare these days. "It is very sad to admit that I am lucky. At some point, someone of my assailants could have lost his hand with a bad punch and making them stop is very complicated ", he emphasizes.
It all started with a joke. Alejandro had gone out for a beer in the Blasco Ibáñez avenue area of the cap i casal when a boy approached to ask for money. "That night my friends and I had a joke between us, we said 'look what a great ass'", explains Alejandro. When the stranger came to ask for money, he replied with the same joke. "I don't have money, but I have a great ass … ", Told him. And there the night was twisted. "The boy felt super offended by the fagot that he had just released, but what is my fault that my group of friends is queer? It was not our fault," he argues. He apologized if the joke had been in bad taste, "but it didn't help."
The aggressor walked away but returned "to the minute" and accompanied by ten people, according to the victim's account. "My friends stepped forward to try to get them away from me, which was the goal."Are you wavering me, fag? "And a few seconds later the fists and the blood. "The most serious thing was a punch in the mouth that left a bruise that still lasts me and several more punches that have not left any sequel".
A friend of his tried to defend him and got the mob to leave Alejandro to focus on him, who managed to run away without suffering physical injuries. His mobile phone was stolen, but he avoided further cruelty.
There is no trace of the assailants and Alejandro does not trust that they can be stopped, despite which he has filed a complaint so that his case "serves to eradicate this type of situation." The Valencian student who survived almost simultaneously to Samuel's death attributes the concentration of homophobic attacks to the fact that there are "many hate speech" that give the aggressors "strength" to "go free, knowing that there will be a community that is going to support them. "
The Government condemns the violence against the LGTBI collective
The Government delegate in the Valencian Community, Gloria Calero, yesterday condemned and regretted the latest homophobic attacks. Likewise, he encouraged them to always denounce them and issued a warning to the aggressors: "We are going to be intolerant." "From the Government Delegation, the National Police and the Civil Guard we will be alert to all kinds of aggressions so that they do not go unpunished," he guaranteed in statements yesterday after days of protests throughout Spain over the murder of young Samuel in A Coruña. Faced with this case and the rest of homophobic attacks, such as that of Alejandro Ocaña in Valencia, Calero has regretted that it seems that it is "going back in time" because it is not possible that in the XXI century they will occur "in a democratic Spain and a Free Spain ".

www.informacion.es
Eddie is an Australian news reporter with over 9 years in the industry and has published on Forbes and tech crunch.