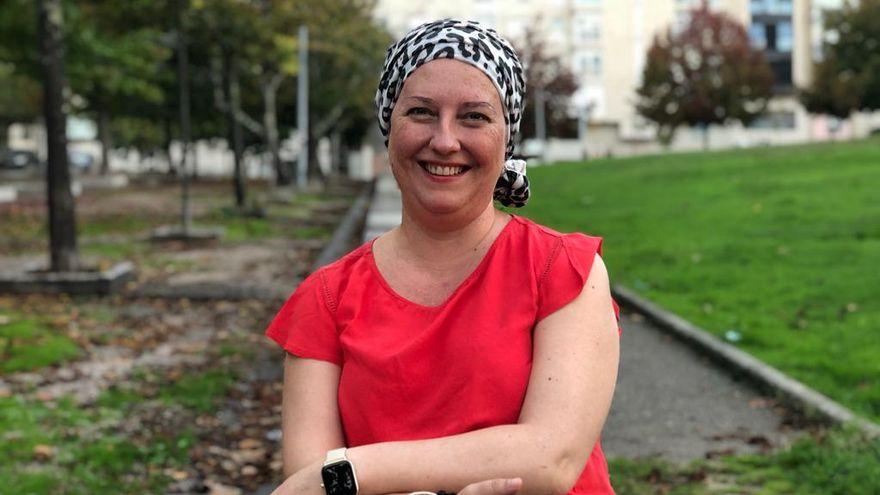 Montserrat Alonso has the date of the June 23 in his memory. "That day was celebrated San Juan and we – she, her husband, Jacinto, and their 8-year-old daughter, Laura- we were spending a few days in Panxón, that's why I remember well, "he says. A month before, She is 43 years old from Vigo she had noticed a lump in her chest, and she went to her GP. A week later he underwent a biopsy at the Breast Unit of the Meixoeiro hospital.
"Those days before the diagnosis I was calm, convinced that it was nothing, that these things only happen to others", he assures. However, on the eve of the appointment to be given the results "I got a little nervous", he confesses. But she went to the doctor alone, because she was not expecting what was about to happen, furthermore "that day Laura began her vacation and her father had to stay with her," she recalls.
"I was calm, convinced that it was nothing, that these things only happen to others"
The nodule, about three centimeters, was malignant and it had to be treated, first with chemotherapy, then with surgery and ultimately with radiotherapy. Montse does not forget that moment: "The first thing I thought was: 'the one who's gotten involved!', since I realized how much my life was going to change, however the doctor gave me a lot of peace of mind ", he clarifies. And it is that the quick attention (little more than two weeks since the lump was noticed), the explanation of how It was going to be the treatment, and, above all, the assessment of his doctor who assured him that the tumor "he was not critical at all", reassured her and gave her strength to face that day, in which she not only had to digest the news, but also he had to inform his own of what was happening.
"My daughter doesn't talk about it, but she worries and takes care of me"
"Telling my mother was what worried me the most and also to my husband, who is very heartfelt ", remember. However, the reaction of his partner, whom he telephoned as soon as he left the hospital, was positive. Tito, who is called by those closest to him, was reassured by seeing her calm and also by the way in which she transferred everything that her doctor had told her.
It was time to talk to Laura, his daughter. "At no point did I consider not telling him. I had to tell him. Especially because of the side effects. He went to see things and could make movies that scared him". The little girl was drawing in the living room when her mother told her." I told her that they were going to give me a treatment and that was why I was going to be very tired; that my hair would fall out, so I asked her to go buy a turban together; and also that they would operate on my chest. She did not raise her head during the whole conversation, until I asked her to, "he recalls with some emotion.
Four months have passed since that conversation and Laura is very aware of her mother, "even though he doesn't like to talk about it", Montse assures. "Yes he understands, he tries to participate in things, he takes care of me, and I think he is doing well." In any case, this woman from Vigo, who is not considered brave at all since "I simply try to do the best I can", is calm, because "for Laura it is not being traumatic".
"My eight-year-old daughter, even though she doesn't like to talk about it, understands it, tries to participate in things, takes care of me, and I think she's doing well."
And it is that, for the moment, and apart from the obvious physical changes, Montserrat only suffers a lot of fatigue, and still try to be and participate in meetings, meals and whatever plans may come up.
In day to day, chemotherapy treatment It has forced him to stop working, to depend on another person to get around, since he is not allowed to drive, and he lacks energy to carry out household chores, for example. Emotionally, "I've had quite a bit of anxiety. There were nights when I wasn't able to sleep, from thinking about this so much, but now I'm better, calmer. " Montse is convinced that this will soon be a bad dream: "Yes, yes. I don't think of another option," he says.
"People shouldn't be afraid to ask me"
You do not plan to celebrate the International Day of the fight against Breast cancer of this October 19, although "I'll wear the pink bow," he clarifies.
"I feel that this should not be treated differently from another disease, that there should be no fear of asking. I don't care if they ask me how I am or what is wrong"
"I think it is very good that it is visible, and it is something to talk about so that so much taboo is not generated around it. I am aware that it is something that is scary, that it is scary, but you have to think that this type of Cancer has a good prognosis, and we should not be left alone with the experiences of people who die from this disease, "he explains to justify why he was given to give their testimony to 'Faro de Vigo', a newspaper of the same group as this newspaper. "I know that each person is different, and takes it in their own way. But I feel that this should not be treated differently from another disease, that there should be no fear to ask. I don't care if they ask me how I'm doing or what's wrong, "he says.
Montse no longer has hair and covers her head with scarves or turbans, because "I don't see myself wearing a wig, really". Before that, he decided to shave his hair very short "so that the change was not so abrupt," he confesses. You have passed the first cycle of chemotherapy sessions you receive at the Álvaro Cunqueiro hospital, and now another something more aggressive begins. The lump is hardly noticeable anymore And after finishing this second round of chemicals, at the end of December, it will be time to go under the knife. "They will only intervene in the affected part of the chest," he says.
Your personal journey will not end there. Then will come the radiation therapy sessions and five years of hormonal treatments. "From the beginning I knew that I was going to have a long bad season" concludes this woman who faces this disease as one more stage in her life "that must be assumed as such".

www.informacion.es
Eddie is an Australian news reporter with over 9 years in the industry and has published on Forbes and tech crunch.