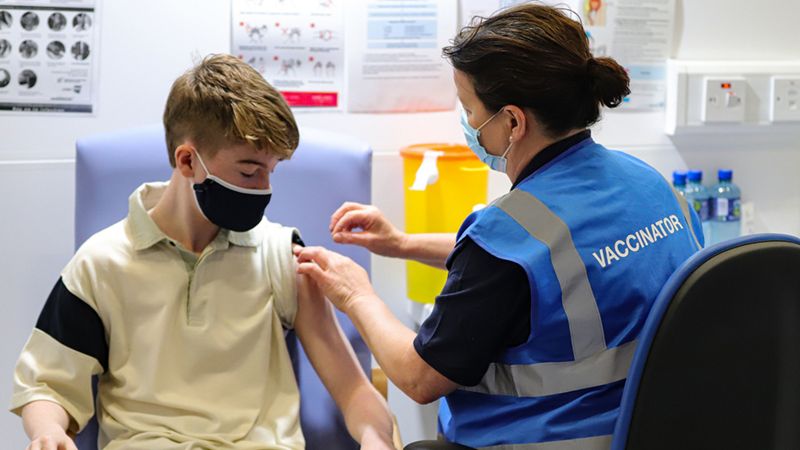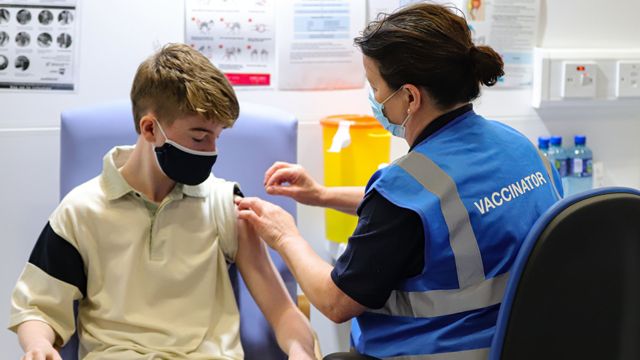 Until now, vaccination against COVID-19 has focused on the adult population, especially those over 60 years of age, who are the most likely to suffer serious consequences or die from this disease.
At the opposite extreme are children, the age group who less risks run because of the coronavirus.
While a small group of infected children – an estimated 1 in 5,000 – develop a rare but serious illness called pediatric multisystemic inflammatory syndrome (or PIMS), the vast majority have very mild symptoms or are asymptomatic.
Nevertheless, several countries began to vaccinate their children, after some vaccine manufacturers confirmed that they are safe for minors.
The American Pfizer tested its vaccine successfully in minors from the age of 12, and the two Chinese vaccines, Sinovac and Sinopharm, were approved for those over 3.
These countries are not just vaccinating children who are at higher risk for having pre-existing conditions. Most vaccinate their entire child population from the age of 12, although some nations are even vaccinating at younger ages, such as 2 or 3 years.
For what is this?
There are a number of reasons that have led these countries to decide to inoculate their younger population.
The UK, which just recommended that boys between the ages of 12 and 15 receive a dose of the Pfizer vaccine, justified its decision by stating that this should avoid interruptions in your education.
The British government's decision came after the scientific committee advising it opposed vaccinating healthy children solely for health reasons, stating that the virus poses a very low threat to them.
England's chief medical officer Chris Whitty said it was a "difficult decision" but that losing school time "has been extraordinarily difficult for children", especially in the most deprived areas of the country.
He added that prolonged interruption of schooling can cause mental health problems and have long-term effects.
A survey published in July by the UK's Office for National Statistics had shown that almost 9 in 10 parents agreed to vaccinate their children.
The British government hopes that this measure will help slow the spread of the delta variant, the most contagious of the coronavirus, which has caused a new wave of infections in that country.
They point out that a single dose reduces the risk of contracting this variant – if one comes into contact with it – by approximately 55%.
It also reduces the chances of getting very sick and spreading the virus.
Delta variant
The havoc that the delta variant is causing also explains why several other countries began vaccinating their minors.
The United States and Canada began vaccinating children, starting at age 12, last May.
According to the latest report from the Center for Disease Control (CDC), the number of children hospitalized with COVID-19 in the United States is 3.4 to 3.7 times higher in the states that have vaccinated the least to its population.
Some school boards in that country even decided that the vaccine is mandatory for children 12 years and older to attend classes, something that has been objected by some parents.
Pfizer Pharmaceutical has already started testing its vaccine in children from 5 to 11 years old, and those results are expected to be ready this month.
President Joe Biden has already noted that vaccines for that age group will be available "soon" after regulators review clinical data.
China, also facing an increase in cases of the delta variant, approved the inoculation of children from 3 years last June, with the Sinovac and Sinopharm vaccines.
It thus became the first country to allow vaccination of such a young age group, followed by the United Arab Emirates in August, which also started vaccinating children as early as 3.
The Asian giant began vaccinating minors between the ages of 12 and 17 in early 2021 and by mid-August had already administered 60 million doses to that age group, according to the National Health Commission.
Now a new outbreak, which according to local media is "focused on schools", has led some experts to call for the vaccination program to be expanded to cover children between the ages of 3 and 12.
Herd immunity
BBC Health journalist Jim Reed points out that China has set itself a goal to vaccinate 80% of its 1.4 billion people by the end of the year, "a figure impossible to meet without inoculating large numbers of those under 18 years of age. ".
The truth is that, although boys do not usually suffer from severe forms of covid-19, they are still a route of contagion.
And in some countries where a large proportion of adults are already vaccinated, children represent a major source of infection.
This explains why several European Union (EU) countries began vaccinating minors between 12 and 15, after the European Medicines Agency (EMA) approved the use of the Pfizer vaccine for those ages in May.
Germany, which only allowed vaccination of minors with prior health problems, in August extended its vaccination program to include all children 12 and older.
Meanwhile, Spain, Denmark and France have already vaccinated most of their population of that age with at least one dose.
The French authorities reported that, as of October, all adolescents must present evidence that they have been vaccinated or that they have a negative coronavirus test to access places such as cinemas, museums, restaurants and shopping centers, as is already the case with adults. .
Another country that applies a similar system – called a "green pass" – is Israel, one of the nations that was able to vaccinate the majority – almost 90% – of its adult population the fastest.
In the midst of a strong increase in cases of the delta variant, in June the country began to vaccinate boys from the age of 12, an age that was reduced to 3 in mid-August.
It also began requiring children of those ages to show their green pass in order to access many closed places, including libraries, gyms and swimming pools.
Latin America
Several Latin American countries are also vaccinating their younger population.
Uruguay was the first to begin inoculating children between the ages of 12 and 17 with the Pfizer vaccine in early June.
Chile, which like Uruguay also has one of the highest vaccination rates in the world, began to do the same a few weeks later.
On September 13, the country became the first in South America to give the green light to the inoculation of children up to 6 years, with the Sinovac vaccine.
The first to be vaccinated are those with comorbidities, but as of September 26, all minors of that age will be vaccinated.
"Children can also get sick. 12% of the cases that we have had in our country during this year and a half are children under 18 years old," explained the Chilean Undersecretary of Public Health, Paula Daza.
The official stressed that vaccines "are safe, effective and, in addition to protecting each person, they are an act of solidarity."
Argentina, Colombia, Costa Rica, Ecuador, El Salvador, Panama, Paraguay, Peru and the Dominican Republic also began to vaccinate children with comorbidities from the age of 12, between June and July.
Some later extended coverage to all minors.
In mid-September, the Salvadoran president announced that they would begin to vaccinate younger children, starting at the age of 6.
Meanwhile, at the beginning of the month, Cuba became the first country in the world to vaccinate children from 2 years of age.
The health authorities began to administer the Sovereign 02 vaccine, produced on the island, to the minors.
The pediatric vaccination program coincided with the start of the school cycle, although education has been kept in virtual format.
President Miguel Díaz-Canel said through a statement that the goal is to reach November with more than 90% of the population vaccinated.
Now you can receive notifications from BBC Mundo. Download the new version of our app and activate them so you don't miss out on our best content.

www.bbc.com
Eddie is an Australian news reporter with over 9 years in the industry and has published on Forbes and tech crunch.