Madrid
Updated:
save

The World Health Organization (WHO) has just published its recommendations for the treatment of covid-19 and, as the data from the Solidarity study had been announcing, advises against the use of the antiviral remdesivir for patients admitted to the hospital with covid-19regardless of the severity of your illness. It is based on the fact that, according to the WHO Guidelines Development Group, there is currently no evidence that it improves survival or reduces the need for ventilation in these patients. The full report is published today in « The BMJ».
Remdesivir was the first approved antiviral treatment for Covid-19 due to its potential efficacy against severe Covid-19. However, its role in clinical practice remains uncertain.
Already in mid-October, the results of the clinical trial clinical trial Solidarity sponsored by the WHO stated that the drug did not prove to have a substantial effect on the survival of patients with covid-19. This study did not find that any of the treatments studied – remdesivir, hydroxychloroquine, the combination of lopinavir / ritonavir, and interferon – in 11,266 hospitalized patients "substantially affected mortality" or reduced the need to ventilate patients. "
The recommendation now made by this panel of experts is based on a new review of existing evidence comparing the effects of different pharmacological treatments for COVID-19. It includes data from four international randomized trials involving more than 7,000 patients hospitalized for COVID-19.
After thoroughly reviewing this evidence, the WHO panel, which includes experts from around the world, including four COVID-19 patients, concludes that remdesivir has no significant effect on mortality or other important patient outcomes, such as the need for mechanical ventilation or recovery time.
However, the panel acknowledges that the certainty of the evidence is low and notes that it does not prove that remdesivir does not provide any benefit; rather, there is no evidence based on the currently available data that the drug improves important patient outcomes.
But, due to the potential for side effects, as well as the relatively high cost as it must be administered intravenously, the Panel considers that its use should not be recommended in these patients.
Does this mean the end of remdesivir, the first treatment used for COVID-19 patients in the harshest stage of the pandemic, and that it will become the new Tamiflu? [Antiviral de Roche para el tratamiento de la pandemia de gripe A de 2009 y que no demostró su eficacia].
Roger Paredes, from Infectious Diseases Service of the Germans Trías y Pujol University Hospital in Badalona, and a researcher in the NIAID study, considers that the decision made by the WHO is, to say the least, "doubtful" because the evidence you present is "low". And he adds that it will be a decision «controversial, disputed and debatable, as well as unwise», Taking into account the results of the drug in a given population that were published in« NEJM »
The WHO document encourages Gilead to continue their clinical trials with remdesivir, especially to provide greater certainty of evidence for different specific groups of patients.
Gilead sources have told ABC that this drug "is one of the only treatment options that offers clinical benefits to hospitalized patients with COVID-19, such as significantly faster recovery, freeing up hospital resources."
And adds. "WHO guidelines ignore the strong evidence that has been generated through multiple controlled, randomized, and peer-reviewed studies supporting the use of Veklury (remdesivir) as a treatment for COVID-19."
There are currently several international clinical trials underway to evaluate the safety and efficacy of remdesivir for different patient populations – pediatric -, formulations and in combinations with other therapies. In addition, Gilead has announced a clinical trial with a nebulized solution, since everything seems to indicate that the upper respiratory tract could be the location where SARS-CoV-2 is most concentrated in the early stages of the infection.
But the company also recognizes that it would no longer be justified to try remdesivir versus placebor. Bahar Turkoglu, Senior Director of Public Affairs for Gilead Sciences UK and Ireland, told 'The BMJ': 'Now that the safety and efficacy of remdesevir has been evaluated in multiple randomized controlled clinical trials and is considered a standard of care, it is not it would be ethical to conduct a placebo-controlled trial in patients who would otherwise be eligible for this treatment. '
The truth is that not a few researchers questioned the Solidarity trial, as of hpy pending publication in a peer-reviewed scientific journal. Like Andre Kalil, principal investigator of the ACTT-1 trial (randomized controlled clinical trial, including a randomized, double-blind, placebo-controlled clinical trial), who criticized its design. «No data monitoring, no placebo, no double blind, no confirmation of infection diagnosis».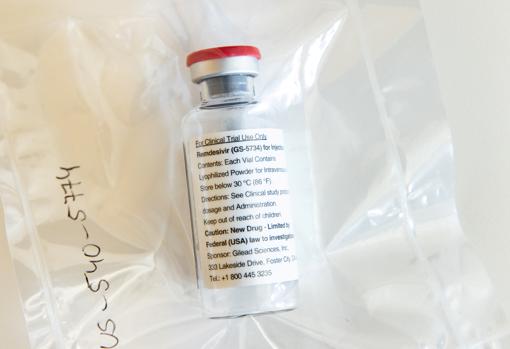 Solidarity is a global, multicenter trial that enabled early access to remdesivir, among other investigational treatments, to combat COVID-19 in patients around the world. The design of this trial prioritized wide access, which translates into significant heterogeneity in terms of trial adoption, implementation, controls, and patient sample. Consequently, it is not clear whether conclusive findings can be drawn from the study results, this researcher noted.
Spanish specialists also stated that there were "limitations" in the results of the Solidarity study. Among them was Roger Paredes, who believes that «the Solidarity study has limitations and you have to know how to interpret it well».
The nuance, he explains, is that remdesivir does not work for all patients: "You have to use it in those patients with pneumonia who require oxygen and it has been shown to be very effective since what we use in summer with hundreds of patients. However, it has lower results in very mild or very severe patients.
But for some it is a weakness, for others it is its strength: a global study of how remdesivir performs in complex real-world settings beyond the controlled settings of clinical trials with fewer patients. "With a disease that has infected more than 45 million people in almost 200 countries and has caused more than a million deaths, we need trials with heterogeneous populations," says Erin McCreary of the University of Pittsburgh (USA), who did not participate in the WHO study.
Furthermore, as the WHO report details, previous studies had already consistently shown that certain subgroups of patients did not benefit from remdesivir. «We have over 5,000 patients in the remdesivir arm of the Solidarity trial who still show no benefit», dijo McCreary a «The BMJ».
That leads clinicians to conclude that remdesivir only benefits a small subset of moderately ill patients. The step is to identify which population is ideal for this drug.
"If there is an effect, it is extremely small," says Solidarity researcher Srinivas Murthy, "but any effect on mortality is something to consider."
For Paredes, in reality "nothing has changed with this WHO decision. We continue to administer remdesivir in the population with mild low-flow pneumonia »
And Dr. Paredes continues: "In the future, it will be necessary to use a combined treatment with other antivirals, with immunomodulators or with monoclonal antibodies that we are going to start using."
In fact, it advances that the results of the ACTT-2, which compares baricitinib and remdesivir versus remdesivir alone, show that the combination shortens the stay in semi-critical and high-flow patients.
The panel concludes that there are other medications that should be used. Thus, it recommends alternative treatments, such as dexamethasone, a cheap and readily available corticosteroid, which has been shown to reduce mortality among severely ill COVID-19 patients.
In this sense, since the apparent benefit of reducing mortality in some cases costs less than 1 euro a day, many experts want to see studies that prove the effectiveness of remdesivir when administered together with corticosteroids.
¿And if remdesivir didn't have such a high price (more than 2,000 euros treatment)? Paredes wonders. "It is possible that there would not be this debate, but that is another question. With the evidence so low it does not seem prudent to advise against its use, "he concludes.
See them
comments

www.abc.es
Digsmak is a news publisher with over 12 years of reporting experiance; and have published in many industry leading publications and news sites.