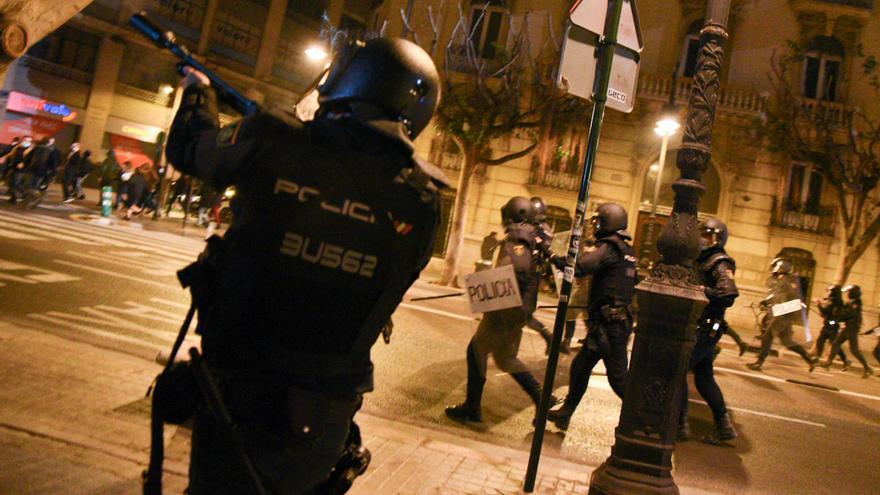 It helps to support this hypothesis, still hasty, behaviors like those of Wednesday night. A group of between 100 and 200 youth they carried out some preparations in Urquinaona square – barricaded with containers – before the riots. And when they began, "groups joined the altercations that until then had followed the demonstration from afar." "This second profile is more opportunistic and joins regardless of their motivations."
There is also a third group that is directly embodied by young people with police record for thefts and robberies who take advantage of the chaos that accompanies the confrontations to destroy shop windows and loot commercial establishments. "The headquarters of bank branches could be a common target but they were not a car dealership, or motorcycles of ordinary citizens parked in the street," they emphasize from the Mossos.
Spiral of violence
For the Catalan police, the altercations of recent years follow an escalation of violence by the perpetrators who confront the agents. "About the Vic police station It was one more step ", they emphasize. On Tuesday night the police station, in which there were 14 Citizen Security and Investigation agents, was attacked by a group of protesters gathered around the rapper's prison in the capital of Osona.
There were also inside the building some citizens who were filing a complaint at that moment or a lawyer on duty. "Everyone feared for their integrity." An episode of these characteristics had not occurred to date and has even forced the security body to review the Basic Police Area (ABP) model that had been built following the criteria of proximity to the police. neighborhoods but that, after the incident, you must assess how the police stations are protected against possible new attacks.
"We have video images captured by neighbors that make the hair stand on end and that show that they were hunting the police, against agents who did not have public order protections. There's a increased aggressiveness that not only turns against the Mossos, but also reaches local police officials who cannot be framed in any account of repression because they are dedicated to cutting off traffic during a demonstration, as happened in Lleida. In addition, events in which some participants show an attitude that has banalized violence and that they act unconsciously ", they reason.
No organization
The riots that took place in the plaza de Urquinaona In October 2018, in the protest against the sentence against the leaders of the 'procés', they were massive and had "a degree of organization" that is not appreciated now. "Most of them are going to jump," they explain.
The Mossos have a specific report instruction unit for cases of public disorder. At least one of the seventy arrested in the last two days of protests has entered preventive prison.

www.informacion.es
Eddie is an Australian news reporter with over 9 years in the industry and has published on Forbes and tech crunch.