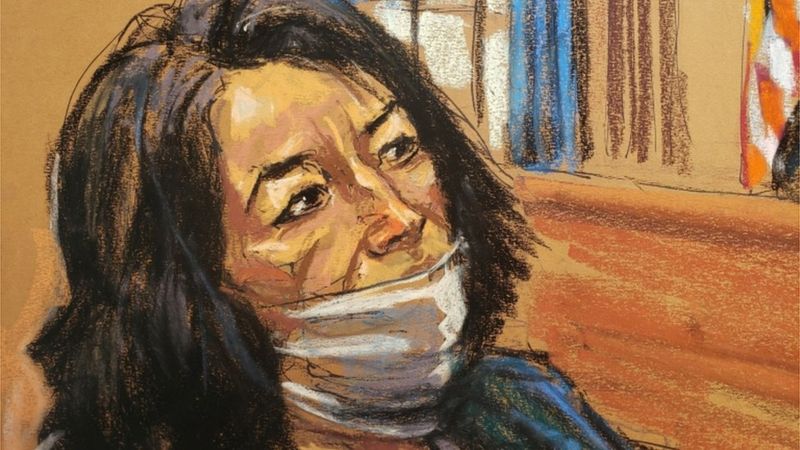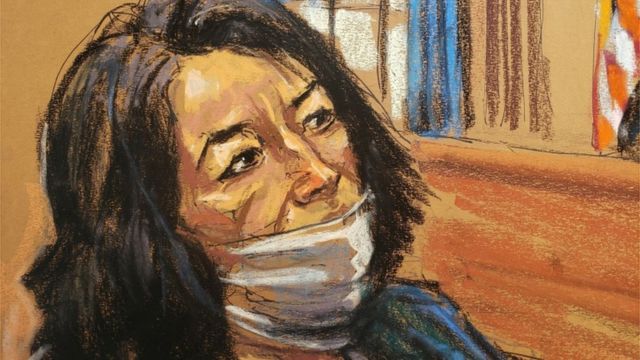 From a high society woman and friend of British royalty, to facing up to 80 years in prison for one of the biggest sex trafficking scandals in recent times.
Ghislaine Maxwell, youngest daughter of British press mogul Robert Maxwell and ex-girlfriend of the late billionaire Jeffrey Epstein, sits on the dock this Monday, November 29, in a six-week process in New York that the US press defines as the "trial of the decade".
Maxwell is accused of having helped Epstein sexually abuse underage girls and of having provided adolescents for sex trafficking to the billionaire, who committed suicide in a Manhattan cell in August 2019.
The prosecution is expected to expose Maxwell's case in the coming days and preview evidence and witnesses in a media trial in which, however, cameras are not allowed.
"This long-awaited trial will be closely watched from New York to London. Legal experts say it is one of the highest-profile cases in which a woman is tried for allegedly facilitating a sex trafficking operation," says Nada Tawfik. , BBC correspondent in New York.
"It is expected that four women who were allegedly abused as children Take the stand to tell your stories under oath. It is unclear if Ghislaine Maxwell will do the same. "
The trial "will not answer all the burning questions about Epstein's sex trafficking ring, but it will add one more piece to the puzzle," says Tawfik.
What is Ghislaine Maxwell accused of?
Maxwell was arrested by the FBI last year for her alleged involvement in the scandal and has been in jail since, awaiting the trial that began this Monday at 08:30 local time (13:30 GMT).
He has pleaded not guilty to all charges against him.
Is accused of six crimes based on the recruitment of minors.
Four of the charges date from 1994 to 1997, a time when, according to the indictment, she was one of Epstein's closest associates and had an "intimate relationship" with him. Two other charges relate to alleged events. conspiracy of sex trafficking and sex trafficking of a minor that would have occurred between 2001 and 2004.
In December of last year, one of the women who declared herself a victim of Epstein pointed out to the BBC that Maxwell controlled women who were in the service of the billionaire.
"Ghislaine controlled the girls. It was like the madame", said Sarah Ransome on the BBC's Panorama program.
"She was one of the basics of the sex trafficking operation and always visited Jeffrey on the island (Manhattan, where the businessman had a residence) to make sure the girls were doing what they were supposed to be doing," she stated. .
"She knew what Jeffrey liked. With bullying, she helped uphold Jeffrey's standards; she bullied girls, so it was a joint effort," he said.
The allegations against Maxwell were first made public in court documents in 2009.
Prince Andrew of England, son of Queen Elizabeth II, has been linked to both Epstein and Maxwell by some of the alleged victims of the American businessman.
In August 2019, an American judge published documents and testimonies about the case against Epstein, just hours before the man was found dead in his cell in a New York jail, the same one where "El Chapo" was.
Virginia Giuffre, an alleged victim of the billionaire who worked as a wardrobe assistant at the Mar-a-Lago club in Donald Trump in Florida, where Epstein used to go, she accused Maxwell of "recruiting" her when she was 15 years old as a "masseur" for the financier.
According to the Prosecutor's Office, Epstein allegedly paid minors in exchange for a massage at his residence, which in most cases ended in some kind of sexual exchange.
Maxwell then branded Giuffre a liar and the young woman filed a libel suit against him that the parties resolved before reaching trial in 2017.
The socialite British denies having been part of the sexual schemes of Epstein.
However, last August, the US and UK media, as well as some lawyers for the billionaire's victims, returned to focus on Maxwell.
In documents released at the time, Giuffre's lawyers had already accused Maxwell of "acting as madame"for the Epstein and indicated that" multiple witnesses "had accused her of "recruit, keep, host and traffic" minors for Epstein.
How did Ghislaine Maxwell start her relationship with Epstein?
Born on Christmas Day 1961 outside of Paris, Maxwell was educated at the University of Oxford in England and speaks several languages.
He has British, American and French nationality.
American media point out that from a young age she was a person with numerous upper-class contacts and that it was she who introduced Epstein to many of his wealthy and powerful friends, including the former president of the United States. Bill Clinton and the prince Andrew, Duke of York.
In fact, the third son of Queen Elizabeth II faces a civil lawsuit in the US for allegedly having sexually abused Virginia Giuffre when she was a minor, something that he categorically denies.
According to the newspaper The Washington Post, the couple's friends point out that Maxwell's relationship with Epstein lasted a few years, although she continued working for him later.
"She was a person of education and refined tastes and knew how to handle a house or a boat and how to attend to guests," an acquaintance of both told the British newspaper The Daily Telegraph.
In a profile of Vanity Fair published in 2003, Epstein commented that he did not consider Maxwell an employee but her best friend".
In court documents, former workers at Epstein's Palm Beach, Florida mansion also describe her as the house manager, supervising staff and handling finances.
Heir to high society
Maxwell is the ninth and last daughter of the British media mogul Robert Maxwell, with whom he had a very close relationship.
In fact, the billionaire put her in charge of his football club, Oxford United, and named his yacht Lady Ghislaine in her honor.
It was from that boat that the businessman of Czech origin disappeared off the Canary Islands, Spain, in November 1991.
After finding the body, authorities attributed his death to "accidental drowning".
Robert Maxwell had managed to build a world publishing empire. But, after his death, it became known that he had taken money from the pension funds of one of his companies to keep his companies afloat.
Shortly after her father's death, Ghislaine Maxwell left the UK to settle in the United States, where she worked in real estate.
From girlfriend to confidant
It was shortly after that when he met Jeffrey Epstein and their relationship evolved over the years: from a sentimental partner it is said that he became his assistant and confidant.
According to some media, Epstein bought him a house in the Manhattan neighborhood of New York for US $ 5 million and frequently accompanied him on his private jet on trips around the world.
After her ex-boyfriend faced legal proceedings for the prostitution of minors in 2008, she began to distance herself from him.
Maxwell founded an NGO, the TerraMar project, dedicated to preserving the oceans and was invited to give a Ted talk and speak at the United Nations on the subject.
But in recent years, little has been heard of her.
He is believed to have left the United States and sold his Manhattan townhouse in 2016.
She kept a low profile until last July she was arrested at her New Hampshire mansion and jailed in New York.
* This note was originally posted the August 13, 2019 and updated the November 29th becausel beginning of the trial.
Now you can receive notifications from BBC Mundo. Download the new version of our app and activate them so you don't miss out on our best content.

www.bbc.com
Eddie is an Australian news reporter with over 9 years in the industry and has published on Forbes and tech crunch.