Guillermo D. Olmo (@BBCgolmo) *
BBC News Mundo Correspondent in Venezuela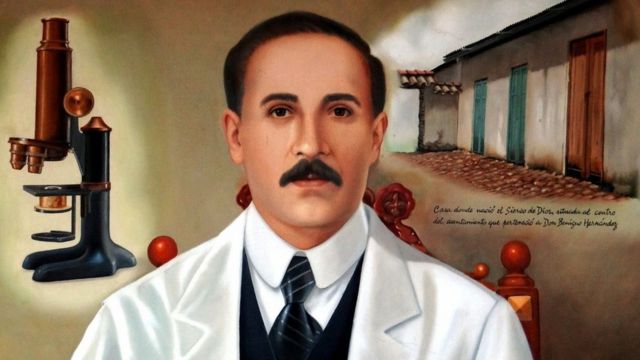 Many Venezuelans are called José Gregorio, and it is because of him.
He is known as "the doctor of the poor" and for decades his followers in Venezuela and Latin America eagerly awaited his beatification, which finally took place this Friday.
The ceremony was broadcast on the national radio and television network in Venezuela and was held at the Colegio La Salle Church in Caracas.
The beatification of the Venezuelan doctor, teacher and philanthropist José Gregorio Hernández was announced last year, when the Venezuelan Episcopal Conference confirmed that Pope Francis had given his approval.
Hernández is an extraordinarily popular figure in his native Venezuela, in which many believers credit him miraculous cures.
Dalia Correa, a retired resident of Caracas, told BBC Mundo what it means to her the figure of the now blessed of the Catholic Church.
"José Gregorio is my spiritual strength; I know that he is always with me and I have had tangible experiences of his presence."
Such is the devotion there is for him that many Venezuelan mothers give their children the name of Jose Gregorio.
Mrs. Correa is one of them. "People have a lot of faith in him," he explains, with tears in his eyes.
Who was José Gregorio Hernández
José Gregorio, as he is affectionately known by his many devotees, according to his biographers, stood out for his contributions to the development of modern medicine in Venezuela, the generosity with which he treated low-income patients and his religious faith.
Born in the small town of Isnotú, in the Trujillo state, in the center-west of Venezuela, in 1864, he soon excelled in studies and was sent to Caracas, where he graduated in Medicine with excellent grades at the Central University (UCV).
After completing his studies, he preferred to return to his hometown to attend to his patients there. Rural doctors like him had to deal in the Venezuela of the late nineteenth and early twentieth centuries with diseases such as tuberculosis or malaria, very widespread among the population.
Hernández obtained a scholarship to complete his studies in Paris, then at the forefront of medical science. There he learned about advances that he would bring to his country.
According to the Jesuit Father Arturo Sosa, "José Gregorio Hernández integrates an excellent scientific training in his spiritual experience that leads him to put himself at the service of those who need it, with a special predilection for those who cannot repay it."
Dr. Hernández stood out as a teacher and researcher, but what he made him gain fame Among the popular sectors it was his work in the consultation, since he treated the poor patients free of charge.
He is credited with having introduced the microscope and having laid the foundations for bacteriology and other scientific fields until then barely developed in Venezuela.
Dr. Hernández was also a fervent catholic and twice he tried to be ordained a priest. In 1908 he was admitted to the monastery of Cartuja de Farneta, in Tuscany, Italy, but a few months later he showed symptoms of a respiratory disease that advised his return to Caracas.
A second attempt at a Roman seminary in 1913 ended in the same way.
Already settled in Venezuela, he developed extensive clinical and research work, and even completed a treatise on philosophy.
June 29, 1919 he was run over in a central street in Caracas for one of the few cars circulating in Venezuela at that time.
Dead the doctor, the myth was born, and the cult of his figure continues to this day.
Shortly after his death, José Gregorio Hernández began to become an object of devotion for many in Venezuela.
His image can be found everywhere in the country, on posters, urban murals. posters, etc. Also, next to the beds of the sick and the graves of the deceased, for whom their loved ones claim protection.
In many Venezuelan homes figurines with the image of the doctor are adorned dressed in a suit jacket, with the mustache and black hat that everyone in Venezuela instantly recognizes.
Why the beatification of José Gregorio
In recent years, posters in favor of Hernández's beatification had proliferated in the streets of Venezuela.
Paradoxically, some of the forms that popular devotion to him took delayed his beatification process, which began in 1949.
Dr. Lepoldo Briceño-Iragorry, from the National Academy of Medicine of Venezuela, explains that "in part of the town there is a distorted view of your figure, which has been associated with Santeria rituals and has been taken advantage of by some charlatans, which caused the beatification to be delayed. "
In popular areas of Venezuela, Colombia and other Latin American countries, centers that claim to practice alternative medicines use the figure of Dr. Hernández in their sessions.
The "miracles" of the doctor
There are many who attribute to the favors of José Gregorio having overcome serious health problems.
The actor Socrates Serrano dedicated to him in 2019 the theatrical production "Gregory, channel of faith", in which he told how he approached the figure of José Gregorio Hernández after he was diagnosed with colon cancer.
"I had always had a very rational training, but at that moment I discovered that science did not have all the answers. I think José Gregorio accompanied me in my healing".
The Vatican file for the beatification did not advance until Church experts determined that José Gregorio is responsible for the miraculous salvation of the girl Yaxuri Solórzano, who was shot in the head when she was assaulted with her father in a hamlet in the state Guarico in 2017.
Despite the prognosis of the doctors, who predicted permanent sequelae if they managed to save her life, the girl he made a quick and full recovery.
His mother declared that she had prayed to José Gregorio during his convalescence and the ecclesiastical commission that studied the case concluded that the doctor worked the healing from heaven.
The legacy of José Gregorio Hernández
The corner of the Caracas neighborhood of La Pastora is today the scene of paintings and inscriptionsin his honor and many of those who pass by there daily cross themselves as they do so.
There the Ecuadorian José Pacheco sells cigarettes to earn a living. "Whenever something hurts, I ask him, and he relieves me," he says.
The temple where his remains rest has also become an obligatory point of visit for many of his faithful.
A man of both faith and science, José Gregorio Hernández had to overcome some of the contradictions that have sometimes arisen between the two.
Dr. Briceño Iragorry told BBC Mundo that "his religious convictions made him uphold the thesis of creationism, which sometimes confronted him with his friend Luis Razetti, another eminent Venezuelan scientist, but in his book 'Elements of Philosophy' he ends up admitting that, although God created man, he later evolved ".
Father Sosa emphasizes, over and above the miracle-working nature of the popular belief, that Dr. Hernández "fought to do science in the unfavorable conditions" of the Venezuela of his time.
For Briceño-Iragorry, José Gregorio's path was that of the "holiness within medicine".
José Gregorio is unanimously admired by those who have studied his life and works. For the historian Rafael Arráiz Lucca, it represents the "Venezuelan archetype of the healer, of the good man of peace, of the one who cures, of the one who restores, of the great man of science. "
Many of the patients who invoke him today in the hope that he will free them from their ills have not read his works on Pathological Anatomy or Histology, but that does not diminish their faith in him one iota.
To the point that, in the words of Dr. Briceño, "in Venezuela, when the patient dies it is the doctor's fault, but if saved it's thanks to José Gregorio ".
* This note was originally published on June 19, 2020 and was last updated on April 30, 2021.
Now you can receive notifications from BBC News Mundo. Download the new version of our app and activate them so you don't miss out on our best content.

www.bbc.com
Eddie is an Australian news reporter with over 9 years in the industry and has published on Forbes and tech crunch.