Joaquin Mateu Molla
The Conversation*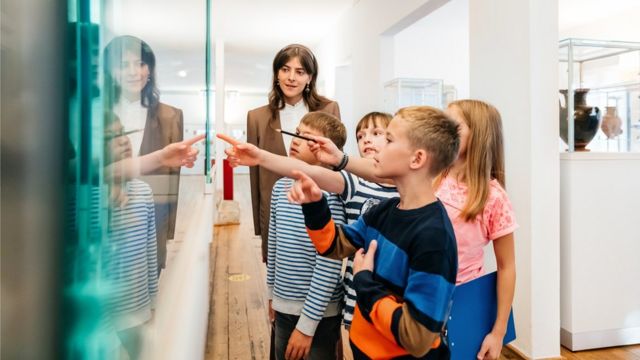 Imagine for a moment the classroom in which we received lessons during our childhood or adolescence.
In this endearing mental journey we will surely rediscover a succession of desks lined up in rows, where each of us had his immovable place.
Those rooms were more or less ordered spaces.
They were designed to move us only within restrictive limits: from the chair to the blackboard, or to the teacher's table, tracing a round-trip orbit that was broken by the sound of the siren that announced the end of classes.
Only occasionally were we able to alter the furniture (with a certain din) to form a small group in collaborative activities.
They were moments of certain relaxation, in which we took the opportunity to talk with our friends and relegate tasks to a second (or third) plane. To a certain extent, they implied a timid vindication of chaos.
This rigid organization is not only part of the experiential heritage of most of those who ever step foot in a school. It was designed to stimulate students' attention and minimize their natural tendency to movement.
But isn't some exploration of the environment necessary to learn? Do youIt was not so cOHow did our species build its knowledge over thousands of years?
Recent research seriously questions the usefulness of sitting still during the long hours of teaching. Scientific evidence suggests that standing care may have benefits, some of them unforeseen.
Why study standing up?
One of the main health problems in childhood and adolescence is, without a doubt, obesity.
Sedentary lifestyles and the consumption of ultra-processed foods contribute decisively to this. In addition to increasing the risk of endocrine and cardiovascular pathologies.
This fact, widely contrasted in the scientific literature, has led to the exploration of new preventive strategies in the school environment.
In addition to promoting physical exercise, essential for healthy development, Substantial modifications in the classic classroom configuration are beginning to be postulated, aimed at stimulating mobility.
One of the most interesting proposals is the use of elevated desks. These are tables that allow students to stand or sit according to their needs.
They constitute an alternative that is usually combined with the possibility of moving around the classroom to interact with other classmates, firmly betting on dynamism and collaboration.
The first investigations carried out on the potential benefits of this change in teaching strategy have made it possible to identify at least two: the increase in energy expenditure (from 17% to 30%) and the maintenance of attention (according to self-reports by the teachers themselves).
These preliminary findings have opened the door to creative research hypotheses.
Taking into account that physical activity increases the cognitive performance in children and adolescents, would it be possible to achieve a similar effect using these desks?
Can studying standing up improve cognitive performance?
Until recently, references to an eventual improvement in cognitive performance attributable to standing study were practically testimonial. And very lax.
In the best of cases, they were limited to the subjective appreciation of the teachers. But they did not introduce a methodology that would allow solid conclusions to be drawn.
That changed recently when a group of American researchers designed a longitudinal (two-year) study involving two classes from a Texas institute.
Elevated desks were introduced in one of the classrooms, while the traditional ones were kept in the other. The participants were all adolescents, with an average age of 14 years.
Both the academic curriculum as the teachers in charge of teaching it were identical in both cases.
At the end of the process, the students in the two classrooms were compared using computerized neuropsychological tests and neuroimaging techniques (infrared spectroscopy).
The results were more than surprising. They showed that the young people who had studied for the planned time using elevated desks had improved in their working memory (ability to retain information and process it to adapt to a task) and in their executive functions (self-control, problem solving, planning, etc. ).
In addition, it was observed that his left frontal lobe (an area of ​​the brain that does not fully mature until well into the third decade of life) was more active during the tests.
Evidence suggests intensive use of abstract reasoning and superior impulse inhibition capacity.
Today there is ample evidence that both working memory and executive functions are essential to adapt to everyday problems, in which ambiguity and novelty prevail, or where there is not always an absolutely perfect answer.
Its resonances, therefore, could extend even beyond the purely academic.
Although it is tempting to throw the bells flying, there is still a long way to go to fully clarify the exact causes of a phenomenon that could revolutionize the way we understand education.
*Joaquin Mateu Molla. Adjunct Professor at the International University of Valencia, Doctor in Clinical Psychology, International University of Valencia
Remember that you can receive notifications from BBC News Mundo. Download the latest version of our app and activate them so you don't miss out on our best content.

www.bbc.com
Eddie is an Australian news reporter with over 9 years in the industry and has published on Forbes and tech crunch.