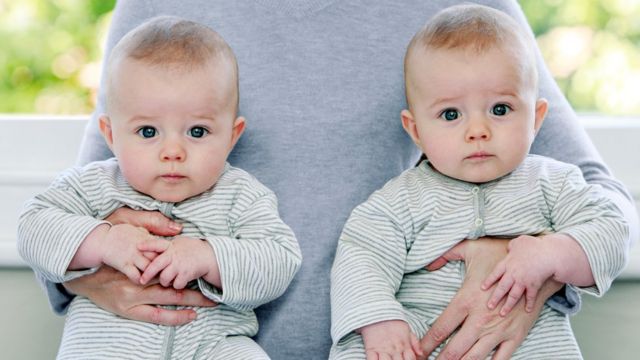 More and more twins are being born around the world, but these births may have already reached their peak, according to the researchers.
Around 1.6 million twins are born each year across the globe, one in 42 children.
Late pregnancies and medical interventions, such as in vitro fertilization, have increased the twin birth rate by a third since the 1980s, particularly in the richest regions of the world.
But this rate may start to decline soon, as the focus of medical fertility treatments has shifted toward the goal of having only one baby per pregnancy, making the gestation period less risky.
According to a global review on this topic published in the scientific journal Human Reproduction, the highest point of twin birth was reached due to the large increases in this type of pregnancy in all regions of the world in the last 30 years, an increase that reached 32% in Asia and up to 71% in South America. North.
The researchers collected information on twin birth rates from 165 countries between 2010 and 2015 and compared them with rates from 1980 to 1985.
The number of twins born per thousand deliveries is now particularly high in Europe and North America, and worldwide it has gone from 9 for every thousand deliveries to 12.
But twin rates in Africa have always been high and haven't changed much in the last 30 years, which could be due to population growth.
A friendly hand
Africa and Asia account for about 80% of all twin deliveries in the world today.
Christiaan Monden, a professor at the University of Oxford and one of the study's authors, said there was a reason for it.
"The twin rate in Africa is so high due to the large number of dizygotic twins (twins born from two separate eggs) born there. This is most likely due to genetic differences between the African population and other populations, "he said.
Twin birth rates in Europe, North America and the countries of Oceania have been increasing their figures, mainly due to the increasingly widespread use of medically assisted reproduction since the 1970s, with procedures such as, for example, the in vitro fertilization, artificial insemination, ovarian stimulation, and intracytoplasmic sperm injection.
All of these techniques increase the likelihood of a multiple birth.
The study indicates that the fact that women decide to start a family later in life, greater use of contraceptives and lower fertility, in general, also play a role in this situation.
But Monden notes that the emphasis is now on single pregnancies, which are safer.
"This is important as twin deliveries are associated with higher mortality ratesand with more complications for mothers and children during pregnancy, and during and after childbirth, "he says.
Twins have more complications at birth, are born prematurely more often, and have lower birth weights and higher rates of stillbirths.
Chances of survival
The review concluded that the fate of twins in low- and middle-income countries is of more concern.
In sub-Saharan Africa, in particular, many twins will lose their brother in their first year of life: more than 200,000 every year.
"While twin birth rates in many wealthy Western countries are now approaching those in sub-Saharan Africa, there is a big difference in survival chances," noted Professor Jeroen Smits, one of the study's authors.
Looking ahead, the researchers believe that India and China will play an important role in future twin birth rates.
Now you can receive notifications from BBC Mundo. Download the new version of our app and activate them so you don't miss out on our best content.

www.bbc.com
Eddie is an Australian news reporter with over 9 years in the industry and has published on Forbes and tech crunch.