Gerardo Lissardy
BBC News World, New York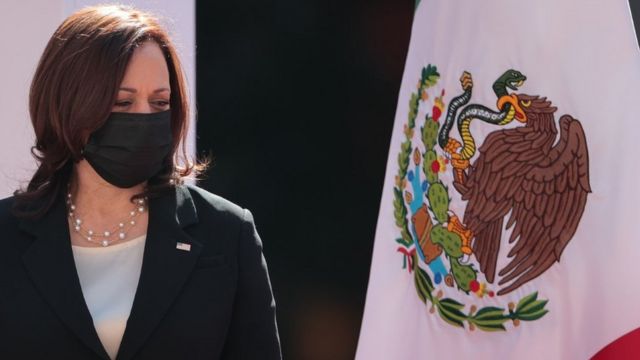 At the end of her tour of Guatemala and Mexico this Tuesday, Kamala Harris launched a sudden self-balance on her first trip abroad as vice president of the United States: "Do I declare that this trip was a success?
As an example of the "progress" achieved, Harris cited from the creation of a US government task force to help Guatemala fight corruption, to the signing of a memorandum of understanding with Mexico to improve living conditions. in central America.
The goal of these and other Harris announcements is to address the causes of migration from the region to the US in order to reduce it, a task that President Joe Biden gave him.
However, Harris's trip has concluded without great news in US policy toward its southern neighbors.
In fact, the creation of an anti-corruption force in Central America had been announced in April by lower-ranking US officials and the memorandum with Mexico is an announcement of goodwill to cooperate as partners.
"Expectations from the beginning (with Harris's trip to Guatemala and Mexico) they have been quite modest. And it has met expectations, "says Michael Shifter, president of the Inter-American Dialogue, a center for regional analysis in Washington, to BBC Mundo.
In his opinion, Harris's tour responded to the pressure placed on his government by the sharp increase in the flow of migrants to the Mexican border with the United States, and has the merit of having passed a message of concern to the region about issues such as corruption or human rights.
However, it is likely that this trip will also be remembered for the criticism and controversy it generated.
"Do not come"
Before leaving for Guatemala on Sunday, Harris had been criticized by Republican opponents who demand that she also visit the US-Mexico border.
Although members of the vice president's team had initially said that the border was included in the tasks that Biden entrusted to him, later they tried to distance her of such a glassy issue in US domestic politics.
Asked Monday at a press conference with Guatemalan President Alejandro Giammattei about his response to Republicans who say he does not take the border situation seriously, Harris defended his strategy.
"I came here to be on the ground, to speak with the leader of this nation about what we can do in a meaningful, tangible way and with real results. And I will continue to focus on that kind of work rather than grand gestures," he said.
However, the next day Harris indicated in Mexico that will soon visit the border, although he insisted on the need to address the causes for which migrants arrive there.
During her conference with Giammattei, the vice president also issued a direct warning to the undocumented who plan to undertake the "dangerous" journey to the border: "Do not come. Do not come," she said.
"The US will continue to enforce our laws and secure our borders," he added. "If you come to our border, they will make you come back."
That comment, in turn, sparked criticism from immigrant advocates and even the left wing of Harris's Democratic Party, another sign of the difficult balance required to deal with immigration in the United States.
"It is disappointing to see this"Democratic Rep. Alexandria Ocasio-Cortez tweeted, referring to Harris's words." First, seeking asylum at any US border is a 100% legal method of arrival. "
"Second, the US spent decades contributing to regime change and destabilization in Latin America. We can't help setting someone's house on fire and then blaming them for running away."
Another Democratic representative, Ilhan Omar, noted that "the right to seek asylum is not only legally protected" but "is a fundamental universal human right."
"It draws attention"
Biden has promised to allocate US$4.000 millones in four years to attack problems that in his opinion cause emigration from Guatemala, El Salvador and Honduras, such as corruption, violence or lack of economic opportunities.
As a "first step" in that direction, the president asked Congress US$861 millones in aid to the region.
After meeting with the Mexican president, Andrés Manuel López Obrador, and with labor activists, Harris announced that the United States will allocate US$130 millones to the labor reform in that country to improve protections for workers.
The Mexican Foreign Minister, Marcelo Ebrard, also considered the meeting between the two governments "successful", where they discussed cooperation on migration, trade and security issues.
The vice president highlighted as another result of her trip to Guatemala an agreement to allocate US$48 millones in support of affordable housing, agribusiness and entrepreneurs in that country.
He also announced the creation of a working group with US support to prevent migrant smuggling and human trafficking in the region.
On creating an anti-corruption task force, Harris said in Guatemala that the US Justice, Treasury and State departments "will work together to conduct investigations and train local authorities to conduct their own."
Juan Jiménez Mayor, a former Peruvian Justice Minister who headed the Mission to Support Corruption and Impunity in Honduras (MACCIH), considers this initiative "interesting" but warns that details are lacking on how it will work.
"It strikes me that you still the rest of the region is not connected with this idea"Jiménez Mayor tells BBC Mundo.
In fact, when the Biden government began to propose the creation of the anti-corruption group, it indicated that it would assist different Central American governments.
Pero EE.UU. does not seem to have convinced yet Honduran President Juan Orlando Hernández, who is being investigated by the Justice Department for alleged links to drug trafficking, and Salvadoran Nayib Bukele, who was questioned by Washington for the removal of members of the highest court of justice and the attorney general in May.
Some note that even Guatemala has been criticized in recent years for its handling of the fight against corruption and the dismantling of the CICIG, a United Nations mission that helped prosecute several politicians and powerful people.
"The fact that the vice president went to Guatemala because she is supposedly the best partner among the three, compared to El Salvador and Honduras, in itself says a lot because Guatemala is very problematic, "says Shifter." If it's the best, imagine what the other two are like. "
Now you can receive notifications from BBC Mundo. Download the new version of our app and activate them so you don't miss out on our best content.

www.bbc.com
Eddie is an Australian news reporter with over 9 years in the industry and has published on Forbes and tech crunch.