Fernando Duarte
BBC World Service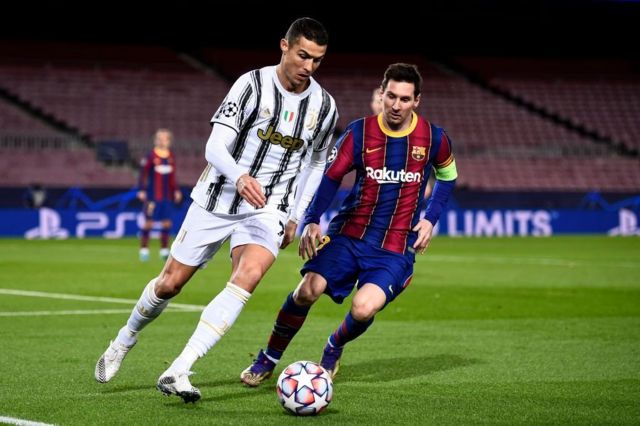 The announcement of the creation of a Super League with 12 of the most powerful clubs in Europe has caused a strong controversy not only on the continent, but in globalized football.
The plans of the so-called "greats of Europe" have been criticized by fans, former players and even politicians such as British Prime Minister Boris Johnson and French President Emmanuel Macron.
The voices against the project have made more noise than those in favor. But the idea of ​​there being more games and more frequently between the giants of European football is perhaps not bad news, especially for fans outside of Europe.
According to the controversial proposal "European Super League" (ESL), the founding members – Arsenal, Chelsea, Liverpool, Manchester City, Tottenham Hotspur, Atlético de Madrid, Real Madrid, Barcelona, ​​AC Milan, Inter Milan and Juventus – will have a permanent place in the tournament, which would begin in August 2022.
This does not happen in the current and largest continental tournament, the UEFA Champions League (Champions League, in Spanish), which is classified according to the final position in the season that the teams have in their respective local leagues.
More electrifying matches on television
Therefore, the 12 clubs with the largest fan base in the world will be a guaranteed presence in televised games in this Super League.
Soccer fans in Africa, South America, and Asia are surely licking their chops, right?
It is true that non-European fans have expressed their enthusiasm on social media at the prospect of seeing more matches between the giants of Europe.
But the negative reaction from other fans has also been noted, and there were even those who accused the founders of greed, who could receive considerable sums of money, well above what they earn from competing in the Champions League.
It is believed that the "Superliga"It could represent revenues of US $ 4.8 billion, more than double what the current top European club competition already generates.
"It's a shameful and despicable move by those clubs," Julie Ciccarini, a Brazilian Arsenal fan living in Australia, told the BBC.
Via Twitter, Mushfiq Salehin, a Real Madrid fan born in Bangladesh, considered that "European football is selling its soul for money."
But there are many fans, especially outside Europe, who are waiting for this new Super League.
"Bigger tournament, more entertainment"
John, a Nigerian fan, told the BBC via Twitter that he is excited at the prospect of seeing his team, English Chelsea, take on the greats of Europe on a more regular basis.
And he mentions the fact that the Champions League semi-final between Chelsea and Real Madrid, which will be played in a few weeks, is the first meeting between the two teams in 20 years.
"This Super League will make it possible for a match like this to happen every year. And that's just one example. The bigger the tournament, the more entertainment. "
Charles Oyeshomo, another Nigerian fan but in this case of Liverpool, is also in favor of the creation of the tournament.
"I support her because the quality and standards of football have dropped a bit in the last five or six years," he told the BBC.
Oyeshomo is quite critical of organisms like the UEFA and FIFA, and he believes that this break will lead them to take more decisive action on broader football-related issues.
"UEFA and FIFA have had a monopoly on the game for several decades. This has caused many scandals", He said.
"The ESL would also make them sit down and address issues better. For example, racism and VAR issues are not being addressed proactively," the fan added.
Youth support
A 2020 BBC poll of English fans found that, although the majority of football fans of all ages were against the creation of a Super League, the margins were tighter among the youngest.
48% of those surveyed under 55 years old said they would like to see a European league of these characteristics.
This contrasts with the 10% support for a potential Super League among those over 55.
Early
It is important to remember that this announcement is only the first step in what will surely be a tumultuous months on the soccer planet.
For starters, German and French clubs – which include current Champinons champion Bayern Munich and runner-up Paris Saint-Germanin – have rejected the idea of ​​joining these 12 dissident clubs.
Governing bodies such as UEFA have threatened to prevent players from Superliga clubs "represent your national teams" in competitions like world CupA prospect that would require a final word from the world governing body, FIFA, but which, if confirmed, would prove overwhelming given that some of the world's biggest stars currently play for the "12 dissidents."
It is also unclear if the new tournament will make fans pay more to watch the games, as there are no details yet on how the television rights will be sold.
In Brazil, for example, UEFA Champions League matches were freely streamed via Facebook this season and will be broadcast on free-to-air television from the 2021/22 season.
Will it be the same with the "Super League"?

www.bbc.com
Eddie is an Australian news reporter with over 9 years in the industry and has published on Forbes and tech crunch.