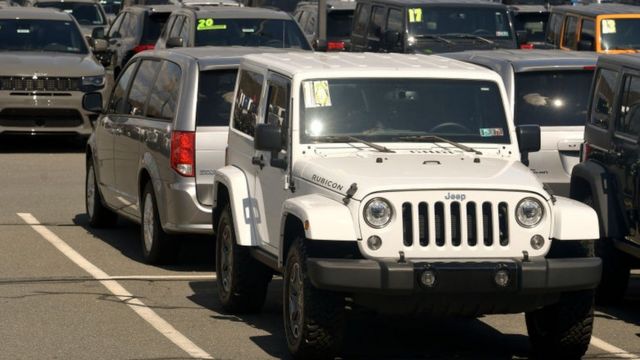 No one in their right mind would pay more money for a used car than for the same new model.
But in these times of pandemic some things defy logic.
Let's say you want to buy your favorite car, for example a Toyota RAV4.
You're going to buy it, but it's not immediately available. Let's say you need it urgently and you can't (or don't want to) wait. You don't want another model either, because that's the one you had in mind.
Then the seller offers you for a slightly higher price, the same car … but from the previous year!
Older and more expensive? Yes, older and more expensive. And it is that some Americans are paying higher prices for used cars than for new ones.
The bottom line is that there have been fewer new cars on the market for months and therefore people are buying more used cars.
In fact, the price of the latter has risen an awesome 45.2% in the last year, according to data from the US Bureau of Labor Statistics (BLS).
The phenomenon is of such magnitude that about a third of the increase in inflation in June in the United States (which reached 5.4%) is due to the rise in the value of second-hand cars and trucks.
The price of car rentals, gasoline, food and airline tickets has also skyrocketed, as the economic recovery gains traction.
"Consumers have cash in their pockets and car rental companies are looking to restore their fleets at a time when car production is constrained by shortages of components," wrote James Knightley, chief economist at ING Economics.
Experts, however, say that this trend should reverse in the coming months, when new car inventories return to normal.
The microchip shortage and customer pockets
Microchip shortages are one of the main causes for the slowdown in new car manufacturing around the world.
With the lockdowns that came into effect in 2020 in different countries as a result of the coronavirus pandemic, several car manufacturers had to close their plants.
Because sales had fallen, they bought fewer semiconductors, which are the tiny brains that control engines, transmissions, touchscreens, and many other components in cars and trucks.
In parallel, consumers subject to mobility restrictions and fear of the wave of infections, began to buy more electronic products as they spent more time at home.
This is how the sale of laptops, smartphones and video game consoles increased, increasing the demand for microchips.
So when car sales rebounded faster than anticipated starting in the third quarter of 2020, there were fewer semiconductors available on the global market.
Added to the semiconductor shortage are other factors, such as consumer interest in to spend the money they have saved in the pandemic months or have received through government aid.
In fact, some analysts blame the Joe Biden government for the inflation that the country registers, for the generous checks that were given to the citizens and that many of them are spending on the purchase of new cars.
There are also specific causes such as the impact of the low temperatures earlier this year in Texas that affected the production of certain plastics used in the manufacture of cars or the floods in Michigan.
"It has been a series of perfect storms that have prevented new vehicle production from returning to normal, "said Jonathan Smoke, chief economist at Cox Automotive.
Which used cars are more expensive than their new version
An analysis carried out by the site iSeeCars.com found that in June the price of some used vehicles exceeded the price of their new version.
For example, the new version of the Kia Telluride was worth US $ 44,166 and the used version US $ 47,730, that is, 8.1% more expensive.
A similar situation has occurred with cars like the GMC Sierra 1500, the Toyota Tacoma, the Mercedes-Benz G-Class, or the Toyota RAV4 Hybrid, to name a few.
"Prices for used cars have increased overall, and prices have risen dramatically for certain models that are in high demand, which may be harder to find on new car lots," said Karl Brauer, executive analyst at iSeeCars.
Brauer believes that some customers may be willing to pay more for the "instant gratification" of having a gently used vehicle available to be driven immediately, rather than waiting for a new one.
Will used car prices go down?
Everything indicates that in a few months, when automotive market conditions normalize, the price of used cars will drop.
Economists at Bank of America argue that the country has probably already peaked in the escalation of the price of used cars.
Experts such as Jonathan Smoke, chief economist at Cox Automotive, told NPR public radio that the last few weeks have seen a 2% decline in the value of used cars.
Smoke projects that towards the end of this year, prices should fall about 9% in relation to the maximums registered today.
Now you can receive notifications from BBC Mundo. Download the new version of our app and activate them so you don't miss out on our best content.

www.bbc.com
Eddie is an Australian news reporter with over 9 years in the industry and has published on Forbes and tech crunch.